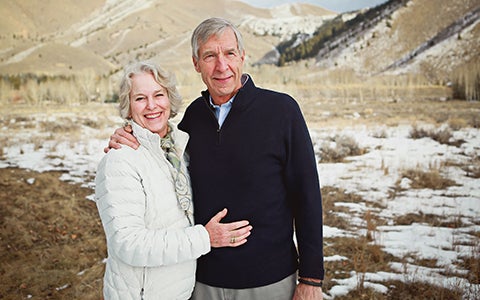 John French '66, MBA '74, P'06, '02, '98 signed on as a Harvard volunteer his senior year in Kirkland House nearly 50 years ago, and he hasn't stopped. "I live and breathe Harvard Crimson," says French. "I'm convinced it's the best institution in the country, and I want to keep it that way."
Now retired, French pursues his three passions—Harvard, conservation, and helping injured Marines—along with multiple interests, from skiing, to fishing, to flying vintage military airplanes in air shows. The former Marine Corps fighter pilot often combines his avocations, for example, teaching injured veterans to ski in Sun Valley, Idaho, where he now lives after many years in California.
French is a consummate Harvard citizen, serving on various University committees; co-chairing Class of 1966 reunion fundraising efforts for the past three decades, including his upcoming 50th reunion; and, with his wife Elaine EdM '73, P'06, '02, '98, creating four undergraduate scholarships and a postdoctoral fellowship in the Harvard University Center for the Environment.
As an undergraduate, French studied architectural sciences—a field that proved useful as a commercial real estate developer—and he met Elaine at a Harvard/Wellesley mixer freshman year. The French family, including Eric '98, MBA '05, Duncan '02, and Charles '06, collectively hold seven Harvard degrees. Duncan now serves in the Marine Corps, and French cherishes the day his son was commissioned on the Harvard campus.
One of French's most rewarding volunteer roles was helping establish, about a decade ago, the Harvard College Fund West Coast Council to provide strategic leadership for West Coast alumni activities. The group works to promote unrestricted giving, steer volunteer solicitation efforts, recruit new ambassadors—especially from recent classes—and host social and educational events. French is thrilled the California-based council continues to thrive. Giving back to Harvard over the years has enriched French's life, "and I wouldn't have had that had I not stepped up in 1966 and agreed to be a Kirkland House fundraiser."
John French is Vice Chair of the Harvard College Fund West Coast Council and Co-Chair of the 50th Reunion for the Class of 1966.
As seen in HARVARD MAGAZINE
---
Choose Harvard today with a gift to the Harvard College Fund.