Neurosurgeon, author, and green energy entrepreneur Nozipo Maraire AB '87 is changing the conversation about climate change and Africa. 
A renowned physician who has worked at hospitals around the world—including the United States, where she implemented neurosurgery programs across the nation, as well as Jamaica, Canada, and Wales—Maraire and her family returned to her native Zimbabwe 10 years ago, a place that has galvanized her passion to fight climate change.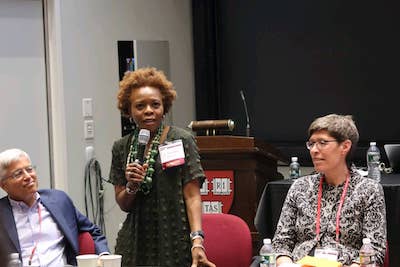 She was struck by the disempowered tone the media and global development organizations often use when discussing Africa's role in tackling climate change.
According to the United Nations Fact Sheet on Climate Change, while Africa makes up only 2 to 3 percent of global greenhouse gas emissions, it's on track to experience a disproportionate amount of their catastrophic impacts, such as droughts and floods. But the message that often follows this sobering statement is that Africa is waiting for outside agencies to provide solutions, Maraire explains.  
"The conversation is skewed the wrong way," she says. "When I think about mitigation strategies and the adaptability that's required, I think Africa is particularly well equipped in many ways. In Zimbabwe, we're very resourceful about recycling, reusing plastic products, and solar power. There are no tax cuts or incentives—if you don't use solar power, you're not going to have any power at all. And that's a pretty powerful incentive." 
She aims to reframe the narrative to focus on how Africans are committed to sustainability and innovating in effective, proactive ways. "One of the most striking things I've noticed in Zimbabwe is how resilient people are. They'll make a plan and figure out a solution." 
This led her to create Mweya Green Energy, a startup based in Zimbabwe that partners with businesses, farmers, and communities to turn carbon offsets—which reduce greenhouse gases in the atmosphere through methods like planting trees or restoring land to balance out emissions happening elsewhere—into a resource to spur sustainable development. These partnerships enable rural communities to build schools, access clean water, add solar energy to hospitals, finance clinics, and provide opportunities for small businesses to access green funding. 
Maraire draws inspiration from the young people at Mweya, such as Craig Peri, who collaborated with Niki Karanikola, a student from Bennington College, to develop an app for companies and individuals to calculate their carbon footprint. Maraire's goal is to facilitate more connections between students in Zimbabwe with those from universities around the world to work together on climate-related projects. "One of my greatest passions is to create an innovation hub for young people across Africa to discover local climate solutions," she says.  
She is also excited about Mweya's collaborations with organizations that want to make a difference across the world. For example, Mweya is partnering with the Art of Forests, an alliance of ecosystem restoration organizations launched by Maraire's Harvard classmate Celia Francis AB '87 to document and protect indigenous seeds, ensuring they can be planted well into the future to maintain the natural ecosystem. 
While her dual career paths are different in many ways, she has identified a thread that weaves them together: "A surgeon sees a problem, analyzes it, and wants to solve it right away," she says. "I use the same approach to climate change."