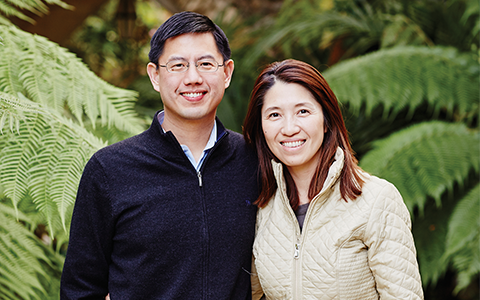 Chuckra (Chuck) P. Chai '95 arrived at Harvard College from San Jose, California, one suitcase in hand and eager to start his freshman year. "I had never visited campus, and I remember an amazing sense of wonderment. Harvard was a series of firsts for me," Chai says.
As an undergraduate, he lived in Lowell House and studied economics, served on the business board of the Harvard Lampoon, managed the Hasty Pudding theater, and earned a varsity letter on the sailing team—even though Chai had never sailed and could barely swim prior to coming to college. "Harvard was everything I had ever dreamed of and hoped for," Chai says. "It helped shape me as a person. I really grew up at Harvard."
To express their appreciation for the opportunities Harvard has given them, Chai and his wife, Mon Siriwatwechakul MBA '02, established a scholarship around Chai's 20th Harvard College reunion last year. The Chai-Siriwatwechakul Undergraduate Scholarship Fund honors Chai's parents, Suchet and Surerat Chai, who emigrated from Thailand, settled in California, and made numerous financial sacrifices so their son could attend Harvard.
"We want to show our appreciation to Harvard for the life-changing experiences we had."
—Chuckra P. Chai '95
"There are so many amazing students who have big dreams and who aspire to do great things for society" Chai says. "We want them to have the same life-changing opportunities that we had at Harvard without finances being an issue."
Harvard's leading financial aid program helps Harvard attract extraordinary students and ensures that every admitted student can attend, regardless of his or her economic circumstances. More than half of current undergraduates receive need-based financial aid, and many graduate with little or no college debt, since students are not required to take out loans. This remarkable program is sustained by alumni philanthropy, from endowed scholarships to annual gifts, of any size.
Memorable Moments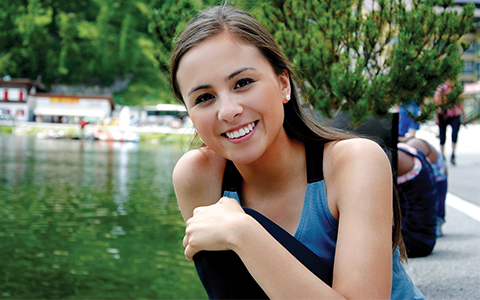 Among the students who are grateful for Harvard's financial aid program is Caie Kelley '18, a sophomore from Orinda, California, currently residing in Winthrop House. Raised by a single working mom, Kelley was thrilled to be accepted at Harvard—where she knew she'd find peers interested in everything from the humanities to engineering to public service—and to receive such generous financial assistance. "Harvard's aid package far exceeded the other comparable schools, and it was cheaper to attend than the University of California," she says. "I did not expect coming here to be so doable."
The program has opened doors to unforgettable experiences and friendships, giving Kelley financial flexibility to explore and grow. She has learned from outstanding faculty in her economics concentration and beyond. She studied in Venice through Harvard Summer School last year. She examined inequality faced by university students in Hong Kong, visiting through the Harvard College in Asia program. She writes for the Harvard Crimson, co-founded a new student magazine, and is active in Harvard Undergraduate Women in Business, an organization that provides programming for aspiring female business leaders. She is contributing financially to her education through a work-study job.
"I wouldn't be here without financial aid." —Caie Kelley '18
Kelley relishes the sense of connection and community the College offers, including sharing meals in the Winthrop dining hall with her enthusiastic and accessible advisers. "The most growth for me has come during late nights, sitting on the couch with a couple of friends and talking, and being with people who think differently from me," Kelley reflects. "The diversity in the community is what makes Harvard Harvard. Having people from many perspectives and economic backgrounds lends a richness to the campus and culture."
Unique Community
For Chai and Siriwatwechakul, being able to enhance Harvard's diversity through their scholarship fund is rewarding. "When Chuck and I were in a position to help someone who wouldn't have been able to attend otherwise, that was really exciting," Siriwatwechakul says. "I feel goose bumps thinking about it." The couple met through work in Asia and spend time in both Atherton, California, and Bangkok, Thailand. He is president of Hillspire LLC, an investment management company, and she is a former engineer and management consultant who now cares for their two young sons.
Chai also gives back as a volunteer co-chair for the Class of 1995 Gift Committee. "It's a great way to reconnect with classmates," he explains. "We're all so busy, and this gives us a chance to step back, remember what Harvard has meant to us, and think about how we can continue to support this unique community."
As seen in HARVARD MAGAZINE
---
Choose Harvard today with a gift to the Harvard College Fund.