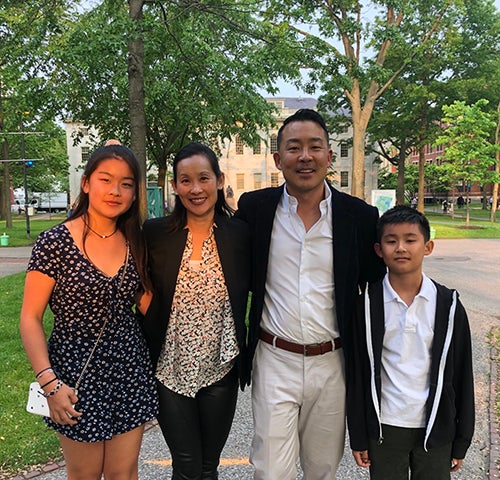 Mike Choe '94
Quincy House
Biology
Again and again, Mike Choe '94 found himself having to relearn a new language. As an eight-year-old, he was uprooted with his family from their home in California to a new one in Seoul, Korea. He remembers being overwhelmed at his new school, unfamiliar with Korean and the curriculum. After six years of trying to catch up, Choe transferred to an international school, dusting off the English he had forgotten and trying to assimilate once again to a culture and crowd he didn't feel a part of. It was there that he met a recruiter for Harvard and asked a question that would forever change his trajectory.
Today, he lives in Massachusetts with his wife and two children and leads Charlesbank Capital Partners as CEO and managing director. Read what brought Choe to Harvard, how he conquered his feelings of being an outsider, and how he uses it now as a motivation to bring new diversity to the corporate world.
What was the question that led you to Harvard?
When I was in high school, we had a guest speaker come from Harvard: Tamara Rogers '74, who was the director of international admissions. She gave a talk for seniors who were thinking of college and invited questions at the end. I wanted to be a biomedical engineer and never considered going anywhere but to a professional school. So, I asked: If you know what you want to be when you grow up, what's the point of getting a liberal arts education?
She made a compelling case for it and later walked up to me and told me that she thought my question was really interesting. She asked me if I had ever considered applying to Harvard. I told her no. No one had ever gotten in from my school and my family couldn't afford it anyway. She encouraged me to apply, inviting me to breakfast the next day so I could interview right then. She guided us through the application and the financial aid process. I ended up going to school substantially supported by grants and loans.
What was your Harvard experience like?
All my life, I've had this experience of feeling kind of an otherness. When I got to Harvard. I struggled with a profound sense of alienation. I was always a decent singer, so I decided to audition for the Glee Club and got in. We bonded around music, and there was this real sense of family. I liked the fact that it wasn't filtered by any kind of a particular identity or background, but by a common love for music. I felt like I belonged, and it was a real turning point. To this day, my closest friends are people that I met through the Glee Club.
How has being an alumnus changed your perspective on Harvard?
Harvard feels so big—its history, the people, the Nobel Prizes. You can feel dwarfed by it, but one of the epiphanies I had as an alumnus was that I wasn't unique in this. Whenever I met with my classmates at Reunions, we bonded over the commonality of that experience and getting over it together. It's been a journey learning how to own our Harvard experience—because it was awesome. We met our best friends at Harvard and then had some of the best times of our lives at Harvard. Just because we had the sense that it was untouchable, doesn't mean that we also can't own our College experience, embrace it, and feel a part of it.
You've been very generous with your philanthropy, establishing a scholarship at Harvard. Can you share what inspires you to give back?
My education and everything that followed was made possible by a system that sought out kids like me, who can't afford their education. Financial aid is a cause that is near and dear to my heart, and it's why I stay involved with the University. I think that there is a huge opportunity for the University to continue to focus its financial aid in ways that can systematically create positive change in the world for decades to come.
How do you think Harvard and other universities can achieve this?
As a volunteer, I've been having a conversation with the University about our recruitment efforts in Africa, specifically in Rwanda, a country I've had the privilege of getting to know and visit in the context of my involvement with Partners in Health. Rwanda is an amazing test case for how focused human energy can create dramatic reduction in inequity and a meteoric rise in welfare in a short amount of time. The School's done an incredible job recruiting star students from Rwanda, and these students are not just doing well, they're excelling. When you think about the disparity of their educational background before they got there, the odds they have overcome—it's mind-boggling. And people that are educated and shaped at Harvard might go back and apply their thinking and knowledge to build businesses and help shape government. I see Harvard investing in the kind of talent who could change the fate of nations.
You are working in private equity to try and promote greater diversity in corporate leadership. Why do you recruit at Harvard and other universities like Harvard?
There is a patent unfairness and lack of diversity in higher levels of managerial leadership in this country. When you think about private equity, we typically recruit people who have spent the first two to three years at good management consulting or investment banking firms. We realized that interviewing the same funnel of candidates is a structural mismatch. By the time it's filtered to that level, there's already a lack of diversity. We need to increase the candidate pool and the diversity in that pool. We go on campus at schools like Harvard and recruit undergraduates who are not thinking at all about private equity as a career.
What does Harvard mean to you now?
I've stayed inextricably linked. I got married on campus. My firm started as a part of the University. My relationship has evolved with the School, and I now see how much I loved it—how it shaped my life and the way I think about the world. That kind of conductivity has allowed me to continue to have a Harvard journey.