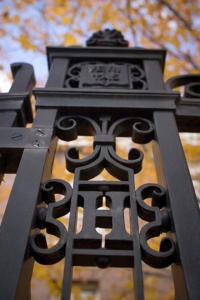 This spring, alumni can vote for a new group of Harvard Overseers and Harvard Alumni Association (HAA) elected directors.
Ballots will be mailed no later than April 1 and must be received in Cambridge by noon on May 22 to be counted. Results of the election will be announced at HAA's annual meeting on May 28, on the afternoon of Commencement.  All holders of Harvard degrees, except Corporation members and officers of instruction and government, are entitled to vote for Overseer candidates.  The election for HAA directors is open to all Harvard degree holders.
Candidates for Overseer may also be nominated by petition, that is, by obtaining a prescribed number of signatures from eligible degree holders.  The deadline for all petitions is February 2.
The HAA's nominating committee has proposed the following candidates in 2015:
FOR OVERSEER:
R. Martin Chavez AB '85, SM '85
Chief Information Officer and Partner, The Goldman Sachs Group, Inc.
New York, NY
Fernande R. V. Duffly JD '78
Associate Justice, Massachusetts Supreme Judicial Court
Boston, MA
Sandra Edgerley AB '84, MBA '89
Non-profit Strategist and Community Volunteer
Brookline, MA
Brian Greene AB '84
Professor of Physics and Mathematics, Columbia University
New York, NY
Beth Y. Karlan AB '78, MD '82
Director, Women's Cancer Program at the Samuel Oschin Comprehensive Cancer Institute and Division of Gynecologic Oncology, Department of Obstetrics and Gynecology, Cedars-Sinai Medical Center and Professor of Obstetrics and Gynecology, David Geffen School of Medicine at UCLA
Los Angeles, CA
Carl F. Muller AB '73, JD '76, MBA '76
Attorney at Law
Greenville, SC
David B. Weinberg AB '74
Chairman and Chief Executive Officer, Judd Enterprises, Inc.
Chicago, IL
John Silvanus Wilson, Jr. MTS '81, EdM '82, EdD '85
President, Morehouse College
Atlanta, GA
FOR ELECTED DIRECTOR:
Krzysztof Daniewski MBA '99
President, Ivy Poland Foundation
Warsaw, Poland
Paige Ennis MPA '10
Vice President, Office of External Relations, Atlantic Council
Washington, D.C.
Ellen M. Guidera MBA '86
Investor and Director Portillo Ski Resort and Tierra Hotels
Santiago, Chile
Andrew Herwitz AB '83, JD '90
President, The Film Sales Company
New York, NY
Sharon E. Jones AB '77, JD '82
President and CEO, OH Community Partners
Chicago, IL
William R. Koehler AB '87
Senior Financial Services Executive
Shaker Heights, OH
Tracy "Ty" Moore II AB '06
Co-Founder, MindBlown Labs
Oakland, CA
Anders Yang JD '94
Assistant Dean, Office of External Relations, The Paul Merage School of Business, University of California Irvine
Irvine, CA
Ariel Zwang AB '85, MBA '90
CEO, Safe Horizon
New York, NY