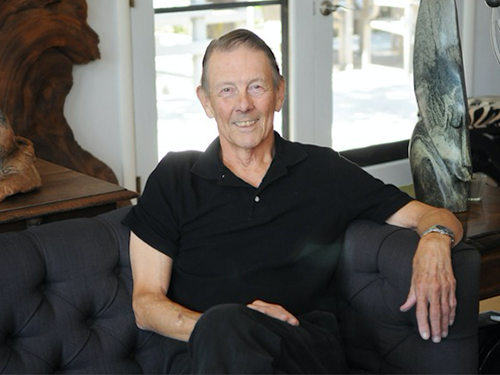 Ken Aldrich AB '60, LLB '64 is a self-described "serial entrepreneur." He has founded 11 companies and invested in more than 50 startups, though he has lost track of the exact number. He has also been a lawyer and an author. One job he has never held, though, is teacher. Despite this, he has had a tremendous impact on education throughout his life, ensuring future generations of teachers and students have the tools they need to be prepared in life.
By his own recollection, Aldrich was unprepared for his Harvard College experience when he came to Cambridge from his public high school in Oklahoma City in 1956. "Harvard was initially daunting, but it turned out to be a wonderful four years," he remembers. He returned to Harvard Law School and went into legal practice for several years in Los Angeles. When he realized his heart lay not in the law but in business, he tried his hand at seed-stage venture capital, which he now describes as "the love of my life for the last 30 years."
Somewhere along the way, Aldrich figured out how to successfully combine two things that he was passionate about: education and entrepreneurship. He began volunteering as a mentor in charter schools in California with the goal of teaching young people about the entrepreneurial mindset. "I wanted to show them that there was a world beyond a nine-to-five job with a paycheck" and that there are so many opportunities for financial growth that they are simply never taught to think about, he says.
"Every day, teachers have a thousand opportunities to impart knowledge."
—Ken Aldrich AB '60, LLB '64
As he spent more time in schools, Aldrich realized the real problem was a widespread lack of teacher preparedness and resources. If they lack a working understanding of basic finance and economics, he wondered, how can they help future generations avoid making bad financial decisions? "Every day, teachers have a thousand opportunities to impart knowledge, through stories or offhanded comments. This won't happen unless those teachers have been taught."
With this in mind, Aldrich created DreamToolbox.com, a website and series of three- to four-minute podcasts for people of all ages to learn how to shape their own financial futures and take advantage of financial and entrepreneurial opportunities. Eventually, he compiled the blogs into a book of the same name, which he published through Amazon and shares at schools, conferences, and events on the subject.
In parallel with his work on Dream Toolbox, Aldrich began to wonder: How can I give back to education in a way that will outlive me? For years now, Aldrich has generously supported what he calls his "two passions within the Harvard community"—Harvard College's Phillips Brooks House Association (PBHA) and the Doctor of Education Leadership Program at the Harvard Graduate School of Education (HGSE). Both programs uniquely prepare students for the road ahead, whether as an engaged citizen or as a leading educator.
Unsurprisingly, he approaches giving to Harvard with the same financial savvy and care that he brings to other areas of his life. Aldrich gives to HGSE through a gift annuity, an option that provides him a sense of security and comfort. "The gift annuity enabled me to make sure that Harvard would benefit, and at the same time that I wouldn't run out of money during my lifetime," he says. Aldrich also takes advantage of his stock holdings through a donor-advised fund, which he uses to make current gifts to PBHA and HGSE and to a number of other charities and organizations he supports.
Through giving his time, his money, and his expertise, Aldrich continues to work tirelessly to help young people be better prepared to deal with life's uncertainties. He knows that most large-scale changes take time, and changing the way we educate our youth about finances will take many years. Still, he believes that taking that first step towards opening a dialogue on the subject is a crucial part of the process. "I may never know whether I had much impact or not. But I do know it's a battle worth having."
---
Contact University Planned Giving to learn more about supporting University programs.