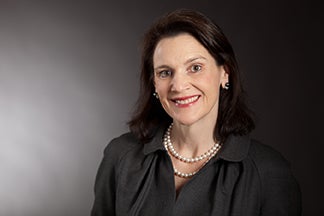 A sense of place has always been important to Diana Nelson '84, P'16, '15. It's part of the reason why she supports House Renewal at Harvard. "I've always treasured the profound sense of history that one feels on a campus that has hosted 400 years of student tradition. The Houses are at the heart of Harvard," says Nelson. 
Joining the Campaign effort to reinvigorate the Houses, Nelson and her husband, John Atwater, made a gift toward the renewal of Leverett House, naming a junior common room in honor of her father, Glen D. Nelson '59. 
It feels particularly meaningful for Nelson when she thinks of how many of her father's stories were about his time at Leverett House. 
"The House system plays a critical role in creating a community of professors, teaching fellows, and students of multiple classes who all eat and live together, sharing transformational intellectual and social experiences." 
House Renewal seeks to enhance that one-of-a-kind community for today's students. "I love the idea of preserving the character of the Houses and envisioning them as spaces that accommodate the technology and community needs of the current day," she adds. 
A concentrator in art history, Nelson has always been visual. She remembers being constantly awed by the beauty and history of the Yard and the campus. "The physical experience of Harvard is an important part of the experience," she says.
It's a love that she shares with her sons who are College undergraduates. "It's incredibly moving to see how Harvard has shaped three generations of our family," she says. "We've all had our unique experiences here and they each have been profoundly rewarding." 
Nelson now lives in San Francisco and serves as chair of the board for Carlson, a  Minneapolis headquartered global hospitality and travel company. She and Atwater, co-chairman and co-CEO of Prime Group, have five children between them: Alexander Nelson Muresanu '15, James Nelson Muresanu '16, Tommy Atwater, Jack Atwater, and Thea Atwater.
Like her father, who hosted picnics for incoming Harvard students from Minnesota for more than 30 years, Nelson makes the time to return again and again to Harvard as a volunteer. 
"Alumni support is so powerful in enabling Harvard's continued excellence, innovation, and engagement," she says. Nelson serves as a University Overseer and is chair of the Class of 1984 Gift Committee, a co-chair of the University Campaign Planning Committee, and a member of COUR. Her generosity translates into loyal support of Harvard in more ways than one.
"I see giving as an investment, and I've been so inspired about the impact it will have going forward. There are so many ways that the Campaign is going to transform the University into an even deeper, more thoughtful place," says Nelson. "I believe in this place, and I am excited about shaping the future there."