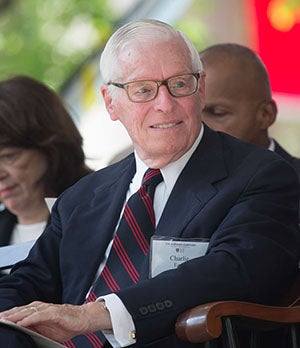 Charlie Egan '54, P'86, '83 has never stopped being a champion for Harvard. "It's where I opened up intellectually," says Egan, who spent his College days as a history concentrator, avid swimmer, and Leverett House resident. Since then, he has dedicated over 50 years in service to his alma mater, leading the way as a dedicated volunteer, fundraiser, and donor. 
When it came to extending that impact through a planned gift, Egan and his wife contacted the Office of Gift Planning (OGP). He had been planning his full retirement from Hallmark Cards, where he was vice president and general counsel for 25 years.
"Most of the money my wife and I had accumulated was in deferred compensation plans," he says, and he was looking for a way to minimize tax deductions when it came time to utilize the funds.
OGP staff helped Egan review his options and establish a Harvard Charitable Remainder Unitrust (CRUT). "The CRUT makes it possible to get a charitable deduction on our taxes and receive a lifetime income from the trust," says Egan. The trust is administered by Harvard Management Company and pays a percentage of the income, typically five percent, to Egan and his wife, Mary. 
Part of the Egans' trust will endow the coach for Harvard Swimming and Diving. They are using the trust income, in combination with other giving, to support the coaching position now. "I was captain of the Harvard swim team," says Egan, who was proud that his son continued the tradition as a co-captain in 1986. "I thought it was appropriate to make the coaching position as permanent and financially effective as possible." 
Egan has always kept Harvard top of mind. As a good friend to philanthropist Stanley H. Durwood '43, Egan helped to distribute more than $60 million of support for Harvard as trustee of the Durwood Foundation, which supported House Renewal and the Harvard Art Museums. 
It was just one of the connections Egan made through Harvard that have shaped his life trajectory, starting with his Harvard family. As an undergraduate, he met his future wife, Mary Bowersox, Radcliffe Class of 1955. They went on to have four sons, including alumni, Sean '83 and Peter '86, who are also married to alumnae. 
---
Learn more about a Harvard Charitable Remainder Unitrust: alumni.harvard.edu/ogp/crt.