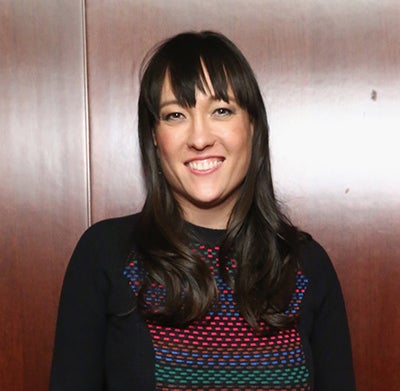 Colleen McGuinness '99 
American Literature and Language Concentrator 
Cabot House 

Colleen McGuinness remembers meeting with her high school guidance counselor, who looked at her list of colleges and asked if her dream school was on it. McGuinness admitted it wasn't—she'd never get into Harvard. Her counselor told her: "You have to try. What do you have to lose?" 

McGuinness took that advice and not only got into Harvard, she discovered a world of mentors and opportunities that she'd never dreamed of. Now an award-winning writer and director, McGuinness has written 50 scripts, including for 30 Rock, Life & Beth, Ramy, Forever, and Friends from College. She's sold shows and developed projects, taught screenwriting, and has directed and produced short films that she's written. She now lives in New York City with her husband, Blake, and their two children. She shares how an internship with a Radcliffe alumna, a production of Guys and Dolls, and a conversation with Tommy Lee Jones '69 have been just a few of the moments that have shaped an unforgettable Harvard story. 

Can you share what your path to Harvard was like?  
I was blessed to be raised by my grandparents, who I called mom and dad. My mom had to drop out of high school so she could work, and my dad was supposed to go to college but then fought in World War II. They both really valued education, reading to us often, taking us to the library, and showing us classic films, but I just didn't have as many tools or resources as some other kids. I remember getting a brochure from Harvard after taking the PSATs. I was overcome by how beautiful it looked but it felt like a far-off dream. No one from my high school had ever gone to Harvard. My junior year, we had a new guidance counselor, Barbara McGee. She was like this angel that just flew into my life at the right time. She encouraged me to check Harvard off on the common application. When I got in, it was just such a gift.  

Did you know you wanted to be a writer when you went to Harvard? 
I've always loved to learn, read, and write. English was a dream concentration. Looking at the course catalog was just like Christmas. I also really loved film, and when I got to Harvard, I was able to pursue that too.  

When I was 19, something really pivotal happened. There was an internship program called the Radcliffe Externship. You could spend a week with an alumna, like a judge or lawyer. Sophomore year, a friend of mine told me there was a film director that I could shadow. I think a lot of people were applying, but I remembered what Ms. McGee said. I thought: I'll just try. And you know, it worked out, and it was life-altering.  

What was that week like?  
They flew me out to Los Angeles and I lived with Claudia Weill '68, who had this incredible body of work, including Girlfriends, a wonderful film she directed. She would take me to different sets. I went backstage on Friends. I would have dinner with directors and producers. At the time, there weren't many female directors to look to. Seeing her work and witnessing her in the job was so meaningful. She said: "If you want to direct, you can pursue this." She's still a dear friend and mentor today. 

How did that week shape what you wanted to do?  
I didn't understand that Hollywood was just another industry, another workforce. It always seems so magical and mysterious when you're just watching the product of it. But that time with her showed me that it's a real way to make a living.  
I also got some great advice while out there during a dinner with Ed Zwick '74. I asked him how to start directing, and he told me that no one's ever going to give you a great script to direct. You have to learn how to write and then attach yourself to direct a script of your own. So, I went back to college and stopped acting and performing in campus productions.  
Instead, I started directing theater. I directed A Doll's House at the Loeb Ex Theater and Guys and Dolls at the Hasty Pudding Theater. Other Harvard experiences included producing Hamlet in Sanders Theater, which was directed by Shakespeare and Company. I did the Harvard-Radcliffe Dramatic Club summer theater program, studied directing with Marcus Stern, was the press manager for the Hasty Pudding Theatricals. When I graduated, I won the Louise Donovan Award for directing. 

How did you get started after graduating?  
I hopped in a car with a friend and drove cross country to Los Angeles with no job. I remember when I met Tommy Lee Jones '69 at a lunch for the [undergraduate literary club] Signet. I asked him if he had any advice for me about going to LA. He said: "My advice is to call me." And so he gave me his card. I called, but he was away shooting a film, and I kept getting his assistant. Then I talked to my mom at some point, and she said, "You'll never guess who called the house!" She told him that I had found an assistant job, and he said: "Great, she's taken care of."  
There are a lot of Harvard graduates who will help you. I got my first job in Hollywood through a Harvard graduate: Glenn Padnick '68, who ran Castle Rock Television. He was so lovely, and he had seen my production of Guys and Dolls. He didn't have a job for me but knew the receptionist was leaving. I said I would take it. I was so thankful for that job. People will definitely take the time to sit with you and give you some advice or a little bit of help.  

What are you doing now?  
I just finished directing a short film, which we shot on 16 mm. It's a jumping-off point for a larger feature that I just wrote about time travel that I'm attached to direct. So, I'm taking Ed Zwick's advice.  

How do you deal with writer's block? 
I try to step away from it and take a walk or a day off. I'll do something where my mind can wander. When I don't work, it's on the back burner, it's still cooking. I've learned over the years that forcing it is not helpful. Generally, I tend to write an ugly draft as quickly as I can. And trust that there's an infinite number of ideas and they will come to you. 

You've been very generous to Harvard. Why do you give back? 
I never expected to go to Harvard. I had never really left Long Island or even gone away to summer camp. And then to get the chance to meet all these students from all over the world who are doing such incredible things, it really blew my mind.  
When I had the resources to be able to give back, that was important to me—particularly to the financial aid program. I never would've been able to go if I hadn't gotten financial aid from Harvard. I want to pay it forward. When someone gives you that level of kindness without expecting anything in return, it gives you so many opportunities. I want to hopefully help someone else have the kind of experience that I had. 

Are you planning to come back for your 25th Reunion this spring?  
Yes, definitely. I've gone to all my Reunions except for the five year. I cried when I came back to campus for the 10th Reunion. There's no way you can even fully appreciate the resources, the people, and those experiences until you're out in the world and away from it. 

It was fantastic to see my classmates and hear what they were up to and to meet new people. I noticed at the last Reunion that everyone has gotten very real about what's going on in their lives. There's a sort of openness and vulnerability about the challenges of life. I was very touched, to hear people's stories good and bad. I always leave very inspired. 

Photo by Astrid Stawiarz