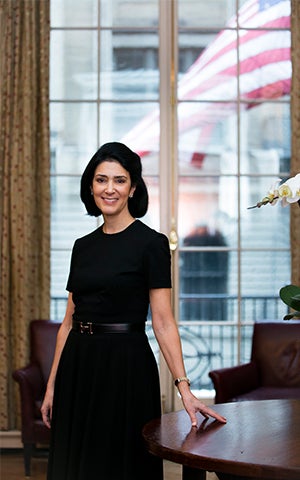 She graduated more than three decades ago, but Janet Nezhad Band '83, MBA '89, JD '90, P'17 feels closer than ever to Harvard College, thanks to her extensive volunteer leadership with the Harvard College Fund. As associates chair for the Class of 1983, a role she has held since 1999, Band helps raise flexible annual leadership gifts to support financial aid, teaching innovation, and other Faculty of Arts and Sciences priorities. She also serves on the Fund's Executive Committee and co-chairs the FAS Campaign Participation Task Force.
Contributing her time and expertise allows Band to stay in touch with classmates, meet alumni from other years, and help ensure that Harvard remains at the forefront of positive change in the world. "Volunteering has been an energizing and enriching experience in my life," she says.
"We're first and foremost a community—and at our best, we're a community of engaged citizens, connected with each other and with the University," reflects Band, who lives in New York City and has retired from law practice.
As an undergraduate Band lived in Eliot House, concentrated in Near Eastern languages and civilizations, and relished the depth and breadth of her academic experience. She joined her 5th reunion gift committee during graduate school at Harvard and never looked back, serving on every Class of 1983 reunion gift committee since and co-chairing her 30th reunion in 2013. Band says of her classmates, "We came from many different places and backgrounds, but we shared those transformative four years in Cambridge and forged bonds that remain strong more than 30 years later."
Janet Nezhad Band is Associates Chair of the Class of 1983, Co-Chair of the FAS Campaign Participation Task Force, and a member of the Harvard College Fund Executive Committee.
As seen in HARVARD MAGAZINE
---
Choose Harvard today with a gift to the Harvard College Fund.