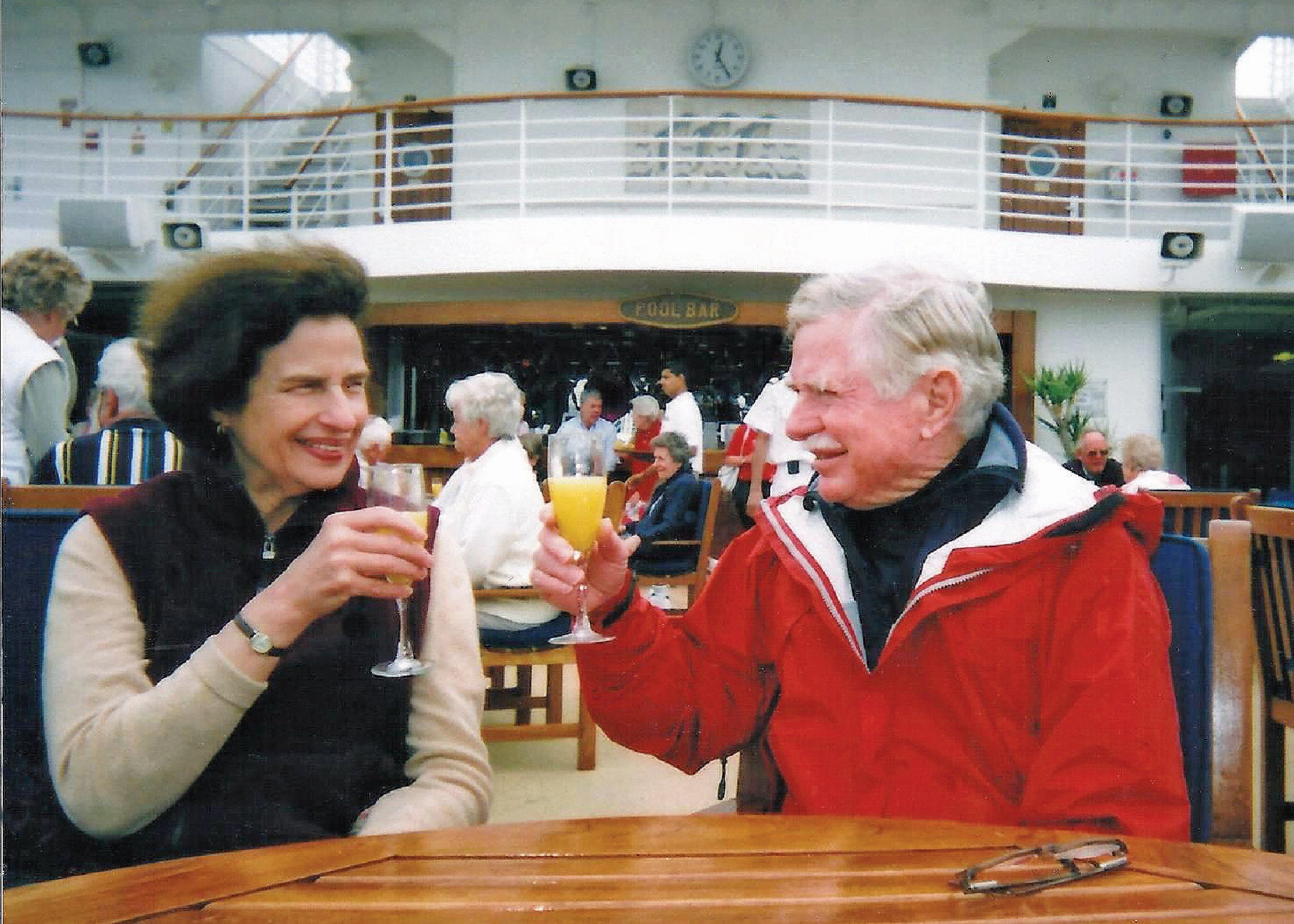 Doris Cole AB '59, MArch '63 and Harold Goyette MArch '54* always viewed architecture as a team activity. For 31 years, the couple's Cambridge-based firm, Cole and Goyette, Architects and Planners Inc., shaped an array of commercial, educational, and residential sites in and outside of Massachusetts.
Both of them brought decades of experience in the field—and both had deep ties to Harvard.
An alumna of Radcliffe College and the Harvard University Graduate School of Design (GSD), Cole worked for various firms in the United States and France and served as staff architect for MIT for over eight years. She also authored two books during that time, including From Tipi to Skyscraper: A History of Women in Architecture, the first ever book on women in architecture in the United States.
After getting his degree at the GSD, Goyette went on to become Harvard's first director of Harvard Campus Planning, working alongside Josep Lluís Sert—his former teacher and then dean of the GSD—to create a master plan for the rapidly expanding University campus with the goal of retaining its sense of history and tradition. During Goyette's 22-year tenure, the University added a number of athletic facilities, land holdings, and buildings, including the Science Center and Holyoke Center (now the Richard A. and Susan F. Smith Campus Center).
Love—and their shared professional interests— brought them together. "I had known Hal for a long time. When we married, we decided that we wanted to build a practice together," says Cole. So, in 1981, Goyette and Cole left their jobs in higher education to launch their own firm, leading to many award-winning projects—such as the rejuvenation of Greater Boston's historic public school buildings including East Boston High School.
"Hal was totally supportive of me, and of men and women working together as equals."

— DORIS COLE
Throughout their partnership, they worked to promote equality between the sexes. "We tried to keep a balance between men and women in the office," explains Cole, who continued to write books on women in architecture, including Lois Lilley Howe, Eleanor Manning, and Mary Almy. "As a woman starting out in a profession in 1963, people might not have liked me; they might have been wary of me, but they could never question my credentials—and that was really important. I had gone to Radcliffe—and on top of that, I had gone to Harvard."
Cole has helped other women along the way, giving back by dedicating her time to mentoring a new class of architects through the Women in Design student organization at the GSD, though she notes it has never felt like giving. "It benefits me more than the mentees. Keeping up with all these young people gives me some bearing on the world," she says.
The couple's commitment to equality motivated them to create the Doris Cole and Harold Goyette Collection—a broad donation of their life's work including personal papers, books, drawings, and commentary to the GSD's Frances Loeb Library in 2013. This gift serves as an invaluable resource to architecture students, scholars, and design enthusiasts—now and in the future. Notably, the collection includes Cole's correspondence surrounding her book on pioneering architect Eleanor Raymond, who was a personal friend and mentor.
Their commitment also led them to support the GSD financially through a charitable gift annuity. Harvard invests this money, providing Cole with a secure lifetime income. "Harvard pays very well compared to other possible options, and it's a very safe investment," Cole explains. "We didn't have children, but these young people at Harvard have been like our children. And that's why we did it that way." In the future, this gift will fund research, events, and programming that promote and encourage equality between men and women in architecture. "Hal was totally supportive of me, and of men and women working together as equals," Cole says, "and that is the goal for our fund at the GSD Frances Loeb Library Special Collections."
As Goyette explained in a previous interview: "Architecture is a team sport, and participating in that team sport means you need sponsors. You need people, and you need help. And you might as well foster that help and contribute financially to the people who are out there with you. What else is there except helping others do what you participated in so happily and productively?"
*We are sad to report that Harold Goyette passed away during the production of the Gift Strategies newsletter. He will be greatly missed by the Harvard community and, on behalf of University Planned Giving, we express our heartfelt condolences to his family. From shaping the landscape of the campus to supporting future generations of architects and planners, his contributions to Harvard are beyond measure.
For more information about charitable giving techniques, please visit our webpage or please contact us here with any questions.