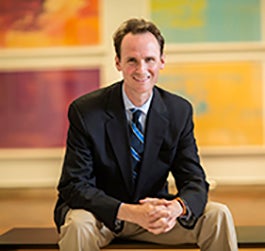 John G. Palfrey Jr. '94 can trace his connections to Harvard back to his great-great-grandfather Theodore Roosevelt, Class of 1880. But it is Harvard's ability to look beyond its storied history and challenge the next generation of leaders that moves Palfrey and his wife, Catherine Carter '94, to support the College through a series of flexible deferred gift annuities. 
"Harvard is successful because it never rests on the laurels created by the people who came before and instead makes sure its students always try to be the best they can," says Palfrey. "Harvard has embodied that spirit for hundreds of years. It's a great way to guide one's life."
He draws upon these aspirations as head of school for Phillips Academy Andover, where he lives with his wife and their two children. "Both schools seek to provide the very best academic experience for their students," he says.
 Palfrey believes that giving back is essential to a good life. "For us, planned giving is a way to eventually give more to Harvard than we feel we can at this time," he explains. "We feel good knowing our future is secure and that financial aid students will be the ultimate beneficiaries."
"I feel very blessed to be part of the Harvard community and believe alumni need to make sure the institution is as strong as it possibly can be."
Stepping up as a Harvard donor and volunteer ensures that you can be a force for good, notes Palfrey. "It's helping to change one life at a time and to shape research that is changing the world."
For more information about deferred gift annuities, please visit our gift annuity page or contact the Office of Gift Planning.