Be Ready for the Journey
Alumni gift expands reach for Harvard First-Year Outdoor Program
February 13, 2017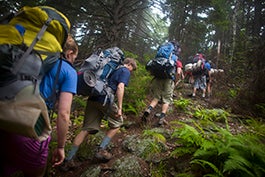 43 trips, 105 leaders, 431 first-year students, and 4,430 tortillas aren't enough for the Harvard First-Year Outdoor Program (FOP).
Thanks to a gift from Barry and Karen Gordon Mills '75, MBA '77, P'15, these numbers will climb as more undergraduates will have access to a program praised for its adventure-based introduction to Harvard and subsequent leadership development.
For about a quarter of College students, Harvard begins in the woods, far from showers and devices. FOP students spend a week hiking and camping, canoeing, digging for mushrooms, and getting to know each other. And by the time they move into the Yard, they're primed with new confidence and fledgling networks that grow with them.
"Walking into Annenberg that first day and seeing familiar faces was so nice," says Simone Braunstein '20, a recent participant from New York City.
"This opportunity to go off into the woods and bond is a great thing," says Barry Mills, whose son George '15 was a participant and leader. "Our goal is to make it possible for any student to have the opportunity to participate."
Harvard's oldest pre-orientation program has been growing steadily over the last four years, seeing a 40 percent increase in "FOPers." After participating in the first-year trips, many come back as student leaders to design and guide future experiences. Despite the popularity, FOP director Coz Teplitz '03 wants to count more first-generation College students, blacks and Latinos, and recipients of financial aid among participants.
"When we talk about building strong social support networks, we want people to be forming relationships with peers from as many different backgrounds as possible," he says.
Student fees and access to camping gear are typical impediments. "We want to remove finances from being a barrier as much as we can," says Teplitz. About 43 percent of participants receive financial support.
"Our goal has been to match the percentage of aid that a student was getting from the College," he says. The Mills' ten-year gift will help the program solidify this aid.
In addition, the funds will help FOP organizers build a lending library of camping gear and design new offerings. Not everyone has the same relationship to the outdoors, notes Teplitz, and may not want to sign up for a remote hike. The Mills gift allows FOP to experiment with different out-of-doors experiences that cultivate the same reflection, social support, and self-discovery as more traditional trips.
The newest offering is a cabin-based trip in the Harvard State Forest. Participants foraged mushrooms with expert Don Pfister, Asa Gray Professor of Systemic Botany, and learned about the significance of wood in colonial times from historian Laurel Ulrich, 300th Anniversary University Professor. Students also did a service project at a local farm.
"At the heart of our programming, it's about a small group experience that happens in a new setting and involves some shared challenge," says Teplitz. "FOP is an opportunity for intentional reflection about your personal values, how you want to be living those values, and how you're experimenting with those values while you're at school."
Layla Joudeh '17 describes FOP as one of the most formative of her Harvard experiences, despite, she jokes, a fear of snakes. After she participated as a freshman, she trained as a FOP leader and later joined the Steering Committee.
"FOP made me realize that I didn't have to be a new person or need to transform myself and my values in order to fit in or contribute, but rather that helped me understand what I already possess and learn from the people around me," she says.
"What was really nice is that we didn't have any technology," says Braunstein. "A lot of activities were geared towards listening to other people and it made me realize I don't do that as well. Going on FOP was probably my best decision I've made at College yet."
These experiences provide a great foundation for Harvard's transformative curriculum, says Teplitz, and one of the reasons he wants more students to be able to participate. "When we're in the woods, everyone has no shower, everyone is sweaty, and it comes down to the fact that it's not just where you come from, but it's who you are."