Alumni Service Spotlight: Alexandria Campbell Kalina AB '82
August 1, 2016

According to the Harvard Impact Study, Harvard alumni collectively dedicate at least 1.6 million hours per month volunteering for public and community service efforts around the world. In celebration of these efforts, the Harvard Alumni Association (HAA) presents "Alumni Service Spotlight," a series of conversations with alumni who give of their time and talents for the betterment of their communities.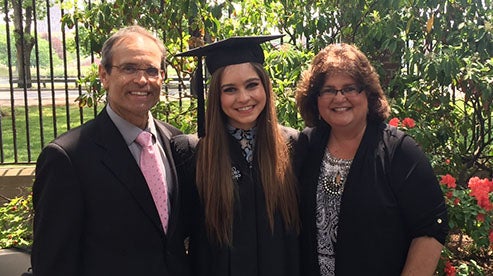 As a medical resident in Houston, Alexandria Campbell Kalina AB '82 cared for some of Harris County's poorest residents on a daily basis. "From the time I started medical school, I realized that my favorite
times were with these people. I sympathized with their stories. I felt comfortable with them," she says.
Now a pediatrician in Glencoe, Minnesota, Kalina has continued to work with the needy, both professionally and as a volunteer. First in Phoenix, where she moved after medical school, and later in the Minneapolis-St. Paul area, where she lives today, Kalina has dedicated her time and expertise to help provide food, clothing, medicine, and other services to the homeless and working poor in her community.
She is currently consulting with FOCUS Minnesota, an outreach program of the Orthodox Christian church, and Minnesota-based nonprofit Matter, to convert a shipping container into a mobile medical clinic that will be loaded on a flatbed truck and driven around the Twin Cities area. Volunteer physicians, nurses, and other medical professionals, as well as social workers, will staff the free clinic, which Kalina hopes to launch this fall.
A proud Harvard alumna and parent (Andrew AB '14 and Maria AB '16), Kalina spoke to the HAA about her Harvard experience and her passion for community service.
You were the first in your family to go to college. How did your experience at Harvard College measure up to your expectations?
Coming to Harvard, from the first day, exceeded all of my expectations. I didn't have a great experience in high school, partly because I moved around a lot. I went to elementary school in New York City, middle school in southern New Hampshire, and high school in Haverhill, Massachusetts. When I came to Harvard, I realized that everyone was just like me, and I made what felt like a hundred friends during Freshman Week.
I've been interviewing prospective students for 25 years through the Harvard Club of Minnesota. One of the things the applicants ask me all the time is: What was the most memorable part of being at Harvard? Without a doubt, it's the interaction with my classmates. I learned something from everyone. I tell the prospective students I interview: If you can check your ego at the door and learn from your classmates, then you will have the most amazing four years of your life.
Did your time at Harvard influence your interest in service?
Absolutely! I didn't really get involved with service projects until I moved to Phoenix, but the seeds were planted at Harvard—to care for your fellow human being. Coming to Harvard taught me that the world is so much bigger than me.
What kind of volunteer work did you do in Phoenix?
I started volunteering at a couple of homeless shelters downtown. Then I was appointed to the board of the Salvation Army-Southwest Region, and that led me to write a grant to open a medical clinic for their family shelter. I was a faculty member for a pediatric residency program in Phoenix; I coordinated it so that medical residents could come and work at this clinic as part of a rotation because I knew they didn't have time to volunteer on top of their 80- to 100-hour workweeks. But I wanted to cultivate that feeling of service so that when they had a little more stable life, they would want to give back.
Why is it important to have a mobile medical clinic in Minnesota?
It's about improving access to medical services, especially for the working poor. What I learned about doing shelter work in Arizona is that it doesn't matter if you have insurance if you don't have access to your primary care doctor. Some people can't get to their doctor because of mental illness or their family situation or lack of transportation, and they just give up. So we'll come to them. This will be completely free. We will take care of all comers.
What inspires you to volunteer with the poor and the homeless?
What people want most of all is to be loved. That's what I try to teach people: You can write a check, and that's great, but they really want a human touch. They want you to look into their eyes. For a lot of people, the story is not pretty; it's not uplifting. But that doesn't mean that they don't want to tell it. They want you to say, "I care." We have to lift each other up.
What advice do you give to young people who are interested in service?
When you're trying to get into graduate school or establish yourself in your career, it's very hard to find the time, but you find more time as you go along. So I try to plant the seed: Cultivate it first in your heart, and then you can act on it later when your life is more stable. The most important thing is what kind of person you are going to be. Be a good person; make life about more than just you.
---