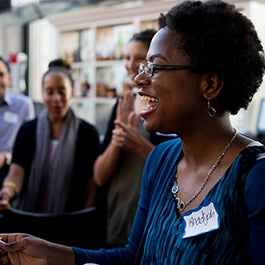 Khadijah Williams '13
Sociology Concentrator
Mather House 
Khadijah Williams '13 never was an average kid. Homeless since the age of six, she lived in and out of shelters, attending 12 schools in 12 years. The story of her Harvard acceptance—and the determination and focus that got her there—captivated many, including Oprah Winfrey, who had Williams as a guest on her show. Now an advocate for families, Williams shares how Harvard helped her to develop her voice and how she uses it to speak for the disadvantaged.
Your story of how you got to Harvard is really inspiring. How were you able to survive—or rather succeed—despite the odds? 
Survive is definitely the right word. It's rare for formerly homeless people to escape, let alone get into college, let alone get into a place like Harvard. When you grow up homeless, you feel as though you don't matter because society ignores you.
I am where I am today because there are people who believed in me, and people took the time to support and motivate me. They gave me the tools to succeed, which made the difference between success and, honestly, the unfortunate reality of homelessness: chronic poverty, prostitution, and death.
When your mom had to move you and your sister to a different shelter, you got up at 4:00 a.m. to commute by bus so you could continue to attend your high school. What kept you motivated every day to work this hard? 
I knew that education was my ticket out of poverty—it was a matter of life and death. I think the most important thing that I did was to seek out help. I signed up for programming and enrichment opportunities for low-income students. I did every extracurricular I possibly could. I studied twice as hard as my peers because I had to.
It was also an opportunity to be the kind of person that my mom believed me to be. She felt that I was special, and I was able to hold on to that as everyone else was telling me that I wasn't. I was thankful for the kind of support that she could provide, even though she couldn't always put a roof over my head. I know that she tried her best, the best that she could.
You graduated with high honors, fourth in your class, and were accepted into more than 20 schools. Why did you choose Harvard?
I knew from a very young age that I wanted to make a difference. Coming from such a level of poverty, I wanted to learn how people who are driven think and how they operate. If there's not a Harvard alumnus running something, there's usually a Harvard person behind the person running something. I wanted to capture some of the belief they have in themselves from going to a place like Harvard.
While at Harvard, you lived in Thayer Hall and Mather House. Did campus feel like a home to you?
Harvard is the longest that I've been anywhere, even to this day. It was incredibly hard for me to leave, and I almost sabotaged myself by not graduating. Just because you escape poverty doesn't mean you escape the impact of poverty.
I think I really felt at home at Harvard toward the middle of my sophomore year when I became a sociology concentrator. I remember walking to the Sociology Department one day, and it was raining. I came in and David Agers [lecturer and former director of the department] asked me if I wanted some hot cocoa. He knew my name! I couldn't believe it. 
I could tell that every one of my professors cared about me, my development, and my interests. And they remembered little things—that made the difference and made me really feel like home. 
What's it like to be a Harvard graduate?   
Harvard doesn't just get a foot in the door; it basically pulls the door wide open and says, "Come on in!" I have a job that I love. I'm getting paid for doing something that completely relies on my values—to help other people and speak up for those who can't.   
What are you doing now? Do you work with homeless youth?
I work for the District government in Washington, D.C., and I support two offices. One office resolves complaints regarding public education. The other office helps families, students, and community members navigate the public education landscape. 
We support all families in every ward, but most of the calls we receive are from the most economically distressed areas in the city. I've handled several issues in which homeless families have had trouble enrolling in school or they were punished because they weren't wearing the right color of a too-expensive school uniform, even though the federal law requires that schools provide free uniforms to homeless families. I get to help and advocate for them. 
What do you tell families? Do you share your own story much?
When I meet with families who have lost trust in the system, I tell my story so that they understand that not only am I public servant that cares, but I also care because I get it.
I like knowing that I'm making a difference on a day-to-day level through my work. We need more people from disadvantaged backgrounds to provide their perspectives. Voice is incredibly important, and I'm happy to share mine with the people who make decisions.
What are your ties to Harvard today?
I'm an alumni interviewer. There are so many cool interviewees applying to Harvard and it's really interesting to listen to their stories—because everyone has a story—and to hear how they want to make a difference in the world. I like being able to share my perspective with them, and I look forward to being more involved with Harvard.
Photo by Lydia Kearney Carlis