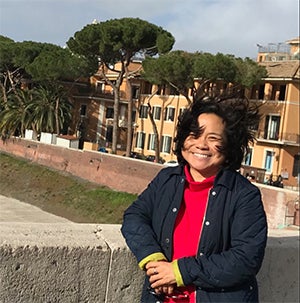 Over her career, Deanna Lee '84 has led the life of a journalist, concert pianist, and nonprofit executive. "My Harvard education taught me to be open to serendipity," says Lee. Now, she is embarking on new ventures, including a move to Rome, where she is teaching and writing a book. To underpin those explorations and express an enduring love of her alma mater, Lee was inspired to establish a Harvard-managed charitable remainder unitrust (CRT).
As a University overseer for six years, Lee wanted her gift to be a statement of her faith in Harvard and its future. "I trust Harvard and the people who will lead Harvard after I'm gone," she says.
"Making this gift to Harvard and receiving some regular income enables me to have flexibility and creativity in my life right now," says Lee.
"What a luxury it is to be able to make life and career changes more than 30 years out of college."
Lee was at a crossroads when she began to consider estate planning options. Her daughter, Emma Alex, had recently passed away, and Lee was selling her apartment in New York City. She had a conversation with friend and fellow overseer Scott Abell '72, who also serves as the national chair of the John Harvard Society.
Knowing that Lee was embarking on a transition, he recommended that she learn more about life income plans and referred her to Harvard's Office of Gift Planning. Staff there helped her create the unitrust, enabling her to achieve her personal financial and philanthropic goals through this meaningful gift.
"I wanted to do something notable that represented my commitment to the humanities," says Lee. "Emma Alex loved what the humanities bring us—the lessons of history, the healing power of the arts."
Lee remains deeply committed to Harvard. She travels regularly to Cambridge and makes time to socialize with other Harvard alumni in Italy.
"In the last few years, I've reconnected with so many people in my class," she says. "I've found this is a community that will always be there for me." In the meantime, Lee is receiving income from the CRT and living in Trastevere, where she is teaching media studies and digital humanities as a visiting professor and writing about her daughter and their lives together.
"There's something about my unitrust that makes me feel like I'm continuing in the Harvard way," she says. "Be creative with your life, keep exploring, and find new ways to make a difference. This gift helps me do that."