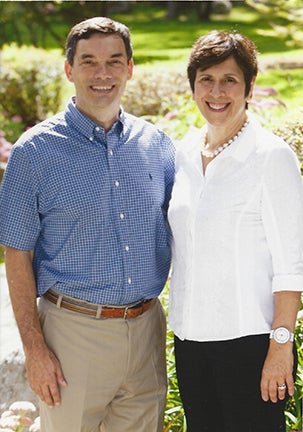 As both a graduate of Harvard College and the Graduate School of Arts and Sciences (GSAS), Steven Berzin '72, AM '72, JD '76, P'18,'12, experienced firsthand the value of the connections between the College and GSAS. He gives to GSAS precisely because he wants to enhance that valuable relationship.
"With a strong interface between GSAS and the College, both graduate students and undergraduates are in a better position to take full advantage of all that a great research university can offer," says Berzin. "My gifts contribute to preserving and enhancing that symbiotic relationship." 
While at Harvard, Berzin concurrently earned his bachelor's and master's degrees in applied mathematics. He enjoyed the full undergraduate experience, living in Leverett House and participating in the Hasty Pudding Club, the Harvard Crimson, and the Phoenix SK Club, while pursuing a two-year graduate-level research program. 
"I was fortunate enough to be enrolled in an independent study course under Professor Kenneth Arrow, who was awarded the Nobel Prize for economics in 1972, five months after I received my degrees," he says. "I had the opportunity to meet with him regularly for an hour at a time for two years. It doesn't get any better than that."
After Harvard, Berzin went on to earn a law degree from Oxford University, where he was a Henry Fellow and a Knox Scholar, and a JD from Harvard Law School. He served as a law clerk for Justice Anthony Kennedy, then a circuit judge on the United States Court of Appeals for the Ninth Circuit. He was also associated with the New York City law firm Cravath, Swaine & Moore.  
He then served in a variety of senior positions in the financial services industry, including in General Electric's financial services division and at W. P. Carey & Co., a real estate investment and management company. He also served as an executive vice president of the New York City Economic Development Corporation and as executive director of the New York City Industrial Development Agency during the Bloomberg administration.
Through it all, Harvard has never been far from his thoughts. During the past 15 years, Berzin has been involved in a number of Harvard advisory committees that have looked at the College, GSAS, and more generally at the endowments and concerns of all the Schools comprising the University to examine how funding resources and promoting changes that enhance the student experience keep Harvard competitive by attracting outstanding talented candidates. 
"We found that there often is a closer and easier rapport between undergraduates and graduate students than with more senior faculty members," says Berzin. "Graduate students are engaged in the hands-on aspects of cutting-edge research and provide meaningful insights about their work and about career opportunities to undergraduates looking for direction.
"And for those graduate students who live in or are associated with one of the undergraduate Houses, they are able to find a nurturing and close-knit community that is like a home away from home," notes Berzin. "The association of graduate students with the undergraduate residential life benefits everyone and is a significant selling point in attracting the best and the brightest to GSAS." 
Berzin and his wife, Ann, have a son, Amaury, who graduated from the College in 2012 and is now a third-year investment banking analyst at Credit Suisse. Their daughter, Victoria, started her freshman year at the College this fall. Berzin was recently back in Cambridge to serve as a marshal for his daughter's freshman convocation.
"I enjoy my continuing involvement with the University, the Faculty of Arts and Sciences, and especially GSAS, providing advice when asked," says Berzin. "Doing so is always a rewarding experience."