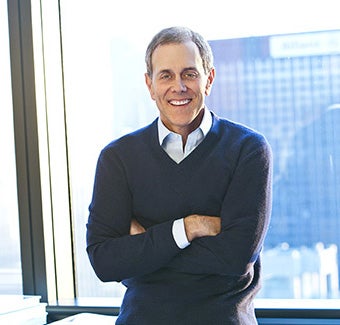 As chief executive officer and president of multimedia giant Hearst Corporation, Steve Swartz '84 has his eyes on the digital future. It's one of the reasons he gives unrestricted funds to the Dean's Leadership Fund. He wants Harvard to have the funds to lead.
"It is important for our whole country that Harvard is this beacon for talent all over the world," says Swartz. He takes great pride in giving back to Harvard. "I give unrestricted gifts because I like putting my trust in the leadership," he says. "If we can just give them that support, they'll take us in the right direction."
The other reason he gives? Gratitude. A former journalist respected for his astute leadership in a changing media landscape, Swartz credits Harvard for inspiring him to embrace a career that combines public service, business, and creativity. 
"I chose to go into the media business because of my fond memories of working days and nights doing news at WHRB and the many late nights at the Crimson," says Swartz.
Swartz remembers being energized by his classmates and faculty. "When I think of my Harvard experience, I think of great conversations with other students late into the night. I think about going out for hamburgers and pizza and talking about the world and what we wanted to do,"says Swartz, who lived in Quincy House and graduated with a concentration in government.
Growing up in suburban Philadelphia, Swartz dreamed of attending the College, having read for years about the roles that graduates played in the history of the country.
Financial aid made it possible for him to fulfill that dream.
"On a personal level, I'm very grateful for what Harvard did for me and for the financial aid that I received when I went to Harvard," he says.
After Harvard, Swartz joined the Wall Street Journal as a reporter and went on to serve as an editor on the Journal's page one staff. In a 30-year career that spans a wide range of editorial and business management positions, Swartz grew from founding editor to president and chief executive officer of SmartMoney and then moved on to Hearst Corporation, where he led Hearst Newspapers and served on the board of directors and as a trustee of The Hearst Family Trust. He was appointed president and chief executive officer of the corporation in June 2013.
Swartz and his wife, Tina, live in New York and have two sons. He doesn't return to Cambridge as often as he'd like, but he enjoyed coming back for his 30th Reunion and relishes the opportunity to take his sons to Harvard athletic events, especially Harvard-Yale football games.
Swartz is energized by the thought of how his support advances the College. "Harvard needs to remain as strong as it can be so it can continue to attract the best minds and the most creative and innovative professors and students from all around the world."