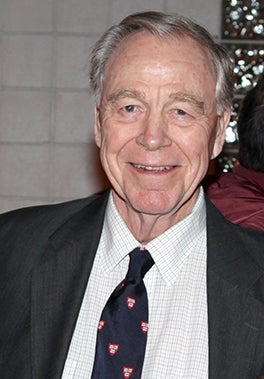 Jim Barrett's time at Harvard is a daily influence—whether in shaping his career in academic medicine or in the continuing friendships he shares with his five roommates from Leverett House.
For example, an estate planning conversation with classmate Bancroft Wheeler '55 helped him to decide to make Harvard a part of his retirement planning. "I had inherited stock in a family-owned real estate company, which had a substantial capital gain, and he suggested that I consider a planned gift to Harvard," says Barrett. "I then talked with the Office of Gift Planning and found it to be great advice."
Since then, he has established a number of charitable remainder trusts with Harvard.
"It is nice to be able to give back to Harvard while also giving myself an income and helping to provide for my children," says Barrett. "Harvard is way ahead in their planned giving options."
Harvard gift planning experts help alumni establish and customize trusts and other arrangements that provide retirement income, benefits for family, and potentially for other nonprofits. 
As the John Harvard Society chair for his class, he now advises others about gift planning. "I enjoy talking about those charitable gift options offered by Harvard," he says.
Barrett wanted to be part of the Harvard community from the time he was a child and heard stories of his father's days as captain of the 1929 Harvard football team. Growing up in Ashby, Massachusetts, a rural community with a then rudimentary school system, he thought being accepted to Harvard would be difficult. It was the encouragement of his uncle, who helped to raise him, that led him to Phillips Exeter Academy and then on to the Yard.
While at Harvard he initially majored in math but eventually was a social relations graduate. He captained the freshman 150-lb crew and was active with the Harvard Lampoon and the Harvard Mountaineering Club.
Perhaps even more influential was his volunteer work in the mental hospital program run by the Phillips Brooks House Association (PBHA). Barrett worked with children at the Metropolitan State Hospital, a public hospital for the mentally ill in Waltham, Massachusetts, that is now closed.
"Through that PBHA experience, I decided that I wanted to work with kids," he said. "I was not from a doctor's family, but I wanted to pursue a career in medicine."
He attended Harvard Medical School, continuing his medical training with a rotating internship at Mary Hitchcock Memorial Hospital, a psychiatric residency at Massachusetts Mental Health Center, and a two-year research fellowship at Boston University School of Medicine. 
He then pursued a research career, involved with treatment evaluation studies, psychiatric epidemiology, and studies of psychiatric disorders in primary care. Of those, depressive disorders were common, and in his later working years he received MacArthur Foundation support to develop and head a program to improve the recognition and management of depression in primary care.
Now retired, Barrett volunteers as a docent at a local science museum and is involved with several conservation organizations. He continues to spend time with Harvard friends, including classmates Wheeler, Robert Blacklow, and Dan Mayers.
"This is what makes Harvard so special," says Barrett. "Friendships I made there are lasting and important to me."
---
Learn more about making a planned gift to the Faculty of Arts and Sciences by visiting the Office of Gift Planning page or by emailing ogp@harvard.edu.