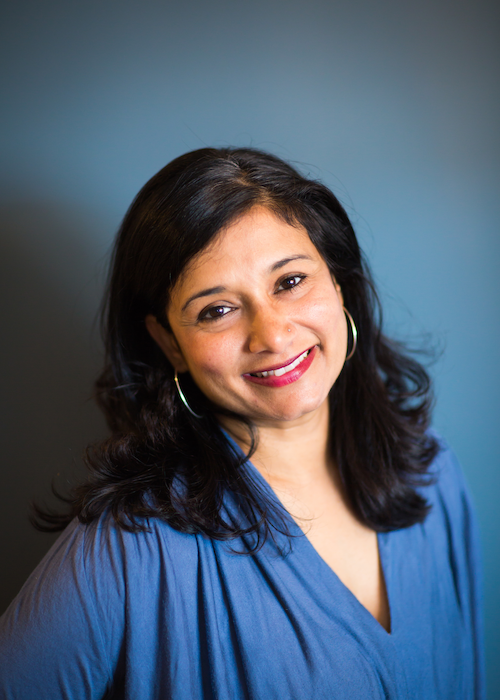 For Moitri Chowdhury Savard '93, a hike in the woods led her down a path she didn't expect. In a show of gratitude, she's been finding ways to help other Harvard students explore ever since.
Savard had been a participant and then a leader with the First-Year Outdoor Program (FOP), the popular preorientation outdoors trip. "As part of FOP, I was encouraged to get my wilderness EMT certification," says Savard, who had thought she was going to become a development economist. "That experience changed everything."
She shifted her focus to add more classes in physics and chemistry, eventually applying to medical school to become a family physician. Savard ran her own practice for nearly 15 years, settling in Long Island City, New York, with her husband, Peter, and their two children.
A conversation with a Harvard roommate made her think twice about planning for retirement, particularly as an independent practitioner. "I saved whatever I could, but I realized I needed to do more to hedge against longevity," she says.
To augment her savings, she turned to a Harvard deferred charitable gift annuity (DGA). "This planned gift is a way to take care of myself in my older age and give back to Harvard," says Savard. "It's never too early to start thinking about retirement and options that you feel really good about."
A donor who establishes a DGA receives a current income tax deduction and lifetime fixed income, beginning at a future date he or she chooses, such as at retirement. The remainder of the gift goes to Harvard upon their passing. For Savard, it's a practical decision to support her family and another way to give back to an interest close to her heart: public service.
She was grateful for the internships she pursued as a recipient of the Lamont Public Service Fellowship. "It was such an eye-opening experience for me, and I want to do that for current students," says Savard, whose annuity will supplement the Chowdhury Public Service Internship for public service experiences. "Every Harvard student has a civic responsibility to their community; the more exposure students have to public service, the better."
As her class's first marshal and an active volunteer with the Harvard Alumni Association, Savard is always thinking about ways alumni make a difference around the world. "We have over 300,000 alumni," she says. "What an amazing impact we could have if we support public service in all we do."
For more information about deferred charitable gift annuities, please visit our webpage or contact the Office of Gift Planning.