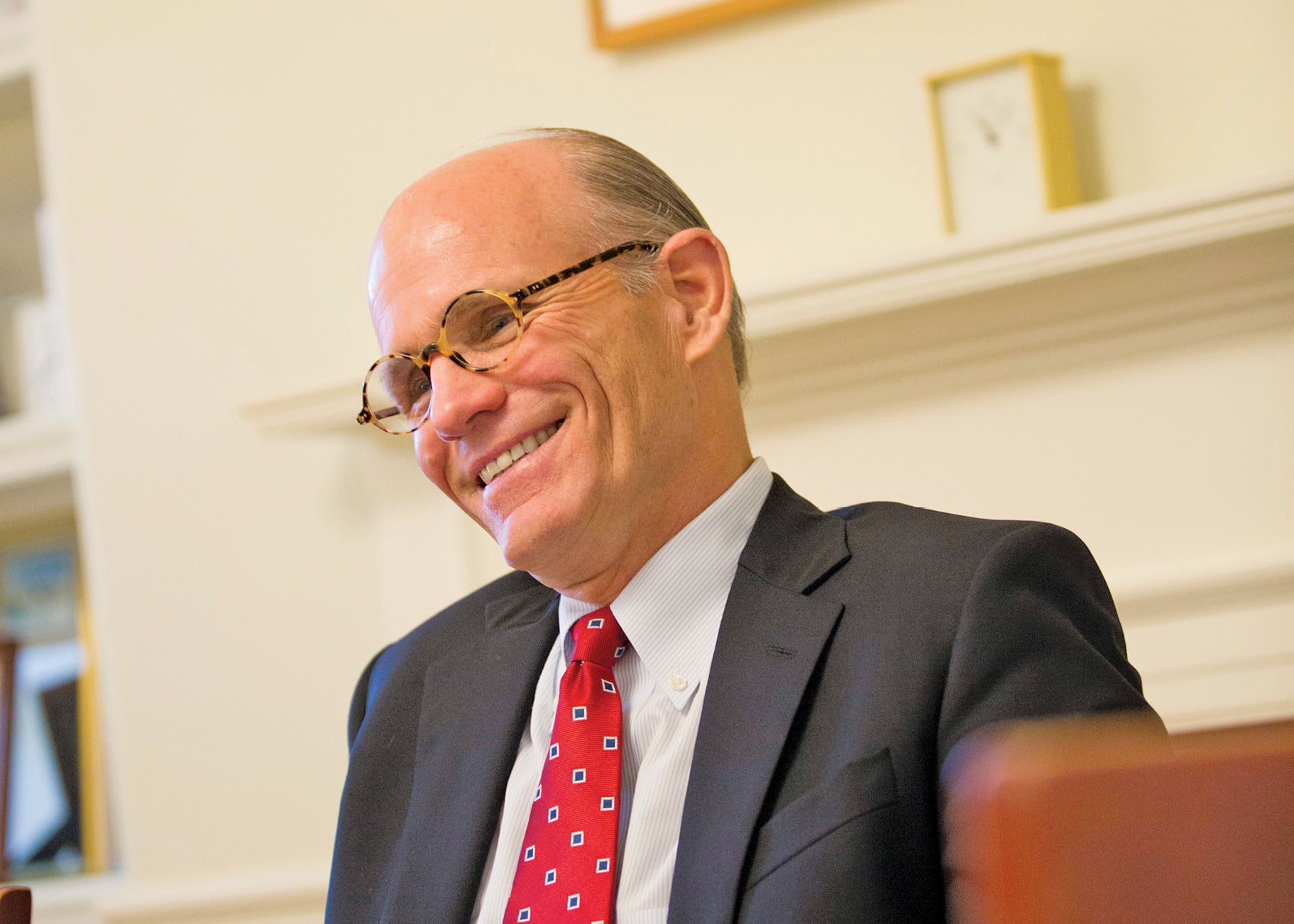 How does planned giving impact the University? Tom Hollister, vice president for finance and chief financial officer, shares why philanthropy is crucial to Harvard's future, perhaps now more than ever.
After nearly 40 years in banking—notably as the chief operating officer of a Fortune 500 company and president of Citizens Bank's flagship financial group—Tom Hollister retired to pursue new opportunities. He was keeping busy in the nonprofit sector when, as he says, "serendipity struck" and, in 2015, he left retirement to join Harvard as vice president for finance and chief financial officer. "What attracted me to Harvard was its mission," Hollister explains. "I wanted to be of use to this wonderful place."
Every Gift is Essential
In his role as CFO, Hollister knows how critical philanthropy is to achieving Harvard's goals.
Last year saw a continuation of one of the longest economic expansions in U.S. history. Given the pandemic, it is fortunate that about 18 months ago Hollister and his colleagues took proactive steps to prepare a "Recession Playbook" for an eventual downturn in the economy. The unforeseen challenge of the COVID-19 pandemic has called for a rapid response requiring significant additional costs to reduce risk to the Harvard community.
Harvard is situated to withstand an interruption in regular operations, but the measures being taken will not fully eliminate financial difficulties, Hollister explains. Now more than ever, a supportive philanthropic base can be a critical differentiator for Harvard in difficult times and maintain its vital teaching and research mission.
Current-use gifts—flexible funds that can be spent during the current year—are vital to the University, providing immediate impact when they're unrestricted, as the president and deans can allocate funding where it's most urgently needed.
"It's important to remember the power of each individual gift, no matter the size," Hollister says. In fact, 80 percent of gifts to Harvard in 2019 averaged $150.
Financial aid represents an urgent unmet need since it is not fully endowed. Without continued philanthropic contributions, Harvard College's ability to fund need-blind admissions is threatened by budget pressures and the economic landscape. For example, the cost of this year's full tuition, room, and board is about $69,000. The average undergraduate pays $37,000 and those receiving financial assistance—54 percent of first-year students—pay $12,000 on average. Twenty percent have their tuition, room, and board fully covered. "Any student from anywhere in the world—if they study hard and contribute to their community— has the chance to go to Harvard, no matter their financial circumstances," says Hollister. "That's really exciting." But that promise and opportunity may be at risk in the current economic upheaval.
John Harvard's Legacy
Planned giving arrangements help donors increase the impact of their gifts. These strategies allow donors to support an area at Harvard that is important to them, while also helping to achieve a personal goal, such as planning for retirement or ensuring a loved one is cared for.
Hollister points out the most famous example of a planned gift: John Harvard's original donation of funds and books, which established the University and its library almost 400 years ago.
"Planned giving is an act of stewardship and foresight, and it's a very thoughtful way to fulfill both family and philanthropic interests," he says. Funds can be marked for the future, or a portion can be reserved for current use. In addition to cash and appreciated securities, gifts of illiquid assets—including real estate, partnership interests, private company stock, or art collections—also may be used to fund these gift arrangements to support the University while providing income and tax benefits to donors and their loved ones.
"A Force for Good in the World"
Despite the enormous immediate challenges and the uncertainties ahead, Hollister believes that Harvard will be ready to meet current and future challenges.
"I've heard President Bacow say many times that a great school begins with great faculty who attract great students," he says. "Harvard has phenomenal faculty and students with the tenacity to adapt in the face of enormous challenges."
Without the generous support of donors, it would be impossible for Harvard to achieve continued excellence in its academic programs, recruit and retain faculty, or maintain its facilities—core activities that enable transformative research and strengthen the next generation of leaders. Last year, donors past and present generated 43 percent of Harvard's revenue through endowment distributions and current-use gifts.
Whether a Harvard graduate or not, each donor feels a strong connection—including Hollister, who donates annually to the University. He also gives back as an academic advisor to first-year students, who inspire and motivate him.
"The University is a force for good in the world," he says. "The reason that people come here— whether they are faculty, students, or staff—is because of the excellence in teaching and research that is in many ways due to the generosity of Harvard's loyal donors."
For more information about charitable giving techniques, please visit our webpage or please contact us here with any questions.