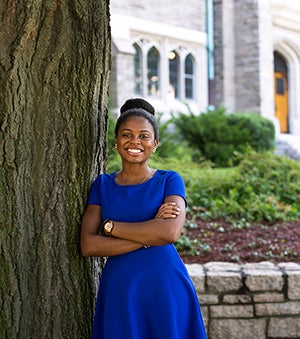 Arakua Welbeck '15 came to Harvard from Ghana, a journey made possible because of donor support. "I knew that I wanted to go to the United States for my education," she says, "but there was no way to go without financial aid."
She applied to a number of schools, but Harvard offered the most generous financial aid package. "The more I learned about the school, the more excited I got—the various concentrations, the extracurricular activities," she says. "I was elated to be able to come."
Welbeck instantly fell in love with Harvard Square, the green of the Yard in the early fall, and the people she met. "There are so many people of all different backgrounds here, and every conversation I have with someone, I learn something," she says.
She's been amazed with the diversity she finds in her classes, particularly of perspective. "Everyone is so well-spoken and has such passionate views," she says. "There isn't one strict metric or opinion that everyone has to follow. It has really forced me to think outside of myself and question the things that I believe."
Welbeck wants to be a doctor and hopes these experiences help her to be more empathetic. "I need to learn how to work with people from various backgrounds and problems and put myself in their shoes," says the biomedical engineering concentrator. "It will help me be more sensitive to their issues."
Through Harvard, she's been able to explore these interests in medicine and public health. She has spent a summer helping with research on breast cancer treatments at the Karp Family Research Laboratories through the Program for Research in Science and Engineering (PRISE). She has worked as a volunteer health educator for Peer Health Exchange, talking with ninth graders on the dangers of tobacco use. And she traveled to China to be a research intern at Shanghai Jiao Tong University.
"I've been able to do things I've never imagined," she says. "I think Harvard has helped me to fine-tune my decisions and it makes me even more certain that this is the correct career path for me."
Welbeck has loved being a part of the campus community. A resident of Mather House, she works at the Graduate School of Arts and Sciences and is a member of the Harvard African Students Association and Harvard College Faith and Action.
"Every year, I am so amazed by the sheer altruism of my donors: this generosity that has not just provided me with the funds to come here, but for an education that has so challenged me," she says. "I've grown so much, and it's all because of financial aid."