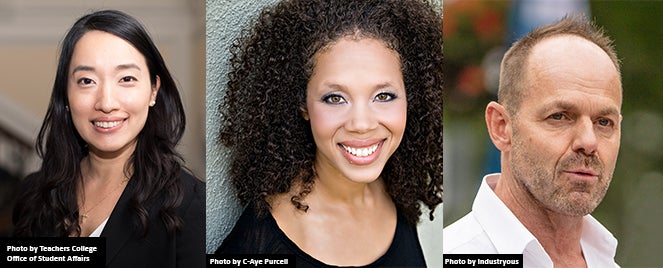 As a landscape architect and urban designer in his native Canada, Claude Cormier MDes '94 is all about creating places of joy in inner cities. He does this by translating the unique qualities of each community into designs that make passers-by pause, step back, and look more closely at the world. 
"We want to wake our audiences up and take a fresh look at their surroundings," he says. "Our work may be artificial, but it's also anything but fake."
Like Cormier, other Harvard alumni are using the arts to connect people within and among their communities. April Bang MPP '06 has used her talents as an artist and educator to promote leadership opportunities for students across Asia and the U.S., and to bring the community of Harlem, New York, together in collaborative art-making and conversation.
Kelley Purcell AB '02 fostered her love for singing during her time as a Harvard undergraduate. In addition to her current work with The Recording Academy in Los Angeles, she created and co-produced Shattered Glass, a powerful multimedia stage presentation and workshop that has brought its message of healing and strength to communities across the country.
All three of these alumni represent the power of the arts to drive positive change, promote open dialogue, and build community.
APRIL BANG MPP '06—HOW DOES OUR GARDEN GROW?

A graduate of Harvard Kennedy School and an artist in her own right, April Bang looks for opportunities to explore how engagement with the arts can foster transformation on both personal and societal levels.
Now a doctoral candidate at Teachers College, Columbia University, Bang says "the arts have helped me to be a continuous learner and to see endless possibilities for transforming."
After publishing an article in the Journal of Transformative Education on the role of the arts in conflict resolution, Bang was invited to co-curate a community arts installation at the Walls-Ortiz Gallery and Center in Harlem, helping to conceptualize a project that would provide a space for Harlem residents and visitors to come together and engage with art and community conversation.
Bang's piece, How Does Your Garden Grow?, launched in March 2017, and as she says, "was a literal and metaphorical garden that not only grew but also fostered community."
The garden's Tree of Life invited families in the Harlem community to share their personal roots—where they came from and what they believed were the foundations of the community. Over time, the tree grew as more people added to it, and by the end of the exhibition it had leaves, where guests shared their aspirations, dreams, and visions. Other spaces in the exhibit gave community members a place to express—through quotes, pictures, photos, and music—what inspired them to engage in social change.
"As one of our co-curators, Adrienne, said, we walk down the street in Harlem, and we might see each other every day but not recognize each other or say hello," Bang says. "But the fact that we've engaged in community conversation, that we've heard each other's stories, now we can feel that there is community when we are out on the streets."
Kelley Purcell AB '02—

Shattered Glass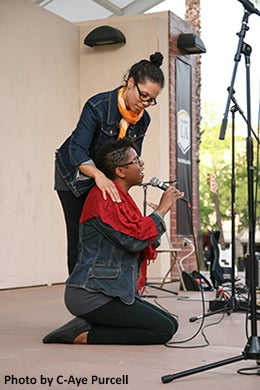 While Kelley Purcell's love for music has been lifelong, she only decided to make it her career path at the end of her junior year at Harvard. Now Director, Member Outreach for the Recording Academy, Purcell has also committed considerable time over the past eight years to her multimedia presentation and workshop Shattered Glass, named after a poem in her friend Shaunelle Curry's poetry collection Shairi's Journey: Through Darkness Into Light.
After suffering a personal setback, the project came to be when Purcell was inspired by a character in Curry's book who was picking up the pieces of her life and ultimately coming to a place of victory.
"I started reading it because I was in that place in my own life," says Purcell. "I was totally enthralled, underlining every word, and I was with that character. As I was reading, I was thinking, 'Oh, I have a song about that, and I have a song about that.'"
Shortly thereafter, Purcell and Curry began rehearsing and building Shattered Glass. Then they took the piece on the road, performing it in community centers and schools across the country. At first, the performance was personally therapeutic for Purcell. But when they began performing it in women's shelters, it took on a new level of importance.
"I remember taking it to one shelter in particular, in Northern California," Purcell recalls. "After the show, women approached us crying and saying, 'Thank you. People don't usually come here and do this type of thing, it really uplifted my day.' I always knew the impact of the art personally, but never realized it could be used beyond myself."
Claude Cormier MDes '94—
18 Shades of Gay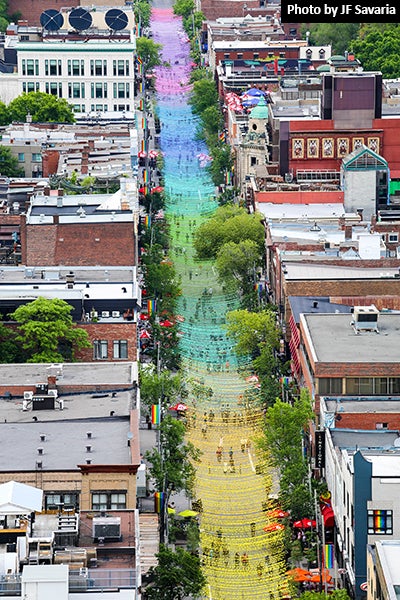 Claude Cormier has made a career out of challenging ordinary perceptions. He frequently has to fight to get his projects approved by city officials, but he maintains a positive outlook on the impact his work can have in the community.
"I believe that in inner cities, we need a place of hope, optimism, and joy that we can get across in a universal way," Cormier says. "It comes down to an attitude of hope and optimism and finding the thing you are in search of."
Case in point: each summer since 2011, Montreal's Gay Village has hosted a regular installation by Cormier's firm. What started as Pink Balls—a bright canopy of more than 180,000 pink plastic balls strung across a one-kilometer stretch of Saint Catherine Street East—morphed into 18 Shades of Gay, which utilizes hues of the six colors of the pride flag. It is a striking display when seen from above and experienced from below. The installation's measurable impact on the community shows through the proliferation of restaurants and lowered vacancies. But that's not all it has done.
"It seems to be happier," Cormier says of the community. "People like to be in places where you have that mood. Happy brings happy. That's where this [work] has a tremendous impact. It creates places for people who didn't have places to go. It brings people together. Once you bring people together, things happen."
Bang, Purcell, and Cormier were also participants in this fall's Question + Create: A Harvard Alumni Gathering on the Arts. Listen to their panels on Art + Social Impact and Art + Satire.