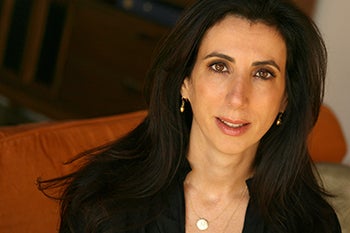 Want to be a writer? It helps to have someone believe in you, says screenwriter Aline Brosh McKenna '89. Recalling that she wanted more guidance as an undergraduate, she has established the Aline Brosh McKenna Creative Writing Fund, which will provide advising and mentoring support for the next generation of aspiring writers.
"Every writer that I know has had someone who said to them that you belong here and you deserve to be doing this kind of work," says Brosh McKenna. "They've all had a meaningful moment where someone intervened and said, 'You are worthy of being a writer.'"
Brosh McKenna is now a sought-after screenwriter and producer, known for smart and funny movies such as The Devil Wears Prada, We Bought a Zoo, and 27 Dresses. She describes herself as always working on any number of projects at once; her current projects include a modern retelling of Jane Eyre called Rochester, a live-action Disney movie called Cruella, and a television pilot for Showtime called Crazy Ex-Girlfriend.
Brosh McKenna, who was a literature concentrator at Harvard, says her time at the College helped to lay the foundation for her tremendous drive.
"I think the Harvard experience stresses independence and learning how to be self-motivated. Also, learning how to meet deadlines," she says. "My joke here is that I've had to do a paper for the last twenty years. In some ways, I never left the world of writing on deadline."
While at Harvard, she directed five plays and was a staff writer for the Harvard Crimson. She remembers her first attempt to be a professional writer during her senior year.
"My roommate Stacie Lipp '89 was on the Lampoon, and she and I decided that we were going to write something and take the summer off to write a book proposal," she says. "I never would have had the courage to be a writer without her." 
The two used the Harvard Office of Career Services to research alumni in publishing and sent off a proposal to Carl Brandt '56, who was a literary agent for Brandt & Brandt. "He became our agent," says Brosh McKenna. Their book, The Coed's Companion, was published in 1990 by Pocketbooks.
After graduating, Brosh McKenna went to New York to become a freelance magazine writer and enrolled in a six-week screenwriting class at New York University. Her teacher became a mentor, reading multiple versions of Brosh McKenna's script and urging her to take her talents to Los Angeles. There, she went on to sell her first comedy film script and a TV pilot by age 26.
"This kind of work requires a lot of encouragement and confidence," says Brosh McKenna. 
The fund she established at Harvard will help provide that encouragement in the form of support for instructors, course development, visiting artists, and advising.  "I hope this creative fund helps a kid who wants to write and have access to this kind of support." 
Brosh McKenna found herself thinking more about her Harvard experience after attending her 25th reunion last spring. "I really enjoyed reconnecting with people I hadn't seen in years and seeing what happened to them in their lives," she says, and notes that the nostalgia had her thinking about her own path and how to support other students like she had been.
"I hope the fund reaches out to somebody who is interested in exploring off-the-beaten path," she says. "We need those people."