Harvard College Alumni
Welcome to CrimsonLink
Harvard College Fund staff will help you identify peers who will benefit from your personal contact—your "assignments." CrimsonLink, a secure online portal for volunteer fundraisers, is designed to help you manage your outreach in a variety of ways:
View giving histories and contact information
View recommended ask amounts
Enter pledges and notes on gifts
Review your class's overall solicitation progress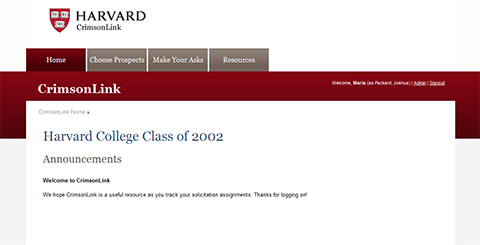 To access CrimsonLink, you must be listed as an active volunteer in our system. Returning volunteers will find that your solicitations have been pre-populated based on your efforts last fiscal year, and you can always modify your assignments and select new classmates for solicitation.
If you are a new volunteer and would like more information, please contact your class officer to get started. We also provide CrimsonLink training through online webinars each year, which will be announced via email to all volunteers.
We continue to enhance CrimsonLink based on your feedback and hope that you find this tool helpful in your outreach. Thank you for giving your time to support the Harvard College Fund.