Join us for one of Harvard College's most cherished alumni traditions, your class Reunion. Every five years, classes engage in comprehensive fundraising campaigns to inspire high levels of class participation and to secure leadership contributions in support of Harvard. Reunion efforts involve large gift committees and rely on dedicated volunteer leadership.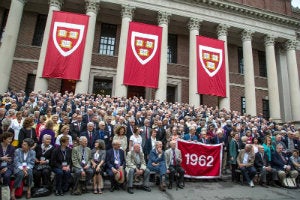 Whether you want to volunteer with your class gift committee, work with the Harvard Alumni Association on reunion programming, or make a gift in support of your Class's reunion effort, we encourage you to join your fellow classmates in celebrating our Harvard community.
From the 5th Reunion to the 60th Reunion and beyond, your efforts build community and form the cornerstone of the Harvard College Fund. Thank you for your involvement and support.