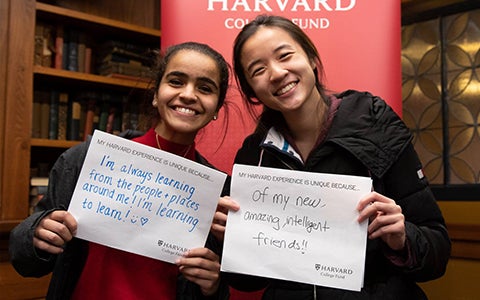 Why does Harvard fundraise?
In a word: Impact. Philanthropy funds transformative teaching and groundbreaking research. Every day, you and your peers are working alongside the best faculty to solve some of the biggest issues across the globe like deadly diseases, economic inequality, natural disasters, and climate change, to name just a few. Philanthropy provides the immediate support faculty and students like you need to pursue their passion at Harvard and bring life-changing ideas to the world.
What is the Harvard College Fund?
For nearly 100 years, the Harvard College Fund has supported everything you love about Harvard: financial aid, Classroom to Table, House life, career services, and much more. Each year, more than 30,000 students, alumni, parents, and friends make gifts to the Harvard College Fund. These gifts help sustain and enhance your Harvard experience. 
What about the endowment? Can't it cover all of Harvard's expenses? 
Harvard's endowment is the sum of money the University invests in a variety of financial markets. With the proceeds of these investments, Harvard uses the endowment to fund a number of operating costs and programs. It is not one giant bank account that Harvard can spend whenever and however it likes! The University takes only about five percent of these funds every year to fund its operating budget. In addition, the endowment is made up of hundreds of individual funds, most of which are restricted for a specific purpose designated by the donor. That means the endowment can only cover a predetermined part of Harvard's operating expenses.
Current-use gifts made to the Harvard College Fund do NOT go into the endowment! These dollars immediately and directly support everything that defines your Harvard experience today.
What about tuition? Doesn't tuition cover these expenses for each student?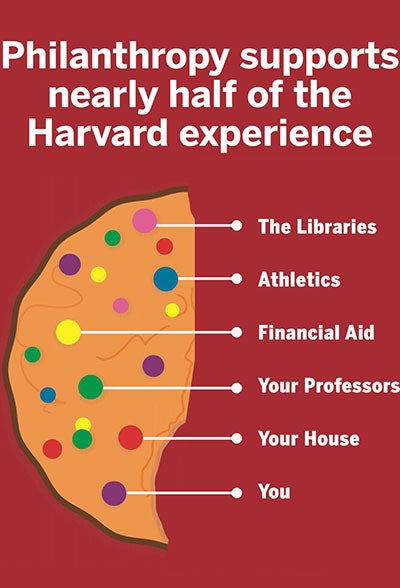 Full-price tuition only covers about two-thirds of the actual cost of a Harvard education, so every student receives a subsidy to attend, even if they don't receive financial aid.
In fact, philanthropy accounts for nearly half of Harvard's budget. Many programs that make the Harvard undergraduate experience so unique are supplemented or completely funded by gifts from alumni, parents, and students. 
Why are all gifts important to Harvard? Can my gift really have an impact?
Flexible, current-use gifts made to the Harvard College Fund not only bridge gaps in the endowment, they also enable Harvard's students and faculty to test new ideas, push boundaries, and respond to unexpected opportunities right away. Collectively, all gifts—no matter the amount—sustain and grow our School.
These flexible dollars are used in four primary ways (M.U.S.T.):
MISSION: make the foundational parts of the Harvard experience possible
Flexible funds sustain teaching, research, living, and learning spaces. They give you and your peers resources to explore new possibilities in and beyond the classroom. And they give professors the tools they need to tackle the most pressing issues in the world today.

UNFORESEEN CIRCUMSTANCES

: respond to needs throughout the year
When the unexpected happens, flexible funds fill the gap. Because of philanthropy, these emergency funds are available when students face financial hardships. 
SEED FUNDING: catalyze exciting new programs and initiatives
Harvard can create new academic resources like Research SnackChats or pre-orientation programs to meet students' evolving needs.

TALENT: bring the most talented minds in the world to Harvard


Flexible, current-use funds give students and faculty the resources to thrive. And thanks to these funds, more students have access to financial aid, ensuring economics backgrounds are never barriers to achieving a Harvard education. 
How can I get involved?
Contact Harvard College Fund partner Paige Lemieux for more information.