Harvard College Alumni
Harvard College Fund Student Philanthropy
You've got questions? We've got answers.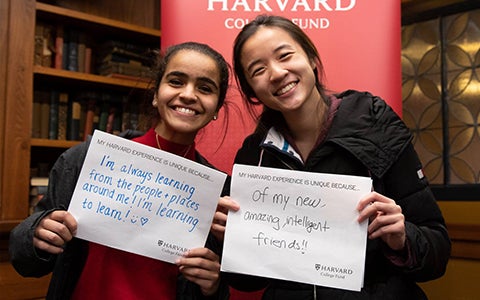 What is the Harvard College Fund?
The Harvard College Fund fosters a philanthropic community in support of the vital and enduring teaching, learning, and research mission of the Faculty of Arts and Sciences. For nearly 100 years, the Harvard College Fund has supported the College, the Graduate School of Arts and Sciences, and the Harvard John A. Paulson School of Engineering and Applied Sciences (SEAS). Each year, more than 30,000 students, alumni, parents, and friends give through the Fund.
But why does Harvard need more money when it has such a large endowment?
As explained in this Crimson article, Harvard's endowment is the sum of money the University invests in a variety of financial markets. With the proceeds of these investments, Harvard uses the endowment to fund a number of operating costs and programs. It is not one giant bank account that Harvard can spend whenever and however it likes! The University takes only about 5 percent of these funds every year to fund its operating budget. In addition, the endowment is made up of hundreds of individual funds, most of which are restricted for a specific purpose chosen by the donor. That means the endowment can only cover a predetermined part of Harvard's operating expenses.
Donations to the Harvard College Fund do NOT go to the endowment! These donations immediately and directly support everything you love about Harvard: financial aid, campus mental health facilities, Classroom to Table, House life, career services, HUDS brain breaks, and much more.
What about tuition? Doesn't tuition cover these expenses for each student?
Tuition only covers part of a Harvard education, so every student receives a subsidy to attend, even if they don't receive financial aid. The generosity of donors makes this possible.
Why are all gifts important to Harvard? Can my gift really have an impact?
Immediate impact gifts through the Harvard College Fund not only bridge gaps in the endowment, they also enable Harvard's students and faculty to test new ideas, push boundaries, and respond to unexpected opportunities right away. Collectively, all gifts—no matter the amount—sustain and grow our School.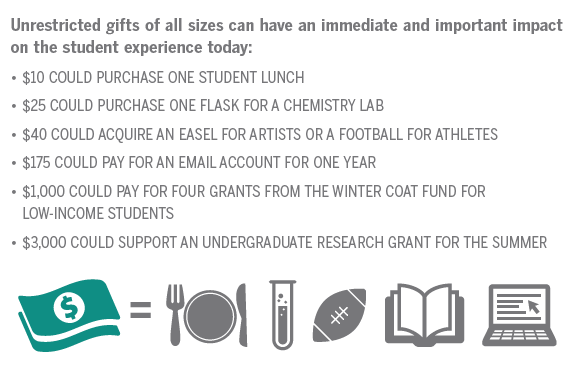 How can I get involved?
Interested in learning more about the Harvard College Fund? Want to educate your peers on how philanthropy impacts your undergraduate experience? Join the Harvard College Fund Undergraduate Committee! Contact Assistant Director of Undergraduate Giving Molly Stansik '13 for more information.
---