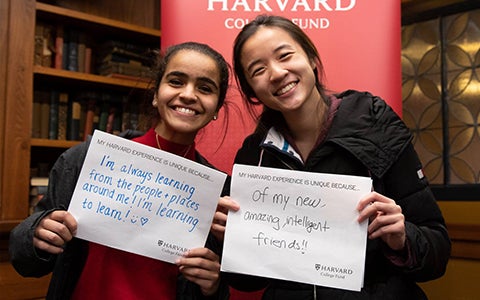 For nearly 100 years, the Harvard College Fund has supported everything you love about Harvard: financial aid, mental health services, Classroom to Table, House life, career services, Crimson After Dark, and much more. Each year, more than 30,000 students, alumni, parents, and friends give through the Fund to bolster the College, the Graduate School of Arts and Sciences, and the Harvard John A. Paulson School of Engineering and Applied Sciences (SEAS).
But why does Harvard need more money when it has such a large endowment?
As explained in this Crimson article, Harvard's endowment is the sum of money the University invests in a variety of financial markets. With the proceeds of these investments, Harvard uses the endowment to fund a number of operating costs and programs. It is not one giant bank account that Harvard can spend whenever and however it likes! The University takes only about 5 percent of these funds every year to fund its operating budget. In addition, the endowment is made up of hundreds of individual funds, most of which are restricted for a specific purpose chosen by the donor. That means the endowment can only cover a predetermined part of Harvard's operating expenses.
Donations made through Senior Gift do NOT go to the endowment! These dollars immediately and directly support everything that defines your Harvard experience today.
What about tuition? Doesn't tuition cover these expenses for each student?
Tuition only covers part of a Harvard education, so every student receives a subsidy to attend, even if they don't receive financial aid. The generosity of donors makes this possible.
Why are all gifts important to Harvard? Can my gift really have an impact?
Flexible, current-use gifts through the Harvard College Fund not only bridge gaps in the endowment, they also enable Harvard's students and faculty to test new ideas, push boundaries, and respond to unexpected opportunities right away. Collectively, all gifts—no matter the amount—sustain and grow our School.
Flexible dollars have made so much possible throughout the pandemic, including:
Support for hundreds of reimagined courses, designed for online instruction and this unprecedented moment in time
Remote-learning allowances for all off-campus undergrads on aid, to assist with food and housing expenses
530,000+ COVID-19 tests distributed to students, faculty, and staff since June 2020
Take-home lab kits, so SEAS students could examine the science and engineering behind COVID-19 policies from their own dorm room
More than 1,500 tablets and styluses, 200 laptops, and 100 mobile hotspots loaned to students with technology needs
Harvard College Everywhere, so students could stay engaged and connected from anywhere in the world
New mediums and emerging technologies, so Theater, Dance & Media students could find new ways to perform
Faculty support, so College professors could use their research to combat the pandemic's effects on health and the global economy
How can I get involved?
Interested in learning more about the Harvard College Fund? Want to educate your peers on how philanthropy impacts your undergraduate experience? Join the Harvard College Fund Undergraduate Committee! Contact Associate Director of Undergraduate and Recent Graduate Philanthropy, Molly Stansik '13, for more information. 
---