Harvard College Alumni
Activities Chairs
Activities chairs (also known as city captains or regional chairs) are College alumni volunteers who support their Class Committees and bring classmates and alumni from surrounding classes together in their post-grad cities and regions, serving as key players in keeping College alumni connected to each other.
Each class may choose to utilize or manage its chairs in different ways, but duties are generally the same. All activities chairs are expected to organize one event per year in their cities, and most often they do so in partnership with others. Major responsibilities include:
Communicating with area classmates to publicize events and develop personal connections (via email, class websites, Facebook groups, and/or other social media channels)
Planning events or virtual gatherings that appeal to the class's diverse interests and foster a sense of community within an area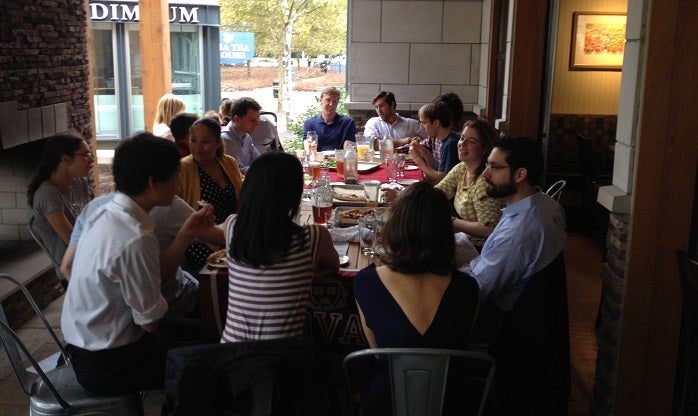 In locations with more than one activities chair, volunteers collaboratively work as a committee within or across classes. Chairs can share administrative responsibilities, such as event planning and outreach support; they may also choose to assign specific roles to each person. Chairs are encouraged to take advantage of all that an area has to offer and to make the alumni events as inclusive as possible (no-cost/low-cost events are encouraged). If you are planning an event, be sure to coordinate with your Class Committee and inquire with your local Harvard Club about the possibility of co-hosting (the local Club may already be planning similar events or those of interest to recent graduates).
Programming organized by activities chairs may include:
Happy hours
Harvard games or watch parties
Community service projects
Speaker events
Book clubs
Forming a team for a local sport league
Community or professional theater performances or games
Virtual gatherings
Activities chair terms last for one year. Chairs may renew their membership by signing up again each year. Alumni who have previously served as activities chairs and are interested in starting again are also welcome to rejoin at any time.
If you are interested in volunteering as an activities chair to support your Class Committee in the period from July 2020 through June 2021, please fill out this form. Following that, a member of the College Alumni Programs team or your Class Committee will follow up with you with more detailed guidance on next steps (including information on collaborating with other volunteers and sending communications).