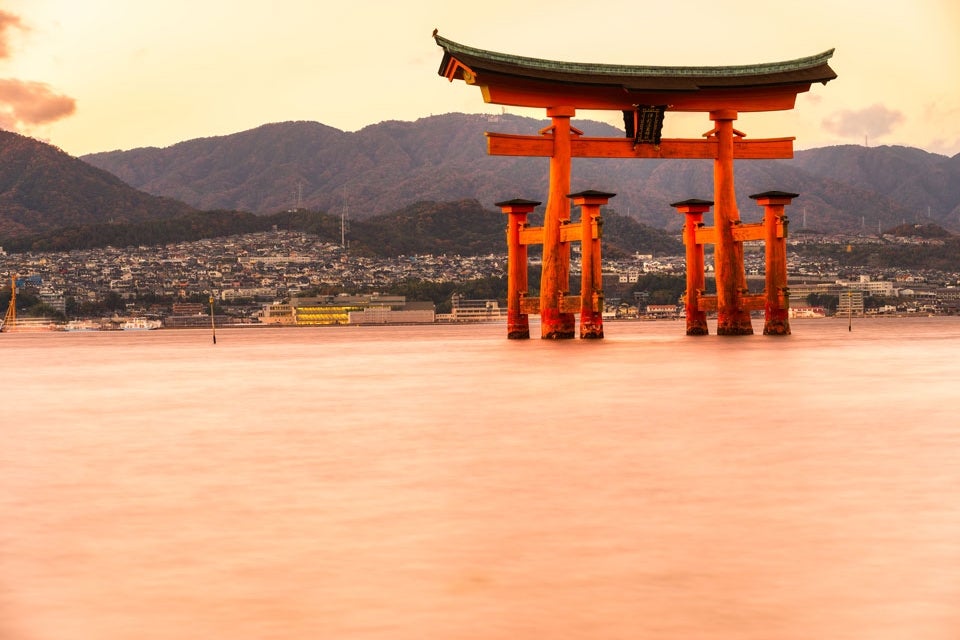 Date
Apr 18, 2023 - Apr 29, 2023
Group Size: Up to 180 guests
Price: Starting from $7,150 per person
Co-sponsored with: Cal Berkeley, Duke, Fordham, Michigan, Princeton, Vermont, Virginia Museum of Fine Arts, William and Mary, Northwestern, and Bucknell
Trip Overview
Experience the timeless splendor of Japan and South Korea on this unique, custom-designed itinerary, featuring three nights in Kyoto and a seven-night cruise across the full length of the serene Inland Sea of Japan from Himeji, including historic ports of Japan such as Miyajima, Sakaiminato and Moji and Ulsan, South Korea. On board the exclusively chartered, Five-Star small ship Le Soleal, featuring only 110 ocean-view Suites and Staterooms, enjoy this 280-mile stretch of scenic, tranquil ocean with port calls at captivating points of interest, including seven UNESCO World Heritage sites. In the enchanting city of Kyoto, visit opulent temples and the Nijō Castle, an imperial gem. Walk through the imposing Peace Memorial Park in Hiroshima, tour the Itsukushima Shrine in Miyajima with its awe-inspiring Great Torii Gate and see the impressive Himeji Castle, the largest and best-preserved feudal structure from medieval Japan. In Gyeongju, South Korea, visit the Buddhist Bulguksa Temple and the ancient Silla Kingdom Royal Burial Mounds. Tokyo Pre-Program and Osaka and Nara Post-Program Options are available.
Schedule by Day
Apr 18: Depart the U.S. / Cross the International Date Line
Apr 19: Osaka, Japan / Kyoto
Apr 20: Kyoto
Apr 21: Kyoto
Apr 22: Kyoto / Himeji / Embark Le Soleal
Apr 23: Hiroshima / Miyajima
Apr 24: Hagi
Apr 25: Sakaiminato for Matsue
Apr 26: Ulsan, South Korea for Gyeongju
Apr 27: Moji, Japan
Apr 28: Uno for Kurashiki / Okayama (Koraku-en Garden)
Apr 29: Osaka/Disembark ship/Depart for the U.S. /Cross the International Date Line/Arrive home
Pricing
Per person double occupancy:
Category 5: $7,150
Category 4: $8,250
Category 3: $9,550
Category 2: $10,550
Category 1: $11,550
Deluxe Suite: $12,950
Prestige Suite 2: $13,550
Prestige Suite 1: $14,550
Owner's Suite: $16,550
Single occupancy:
Category 5: $11,440
Category 4: $13,200
Category 3: $15,280
Category 2: $16,880
Category 1: $18,480
Deluxe Suite: $20,720
Prestige Suite 2: $21,680
Prestige Suite 1: $23,280
Owner's Suite: $26,480
Accommodations
3 nights at hotel in Kyoto
7 nights aboard Le Soleal
Optional Extensions
Tokyo Pre-Program
April 15 - 19, 2023
$1,695 per person double occupancy / $2,295 single occupancy
Osaka and Nara Post-Program
April 29 - May 1, 2023
$1,145 per person double occupancy / $1,545 single occupancy
What to Expect
Activity Level 3
Busy pacing may include multiple hotel changes plus internal flights or long drives. May involve exposure to the outdoors, full days of touring, and walking up to two hours.