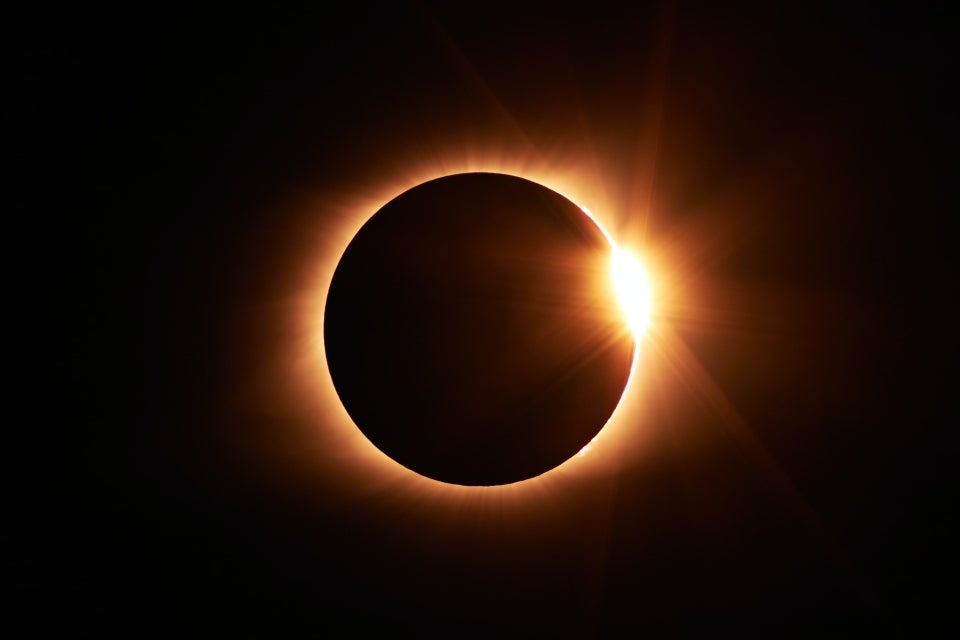 Date
Apr 12, 2023 - Apr 25, 2023
Ship Size: 114 guests
Price: Starting from $14,990 per person
Co-sponsored with: Yale, Carleton College
Trip Overview
Experience the riveting cosmic event of a rare total solar eclipse from the best possible vantage point, directly on the centerline, as the brilliance of the Coral Coast is plunged into darkness. 
Cruise for 10 nights down the coast of Western Australia, home to some of the darkest skies in the world, allowing for incredible stargazing of the Southern Skies from the ease and comfort of the ship's top deck. 
Witness a variety of dazzling landscapes of Western Australia's colorful Coral Coast, home to white sand beaches, oceans painted with azure blue hues, rugged red outback desert and the world's longest fringing reef.
Snorkel pristine reefs and coral gardens including the World Heritage Sites of Ningaloo Reef and Shark Bay.
Encounter an abundance of wildlife - rare birds, land animals and marine life – including a chance to swim with mighty whale sharks and manta rays, two of the world's largest harmless fish.
Engage with Indigenous Australians and learn about the world's oldest living culture during visits to sacred Aboriginal sites.
Schedule by Day
Apr 12-13: Depart U.S. / Cross international dateline
Apr 14: Arrive Sydney, Australia
Apr 15: Fly to Broome / Embark Caledonian Sky
Apr 16: Rowley Shoals / Mermaid Reef / Bedwell Island
Apr 17: Karratha / Burrup Peninsula / Dampier Archipelago
Apr 18: Montebello Islands
Apr 19: Muiron Islands
Apr 20: Ningaloo Reef Marine Park / Exmouth / Eclipse Day
Apr 21: Ningaloo Reef Marine Park / Coral Park
Apr 22: Monkey Mia / Shark Bay
Apr 23: Geraldton / Kalbarri National Park
Apr 24: Abrolhos Islands
Apr 25: Perth / Depart for home
 
Pricing
Per person based on double occupancy
Category A: $14,990  
Category B: $15,990 
Category C: $17,990 
Category D: $19,990 
Category E: $20,990 
Category F: $22,990 
Category G: $24,990 
Single occupancy
Category A: $22,490 
Category B: $23,990 
Category C: $26,990
Accommodations
One night at the Shangri-La Hotel in Sydney
Ten nights aboard Caledonian Sky
What to Expect
Activity Level 3
Busy pacing may include multiple hotel changes plus internal flights or long drives. May involve exposure to the outdoors, full days of touring, and walking up to two hours.