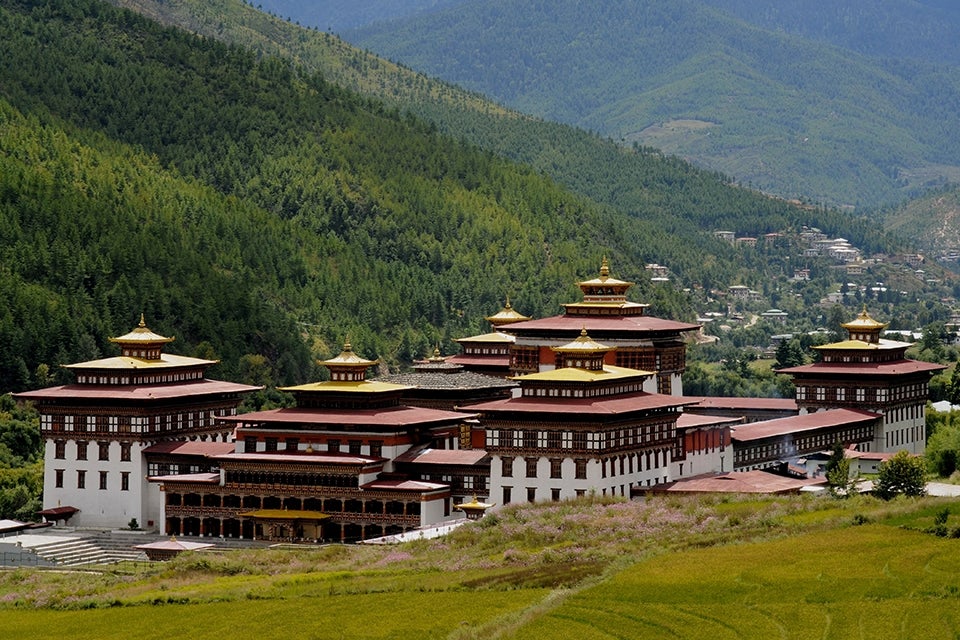 Date
May 25, 2024 - Jun 9, 2024
Group Size: 15 to 26 guests
Price: $14,995 per person double occupancy / $5,000 single supplement
Co-sponsored with: Harvard exclusive
Trip Overview
This journey offers a rare view into Nepal and Bhutan, starkly beautiful countries flourishing in the isolation of the Himalayas and offering a richness of religious and cultural traditions and an amazing diversity of art and architecture.
View the Himalayas by air with over one hundred awe-inspiring peaks, including Everest!
Gain a strong understanding of the cultural and religious practices of Buddhism in the Himalayan Kingdoms.
Explore Bhaktapur, home of medieval art and architecture. Walk around Durbar Square overlooking the Palace of 55 windows and Nyatapola temple, considered the finest example of the Pagoda style of architecture.
Visit Boudhanath, a center of Tibetan culture, where merchants stopped to pray before embarking on the arduous trade route to Lhasa.
Hike to see the famous Taktsang Monastery, a place so holy that all Bhutanese try to visit it at least once in their lifetimes. The monastery's white temples dramatically cling to a cliff at nearly 10,000 feet.
Enjoy privileged access to local dignitaries and benefit from our long-established connections to access temples rarely seen by Westerners.
Schedule by Day
May 25-26: Depart U.S. (independent arrangements)
May 27: Arrive Kathmandu, Nepal
May 28: Kathmandu
May 29: Kathmandu
May 30: Paro, Bhutan / Thimphu
May 31: Thimphu
Jun 01: Punakha
Jun 02: Punakha
Jun 03: Trongsa
Jun 04: Bumthang
Jun 05: Bumthang
Jun 06: Paro
Jun 07: Paro
Jun 08: Kathmandu, Nepal
Jun 09: Return to U.S.
Pricing
$14,995 per person double occupancy / $5,000 single supplement
Accommodations
Three nights at Dwarika's Hotel, Kathmandu
Two nights at Le Meridien, Thimphu
Two nights at Dhensa Boutique Resort, Punakha
One night at Yangkhill Resort or Norbu Lingkha Resort, Trongsa
Two nights at Ghonkhar Lodge or Valley Resort, Bumthang
Two nights at Le Meridien, Paro
One night at Dwarika's Hotel, Kathmandu
Extensions
NA
What to Expect
Activity Level 4
Most of this itinerary takes place at moderately high altitude (in Kathmandu, approximately 4,600 feet; in Bhutan, approximately 7,000 feet). Altitude sickness is most common above 8,000 feet, but some participants may experience some symptoms of altitude sickness, including headache, fatigue, and insomnia. In addition, higher altitudes can exacerbate health issues you already have.
This will be a fast-paced, active program covering rugged terrain, with considerable walking and several rigorous travel days with early departures. Daily excursions involve one to three miles of walking, including stairs without handrails, high thresholds, and cobbled uneven paths. The optional excursion to Taktsang Monastery (Tiger's Nest) in Bhutan is a rigorous 4–6-hour hike on a sometimes steep and rocky trail with several hundred steps – it's around 4 miles roundtrip and is at an altitude of 10,240 ft. There is an option to ride a mule or horse up to the halfway point. Participants can opt out of this excursion if preferred.
Motorcoach rides to remote locations are sometimes long and over bumpy roads, occasionally lasting up to seven hours, and briefly reaching an altitude of 12,000 feet. Any physical condition requiring special attention, diet, or treatment must be reported. All reasonable efforts will be made to accommodate special diets and treatment, but medical treatment is not at Western standards, and we cannot guarantee special arrangements.
Meals will be basic, and restaurants may not offer the kind of variety or service one finds in larger cities. Not all hotels have elevators; you may have to walk up several flights of stairs to your room.
Restrooms outside the hotels and restaurants are often quite rustic (including some squat toilets) and may not supply toilet paper. In Bhutan, "bush stops" will be made during the longer bus rides, as public toilets are not available in remote areas. You should be prepared to handle your own luggage at Customs points where porters are not permitted.
Anyone with a serious medical problem, whose medical situation might be adversely affected by active travel at high altitude, or who might have difficulty walking, should not consider this program.
This promises to be a memorable journey, but as with all travel, a flexible attitude, a spirit of adventure, and a willingness to explore new areas will enhance your enjoyment of this program. You do not have to participate in all the scheduled activities, except when traveling to the next destination. We are sure you will be pleased with the exciting educational program provided, but we want you to be aware of the pace and activity level.