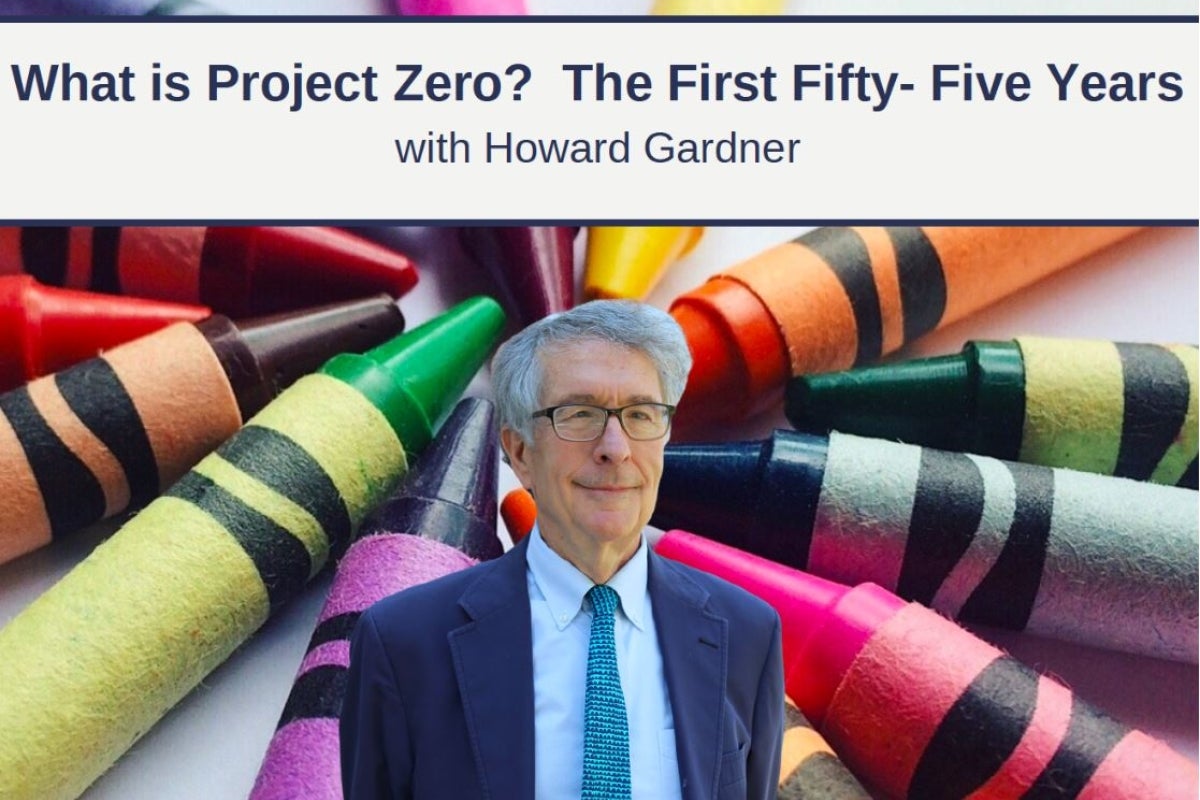 Attendance Policy
Registration required
Accessibility
Real time captioning available
Add to Calendar
04-17-2023 17:00:00
04-17-2023 18:00:00
America/New_York
What is Project Zero? The First Fifty-Five Years
Hear from Howard Gardner about the work Project Zero has undertaken over the last 55 years



View more info at https://alumni.harvard.edu/programs-events/what-project-zero-first-fifty-five-years

Please be sure to register if you haven't already.
Harvard Alumni Education
haa_alumnieducation@harvard.edu
MM/DD/YYYY
Join the alumni YouTube livestream as Howard Gardner AB '65, PhD '71 speaks about Project Zero. Launched in 1967 at the Harvard Graduate School of Education, Project Zero (PZ) conducts basic research in education, broadly construed, and then tries to give findings and recommendations a 'push' in the right direction. The Project was founded by noted philosopher Nelson Goodman. As an enthusiast of the arts, Goodman sought to establish firm knowledge about education in the arts -hence the whimsical name. Howard Gardner was a founding member of PZ, and with David Perkins, directed it for many years. In this program, Gardner will talk about some of the major work undertaken at PZ over the years and what is entailed when leading and sustaining an organization without a penny of endowment funds...for over half a century.
This program is coordinated through the Office of the Vice Provost for Advances in Learning (VPAL) and will be livestreamed to the alumni community in collaboration with the Harvard Alumni Association.
Accessibility
Harvard University and the Harvard Alumni Association encourage people with disabilities to participate in its programs and activities. Accessibility-related information can be found at accessibility.harvard.edu. If you anticipate needing any type of accommodation or have questions about the access provided, please let us know in advance by calling 617-495-1920 or emailing haa_alumnieducation@harvard.edu.
Community Guidelines
Harvard University Alumni Affairs & Development (AA&D) programs and volunteer opportunities respect the rights, differences, and dignity of others. Those taking part in AA&D activities, are expected to demonstrate honesty, integrity, and civility in those activities, and are accountable for their conduct there with University alumni, students, parents, volunteers, employees, and invitees. Harvard University Alumni Affairs & Development reserves the right to suspend services to and to exclude from participation in AA&D programs any person whose inappropriate behavior adversely affects the safety, well-being, and inclusion of community members.