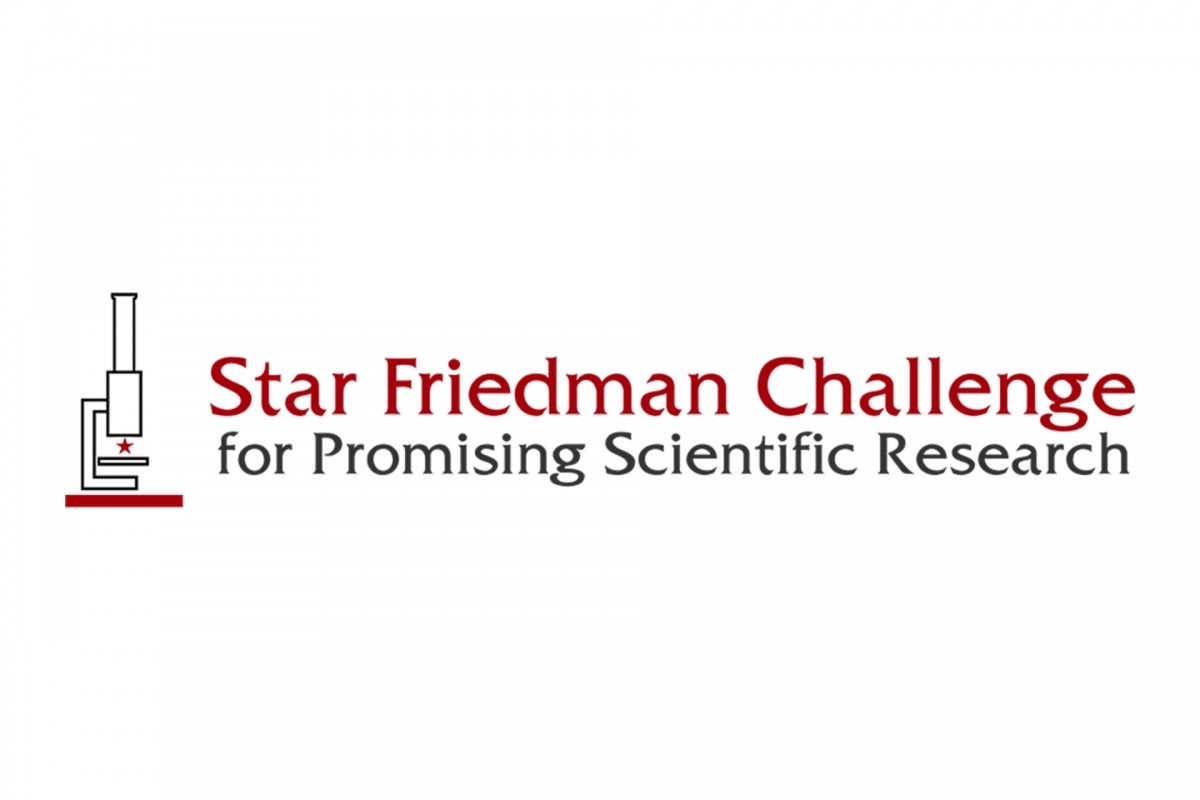 Attendance Policy
Open to public
This virtual gathering took place on June 16 where the eight winning faculty members spoke about their ambitious and daring new projects. A recording of the event is available below.


What superconductor technology will pave the way for future breakthroughs in quantum computing, biochemistry, and astronomy? Will we see an increase in wildfires caused by "dry lightning" events due to climate change? How can we anticipate emerging SARS-CoV-2 variants and improve the long-term effectiveness of vaccines and treatments?

Faculty across Harvard are pursuing the answers to these and other questions with support from the 2021 Star-Friedman Challenge for Promising Scientific Research, an award program established by James A. Star '83 and Sara Star and Joshua Friedman '76, MBA '80, JD '82 and Beth Friedman that provides seed funding to high-risk, high-impact projects in the life, physical, and social sciences.
Wednesday, June 16
3:30–4:45 p.m. (ET)

This presentation was conducted via Zoom.
Remarks
Chris Stubbs, Dean of Science, Samuel C. Moncher Professor of Physics and of Astronomy, Faculty of Arts and Sciences

Alan Garber AB '77, PhD '82, Provost, Harvard University; Mallinckrodt Professor of Health Care Policy, Harvard Medical School; Professor of Economics, Faculty of Arts and Sciences; Professor of Public Policy, Harvard Kennedy School; Professor in the Department of Health Policy and Management, Harvard T.H. Chan School of Public Health

2021 Star-Friedman Challenge Faculty Chair
Catherine Dulac, Higgins Professor of Molecular and Cellular Biology, Lee and Ezpeleta Professor of Arts and Sciences, Faculty of Arts and Sciences

2021 Star-Friedman Challenge Winners
Jonathan Abraham '05, PhD '10, MD '12, Assistant Professor of Microbiology
Andrew Davies, Assistant Professor of Organismic and Evolutionary Biology
Roger Fu '09, Assistant Professor of Earth and Planetary Sciences
Sophie Helaine, Assistant Professor of Microbiology
Ya-chieh Hsu, Alvin and Esta Star Associate Professor of Stem Cell and Regenerative Biology, and Jason Buenrostro, Assistant Professor of Stem Cell and Regenerative Biology
Kaighin McColl, Assistant Professor of Earth and Planetary Sciences and of Environmental Science and Engineering
Julia Mundy '06, AM '06, Assistant Professor of Physics