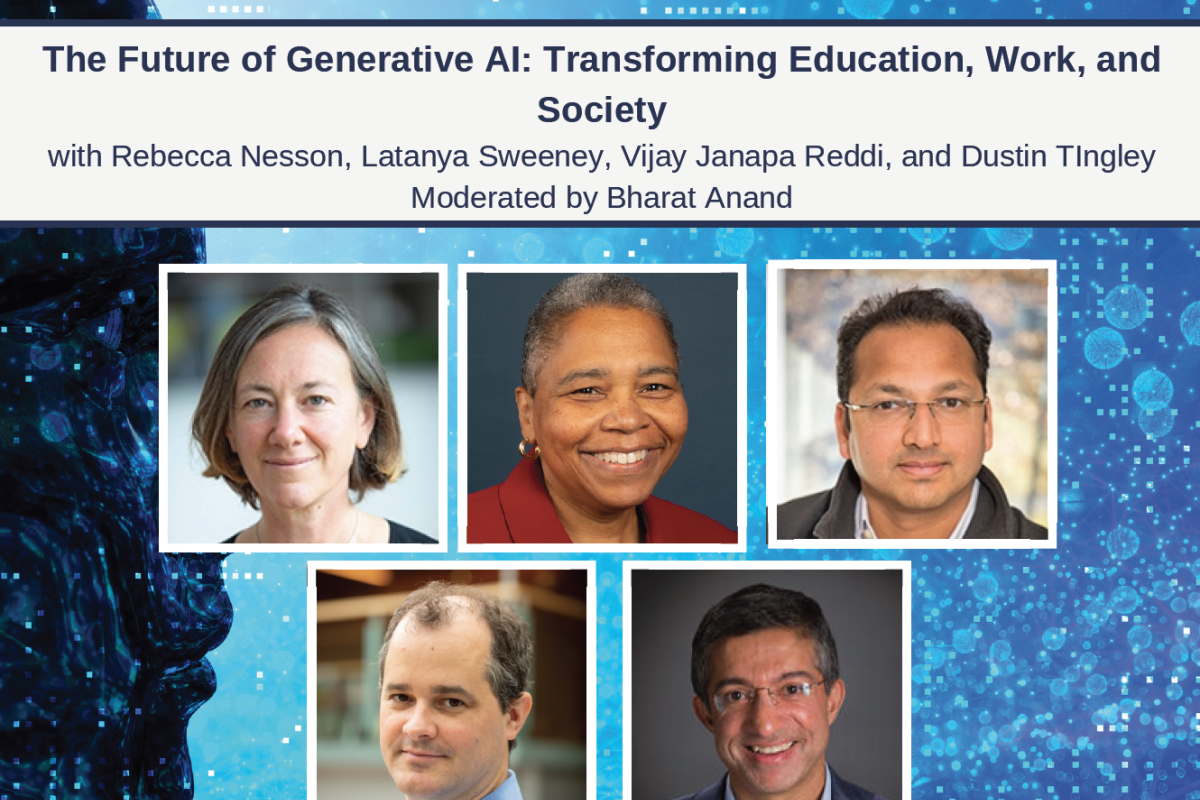 Attendance Policy
Registration required
Accessibility
Real time captioning available
Join the alumni YouTube livestream to hear from a panel of esteemed experts for an exploration of the future of generative AI and its implications for education, work, and society. Rebecca Nesson AB '98, JD '01, PhD '09, Latanya Sweeney ALB '95, Vijay Janapa Reddi PhD '10, Dustin Tingley AM '15, and moderator Bharat Anand AB '88 will share their expertise on some of the latest technological advancements and explore their implications. They will also examine the ethical considerations of AI and how it can be used for good.
This program is coordinated through the Office of the Vice Provost for Advances in Learning (VPAL) and will be livestreamed to the alumni community in collaboration with the Harvard Alumni Association.
Accessibility
Harvard University and the Harvard Alumni Association encourage people with disabilities to participate in its programs and activities. Accessibility-related information can be found at accessibility.harvard.edu. If you anticipate needing any type of accommodation or have questions about the access provided, please let us know in advance by calling 617-495-1920 or emailing haa_alumnieducation@harvard.edu.
Community Guidelines
Harvard University Alumni Affairs & Development (AA&D) programs and volunteer opportunities respect the rights, differences, and dignity of others. Those taking part in AA&D activities, are expected to demonstrate honesty, integrity, and civility in those activities, and are accountable for their conduct there with University alumni, students, parents, volunteers, employees, and invitees. Harvard University Alumni Affairs & Development reserves the right to suspend services to and to exclude from participation in AA&D programs any person whose inappropriate behavior adversely affects the safety, well-being, and inclusion of community members.