Graduate School of Arts and Sciences Giving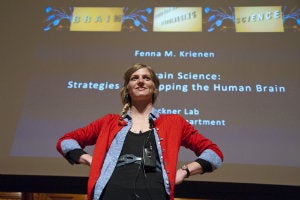 The Graduate School Fund (GSF) raises flexible support for Harvard's Graduate School of Arts and Sciences. Graduate students are fundamental to the strength of a vibrant research university, and they are at the heart of an academic enterprise that stretches across disciplines.
Our annual fundraising efforts allow Dean Emma Dench to invest in the most promising scholars through fellowship support, research grants, and professional development initiatives. We invite you to join us in supporting the Graduate School Fund by making a gift today. Your generosity ensures that Harvard remains a place a discovery for our extraordinary graduate community.
With appreciation,
Mary Sutherland AM '73, MBA '83
Jianming Yu PhD '98
Co-Chairs of the Graduate School Fund
Featured Graduate School Stories
Oct 16, 2020

On October 16, 19, and 20, the Harvard College Fund and Graduate School Fund gathered volunteer leaders for the annual Volunteer Assembly. Read More

Oct 14, 2020

As a trailblazer for women in business, Sandy Moose PhD '68 credits the Graduate School of Arts and Sciences for giving her the foundation to succeed—though perhaps not in the way you'd expect. Read More

Aug 24, 2019

Ed Stolper '74, PhD '79 established a Harvard charitable remainder unitrust because he wants to make a lasting contribution for the good of Harvard. Read More