Samia Omar
Chaplain at Memorial Church, Harvard University
We are looking forward to safely traveling once again with alumni and faculty. Our hopeful planning is informed by University precautions and protocols. Due to the pandemic, Harvard has prohibited all University-related travel, both international and domestic, until further notice. Since group travel is planned far in advance, we cannot guarantee that we will be able to confirm your study leader's participation before cancellation fees begin for your program.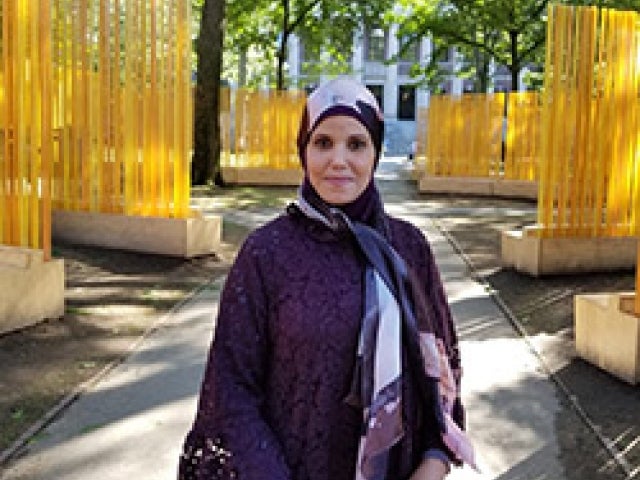 Samia Omar is an Egyptian American who completed her bachelor's degree in social work and has pursued a master's degree at SMU in Liberal Studies with a concentration in Islamic Studies. She holds an advanced certificate in Islamic Studies as well as a general ordination (ijaaza) in Islamic studies. She worked in New York City from 2001 - 2005 as an Islamic Studies school teacher in an Islamic school. She also worked as a residential manager for many years overseeing service to adults with developmental disabilities and behavioral health challenges. She relocated to Dallas, Texas to help her husband establish the Arabic language and Islamic studies program at TAQWA Seminary. She later became co-founder of the Islamic Seminary of America and managed the Islamic studies and Arabic language programs there, with over 200 students in attendance.
After losing her oldest daughter to cancer, she devoted herself to assisting her husband as a volunteer to serve the Muslim community, especially youth in their journey to overcome life's challenges. In this regard she developed two youth programs in Dallas, Texas. She is now a lead organizer and developer of the Hadara Program, a study abroad program for Arabic language and Islamic civilization. Chaplain Samia has also served for several years as a group leader for Umrah for numerous different Umrah groups and was delighted to accompany Harvard Muslim students and to serve as an official group leader for the Harvard Umrah trip as part of the programs of the Muslim Chaplain at Harvard University. She now serves as the first Muslim woman chaplain at Harvard University, as part of the Harvard Chaplains Programming Committee, and develops interfaith programming for the Harvard community. She leads weekly study circles for female students at Harvard to foster spaces that support and encourage the empowerment of women of faith at Harvard.