Amala Mahadevan
Co-Faculty Dean of Mather House
We are looking forward to safely traveling once again with alumni and faculty. Our hopeful planning is informed by University precautions and protocols. Due to the pandemic, Harvard has prohibited all University-related travel, both international and domestic, until further notice. Since group travel is planned far in advance, we cannot guarantee that we will be able to confirm your study leader's participation before cancellation fees begin for your program.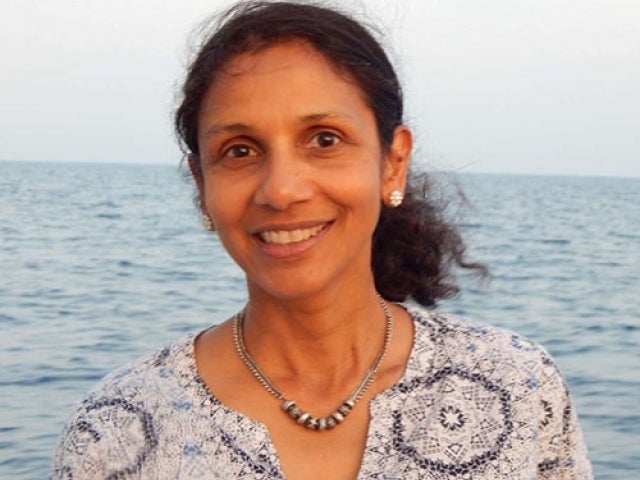 Amala Mahadevan is a Senior Scientist at the Woods Hole Oceanographic Institution (WHOI) and serves as faculty in the MIT-WHOI Joint Program in Oceanography for graduate studies. While trekking in the Himalayas and exploring forests in India, Amala cultivated a love for nature and a desire to study earth and environmental science. She did her undergraduate degree in Civil Engineering in Mumbai, India and her graduate work in environmental fluid mechanics at Stanford University, where she earned a Ph.D. in 1995. As a postdoctoral scientist at the University of Chicago, she developed an interest in the earth's oceans, and the role that the ocean biota plays in the earth's carbon cycle and climate. Moving from one Cambridge to another with Maha, she worked as a research scientist at MIT/Harvard, the University of New Hampshire, Cambridge University, and at Boston University as research faculty, before joining WHOI in 2011.
Amala's research addresses how the ocean's physical processes and dynamics transport and mix properties and affect the ocean's ecosystems. For example, she has explored the dynamics of marine planktonic blooms coupled with the dynamical instabilities of ocean currents and eddies, and the role that these play in the transport of carbon and its exchange with the atmosphere. Her work ranges from building computational models of physical and biological processes in the ocean, to planning and conducting in ocean research expeditions to gather data, most recently in the Bay of Bengal and the Mediterranean Sea. She shares her time between WHOI and MIT, where she advises students and postdocs, and teaches graduate courses. More recently, she spent a year (2014-15) as a fellow at the Radcliffe Institute for Advanced Study at Harvard University. Amala is particularly interested in increasing awareness about the role of the ocean in the earth's changing climate and is currently writing a book on the subject. Outside science, Amala has learned Indian classical music and dance, and used to perform dance recitals before coming to the US. This has led to an abiding interest in promoting the arts, with a recent stint as the chair of a South Asian performing arts organization at MIT (MITHAS).
Mahadevan and Amala are the Faculty Deans of Mather House, one of 12 undergraduate residences at Harvard University, and home to 400 Sophomores, Juniors and Seniors. They are in residence at the university and work with a core of graduate student tutors and staff to create a supportive and stimulating community for the undergraduates in Mather House. Amala and Maha met as graduate students at Stanford and have traveled around the world together, have two children (at Harvard and ETH-Zurich), and a dog. They enjoy the outdoors, and are committed to sustainable living and to conserving the natural environment.