Alfonso Alonso
Conservation Biologist with the Smithsonian Conservation Biology Institute
We are looking forward to safely traveling once again with alumni and faculty. Our hopeful planning is informed by University precautions and protocols. Due to the pandemic, Harvard has prohibited all University-related travel, both international and domestic, until further notice. Since group travel is planned far in advance, we cannot guarantee that we will be able to confirm your study leader's participation before cancellation fees begin for your program.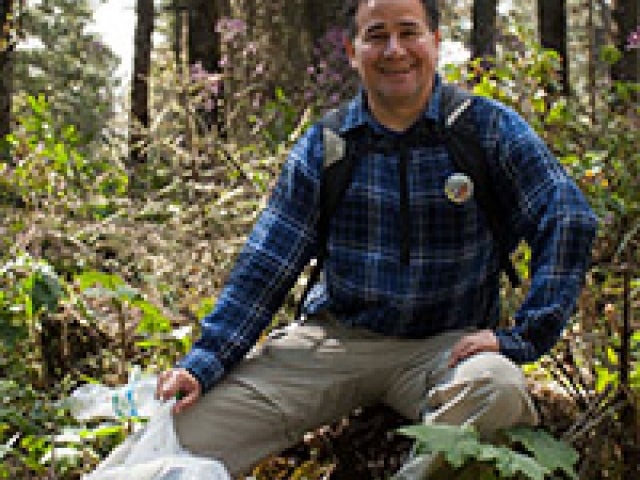 Dr. Alfonso Alonso is a conservation biologist with the Smithsonian Conservation Biology Institute. He is passionate to finding how species of plants and animals are distributed in different ecosystems and implementing monitoring programs to assure their persistence. Alfonso's interest in nature commenced early in his life as he traveled with his parents to different regions within Mexico, his country of origin. His undergraduate degree in biology led him to study the ecology and conservation of monarch butterflies as they overwinter in Mexico. He studied this endangered phenomenon also for his Masters and PhD degrees at the University of Florida.
Alfonso's current position of Managing Director for Field Programs focuses to integrate conservation needs with development priorities to sustain biodiversity. He develops assessment and monitoring programs to minimize impacts on biodiversity during oil and gas mega-infrastructure projects. For this, he organizes expeditions and assembles teams of researchers with specialties in different animal and plant groups. These conservation and development partnerships work towards avoiding, mitigating, restoring and offsetting project impacts and develop best practices to protect biodiversity and maintain ecosystem services. Alfonso enjoys giving lectures and working with people, and has extensive research travel in North, Central and South America, Africa and Asia. Alfonso has published more than 50 peer reviewed articles and 5 books.