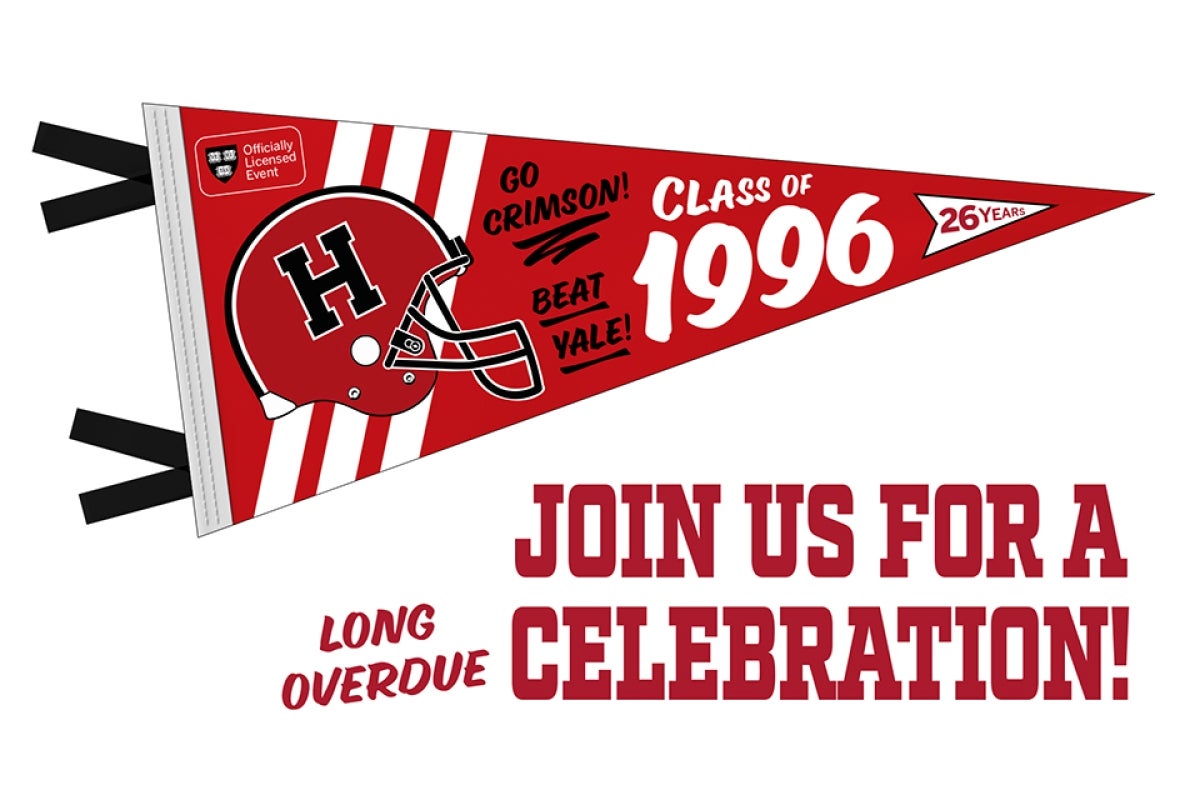 Date
November 18, 2022 - November 20, 2022
Attendance Policy
Invite only, Registration required
Add to Calendar
true
11-18-2022
11-20-2022
America/New_York
Class of 1996 Delayed 25th Reunion Celebration
The Harvard College Class of 1996 is invited back to Cambridge this November for a delayed 25th Reunion celebration, which will take place over Harvard-Yale weekend.



View more info at https://alumni.harvard.edu/programs-events/class-of-1996-delayed-25th-reunion-celebration

Please be sure to register if you haven't already.
College Alumni Programs
class_celebrations_haa@harvard.edu
MM/DD/YYYY
Save the Date
It's time to save the date for our delayed 25th Reunion celebration!
The celebration will take place over Harvard-Yale weekend, from Friday, November 18, 2022, to Sunday, November 20, 2022. We are pleased to share some important initial information relating to the celebration on campus this fall. Hotel blocks have been arranged at two hotels and booking is available now.
As part of the weekend's events, you will have a chance to attend The Game in a block of seats reserved for the Class of 1996. Tickets to The Game for the 1996 block will be sold separately from Reunion registration and in June—please be on the lookout for an email about these. The timing and ticket block sales are controlled by Athletics, so once the block is closed there will not be another chance to get tickets. 
---
Frequently Asked Questions
Please see these frequently asked questions for more information, including an initial schedule of events. Additional questions can be directed to the College Alumni Programs Office at class_celebrations_haa@harvard.edu.
What's the current program of events over Harvard–Yale weekend for the Class of 1996? 
Many more details will be announced this summer and early fall, but here are the details we can share so far:
Friday, November 18—Welcome reception
Estimated timing: 6:30–9:30 p.m.

Casual dress
Saturday, November 19—The 138th playing of the Harvard–Yale game 
Class tailgate at Soldiers Field during The Game

Class section at The Game (ticket presale in June 2022) 
          Saturday, November 19—1996 Class Bash
Estimated timing: 7:00–11:00 p.m.

Casual dress with campus theme
Sunday, November 20—Memorial program and farewell brunch
---
How and when do I register for our delayed 25th Reunion Celebration?
Registration and sign-ups will happen in stages:
Hotel blocks are open and available now (see "What hotel blocks will be available and can I book my hotel now?" below for details). 

A block of tickets to The Game reserved for the Class of 1996 will go on sale in June and cost $100.

Reunion registration will open in the late summer and remain open into the fall. Exact pricing for our events is not yet available.
---
Will there be vaccination requirements for attendees?
All visitors to campus, including alumni, should be aware of the University policies in place at the time of their visit. Current COVID guidance and safety practices are available at harvard.edu/coronavirus/campus-access/for-visitors/.
---
Will the number of guests I can bring be restricted due to COVID?
Currently, there is no limit and one is not expected. You are welcome to bring guests with you, provided that your guests abide by the Harvard COVID safety protocols referenced above.
---
Are children welcome and will childcare be available?
Your children are welcome to attend the daytime events, but the Friday and Saturday night parties are for adults only. Supervised, group childcare at an on-campus location will be available for children over the age of four on Friday and Saturday evenings from 6:00 p.m. until midnight, at an additional cost. Please note that vaccination rules for children, including in the childcare setting, will be the same as any visitor to Harvard. Current policies are subject to change and can be reviewed at harvard.edu. 
---
The Class of 1995 will also be on campus for their delayed 25th. How will that work?
True! While the Class of 1995 will be enjoying a similar program that weekend, each Class will have dedicated time and space to be celebrating with their own classmates. The reunion celebrations are not being formally combined.
---
What hotel blocks will be available and can I book my hotel now?
Hotel blocks have been arranged at two hotels within walking distance of our events, and booking is available now. Please make a note of the hotels' cancellation policies in advance, as those policies operate independently of Harvard.
Sheraton Commander under Harvard Classes of 1995 and 1996
16 Garden Street, Cambridge, MA 02138
$199 per night
DoubleTree under Harvard Classes of 1995 and 1996
400 Soldiers Field Road, Boston, MA 02134
$179 per night
Courtyard Boston Cambridge under Harvard Classes of 1995 and 1996
777 Memorial Drive, Cambridge, MA 02139
$139 per night
---
It's been two and a half years . . . How likely is this gathering? Will it really happen?! 
At this time, we are busy planning an in-person celebration! In the event that public health and safety restrictions again necessitate cancellation, all changes will be communicated as quickly as possible. Right now, we do not anticipate this will occur, but it is advised that you review cancellation policies for your travel and hotel accommodations in the event that Harvard's protocols change. The University is not held liable for those arrangements. 
---
If I miss the delayed 25th Reunion celebration this fall, when's our next Harvard Reunion?
You're halfway there! Our 30th Reunion is expected to take place on campus in the spring of 2026. One enduring change from the pandemic is that spring Reunions and the Afternoon Exercises no longer occur around Commencement Day. Beginning in 2022, these are now scheduled several days later, on and around the newly-minted Alumni Day!