Annual Saturday of Symposia
Hosted by the Harvard Club of Boston and Harvard Alumni Association
This is a Past Event
Date:
Time: 8:30 am - 2:30 pm
Location:
374 Commonwealth Avenue

,

Boston

,

MA

02115, United States
Attendance Policy: Open to alumni | Registration required
Accessibility: Wheelchair-accessible event
First offered 38 years ago, the Saturday of Symposia features Harvard faculty members doing research across the University in fields ranging from social and natural sciences to the humanities.
The program is not only a longstanding tradition of the Harvard Club and HAA, but also an enormously popular one. As it tends to sell out, please make your reservations early.
Harvard Alumni and Guests: $72
Harvard Club of Boston Members: $57 (Harvard Club fees excluded)
Continental breakfast, all Harvard faculty presentations, and three-course luncheon are included. As always, a portion of the proceeds will benefit the Harvard Club of Boston Scholarship Foundation.
FULL PROGRAM
8:30 a.m. Registration and Coffee, Tea, and Muffins
Session One — 9:15 a.m. to 10:30 a.m.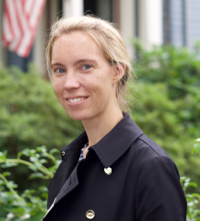 KARIN ÖBERG RAE '12, Professor of Astronomy, Harvard University
Speaking on: "Making Habitable Worlds: The Chemistry of Planet Formation"
The past decades have revealed that planets are incredibly common in our Galaxy. Among this wealth of exoplanets there is an especially interesting subset: temperate, rocky planets that may be suitable for life. What are the likelihood that such planets contain water and the building blocks of a life, i.e. that they are chemically habitable? These questions can be addressed by considering the chemical environment within which planets assemble. Planets assemble in disks of dust and gas around young stars. Thanks to the arrival of new telescopes we can directly observe these disks, catching planet formation in action, and map out the chemistry that characterizes them. I will present some of our latest discoveries on what the chemistry of these disks are, how they are shaping the outcome of planet formation, and what they teach us about the chemical habitability of mature planetary systems.
Karin Öberg's academic passion is the connection between planet formation, astrochemistry and origins of life. Her research aims to uncover how chemistry and physics interact during star and planet formation to shape the bulk and organic compositions of nascent planets. A major focus is the origins of chemical complexity in space and how organic material is distributed in planet-forming disks around young stars. Her research group approaches this research question through laboratory experiments, aimed at simulating the chemistry and physics of interstellar grain mantles, radio and infrared observations (often at high spatial resolution), and astrochemical theory.
Dr. Öberg left Sweden for Caltech in 2001, where she matriculated with a B.Sc. in chemistry in 2005. Four years later she obtained a Ph.D. in astronomy, with a thesis focused on laboratory astrochemistry. In 2009 she first moved to the Harvard-Smithsonian Center for Astrophysics with a Hubble fellowship, focusing on millimeter observations of protoplanetary disks, and left in 2012 to join the University of Virginia chemistry department. In 2013 she returned to Harvard as an assistant professor in astronomy and was promoted and named the Thomas D. Cabot Associate Professor in Astronomy in 2016. At the CfA she is affiliated with Radio and Geoastronomy (R&G), Solar, Stellar, and Planetary Sciences (SSP), and the Institute for Theory and Computation (ITC). Dr. Öberg's research in astrochemistry has been recognized with a Sloan fellowship, a Packard fellowship and the Newton Lacy Pierce Award.
OR

WILLY C. SHIH, Robert and Jane Cizik Professor of Management Practice in Business Administration, Harvard Business School

Speaking on: "Made in China 2018: The Reshaping of the Global Supply Chains"
We have heard so much about "Made in China 2025," the Chinese government's initiative to shift its economy into higher value-added advanced manufacturing sectors such as robotics, aerospace, semiconductors, and electric vehicles. But what about today, 2018? How did China become such a powerful global source for everything from smartphones to processed seafood, TV sets to blood glucose meters? And what does it mean for the structure of modern supply chains?
Obviously this is a complicated topic, but we will try to understand some of the basic forces of globalization, and put China's industrialization strategy into that context. Then we'll try to explore the tariff/countervailing tariff and trade war stories from the points of view of China and the U.S. and see if we can make sense of it all.
Willy Shih is the Robert and Jane Cizik Professor of Management Practice in Business Administration. He is part of the Technology and Operations Management Unit, and he teaches in the MBA and Executive Education Programs. His expertise is in manufacturing and product development, and he has written or co-authored numerous cases and teaching materials in industries ranging from semiconductors, information technology, consumer electronics, aerospace, transportation equipment, manufacturing processes and tools, and intellectual property. His paper, Restoring American Competitiveness, co-authored with Gary Pisano, won the 2009 McKinsey Award. His recent book, Producing Prosperity – Why America Needs a Manufacturing Renaissance, co-authored with Gary Pisano, has called attention to the link between manufacturing and innovation. He is also the author of Back Bay Battery, a best-selling innovation simulation.
Prior to coming to HBS in 2007, Willy spent 28 years in industry at IBM, Digital Equipment, Silicon Graphics, Eastman Kodak, and Thomson SA. He worked in product development and manufacturing in a wide range of areas including computer systems, scientific instruments, semiconductors, digital cameras, optical discs and software systems. Reporting to him have been major manufacturing operations in the United States, China, Ireland, Japan, and Mexico, as well as global sales and marketing operations. He has led the building of billion dollar revenue businesses.
Willy is on the Board of Directors of FLEX Inc., a large provider of design, manufacturing and supply chain services. He has two S.B. degrees from the Massachusetts Institute of Technology, and a Ph.D. from the University of California at Berkeley. He is a Life Member of the IEEE.
Session Two — 10:45 a.m. to 12 noon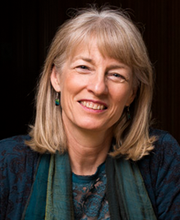 KATHRYN SIKKINK RF '15, RF '17, RAE '17, RF '18, Ryan Family Professor of Human Rights Policy, Harvard Kennedy School; Carol K. Pforzheimer Professor, Radcliffe Institute for Advanced Study
Speaking on: "Evidence for Hope: Making Human Rights Work in the 21st Century"
Do human rights work? That is, have human rights law, institutions, and activism produced positive change in the world? And, if so, how do they work and under what conditions? How can we learn from past successes and failures to make human rights work better in the future?
These questions have provoked vigorous debates among scholars and practitioners. In particular, there is a recent increase of pessimism about the legitimacy and effectiveness of human rights law, institutions, and movements. This pessimism comes from governments and scholars, and, more importantly, from many within human rights movements.
Kathryn Sikkink is an international relations scholar best known for her work on human rights, international norms, transnational advocacy networks and social movements, and transitional justice. Her book Activists beyond Borders: Advocacy Networks in International Politics (co-authored with Margaret Keck) was awarded the Grawemeyer Award and the ISA Chadwick Alger Award). Her 2011 book, The Justice Cascade: How Human Rights Prosecutions are Changing World Politics (awarded the Robert F. Kennedy Center Book Award, and the WOLA/Duke University Award), explores the emergence and impact of individual criminal accountability of state officials for past human rights violations. Sikkink's latest book Evidence for Hope: Making Human Rights Work in the 21st Century (Princeton University Press, 2017) documents the legitimacy and effectiveness of human rights law, institutions, and movements. Sikkink has been a Fulbright Scholar in Argentina and a Guggenheim fellow. She is a member of the American Philosophical Society, the American Academy of Arts and Sciences and the Council on Foreign Relations. Sikkink holds an MA and Ph.D. from Columbia University.
OR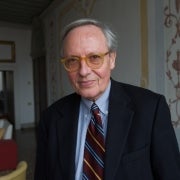 WERNER SOLLORS RAE '08, RF '12, Henry B. and Anne M. Cabot Professor of English Literature Emeritus
Speaking on: "Reading and Writing, Books and Texts in the Visual Arts"
Thousands of paintings represent human figures engaged in reading or writing. What are some sources of our fascination with seeing readers and writers immersed in scrolls and books or in displaying legible or undecipherable texts to viewers? Accompanied by slides of artwork going back to statues of ancient Egyptian scribes, painted readers from antiquity, and medieval and Renaissance book imagery in altarpieces, mosaics, miniatures, tapestry and painting, this talk attempts to sketch the development of a motif that became extraordinarily popular in Christian art, while asking general questions about the relationship of text and image and noting the surprising effects of portraying books and texts in the visual arts.
Werner Sollors received the Dr. phil. degree at the Freie Universität Berlin and is now the Henry B. and Anne M. Cabot Research Professor of English at Harvard University, where he chaired the History of American Civilization Program and the Afro-American Studies Department. A Fellow of the American Academy of Arts and Sciences and Corresponding Member of the Austrian Academy of Sciences, he is the author of Challenges of Diversity(2017), African American Writing (2016), and The Temptation of Despair: Tales of the 1940s (2014, German edition 2017). His earlier books include Beyond Ethnicity, Neither Black nor White yet Both, and Ethnic Modernism. He has published more than a hundred essays, edited more than two dozen books, and was coeditor, with Greil Marcus, of A New Literary History of America. He is currently working on a book with Alide Cagidemetrio, Face to Face with Antiquity, about visitors to ancient sites around the world.
Luncheon and Keynote Address — 12 noon to 2:30 p.m.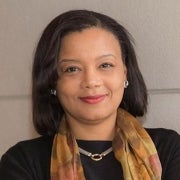 TOMIKO BROWN-NAGIN RAE '14, RF '17, Dean, Radcliffe Institute for Advanced Study; Daniel P.S. Paul Professor of Constitutional Law, Harvard Law School; Professor of History, Faculty of Arts and Sciences, Harvard University
Keynote Address on: "The Constitution, the Court, and Social Change"
Since Justice Anthony Kennedy announced his decision to step down from the Supreme Court, the potential influence of his successor on a range of critically important issues that could come before the Court in the coming years has been the subject of intense speculation and analysis. Tomiko Brown-Nagin, the Dean of the Radcliffe Institute for Advanced Study, will put the present moment in context, exploring how the Court has—or has not—driven social change and responded to popular movements for social change at crucial points in twentieth-century U.S. history.
Tomiko Brown-Nagin is an award-winning legal historian, an expert in constitutional law and education law and policy, a member of the American Law Institute, a fellow of the American Bar Foundation, and a distinguished lecturer for the Organization of American Historians. She has published articles and book chapters on a wide range of topics, including the Supreme Court's equal protection jurisprudence, civil rights law and history, the Affordable Care Act, and education reform. Her 2011 book, Courage to Dissent: Atlanta and the Long History of the Civil Rights Movement (Oxford), won six awards, including the Bancroft Prize in U.S. History. In her forthcoming book, Brown-Nagin explores the life and times of Constance Baker Motley, the pathbreaking lawyer, politician, and judge.
Brown-Nagin has served as faculty director of Harvard Law School's Charles Hamilton Houston Institute and as codirector of Harvard Law School's law and history program, among other leadership roles.
She earned a law degree from Yale University, where she served as an editor of the Yale Law Journal; a doctorate in history from Duke University; and a BA in history, summa cum laude, from Furman University.
Brown-Nagin held the 2016–2017 Joy Foundation Fellowship at the Radcliffe Institute for Advanced Study and became dean of the Institute on July 1, 2018
Harvard University and the Harvard Alumni Association encourages persons with disabilities to participate in its programs and activities. Accessibility-related information can be found at accessibility.harvard.edu. If you anticipate needing any type of accommodation or have questions about the physical access provided, please let us know in advance by calling 617-495-1920 or emailing haa_alumnieducation@harvard.edu.
Closest Events to Boston
Boston

,

MA

, United States

Boston

,

MA

, United States
-

Cambridge

,

MA

, United States

Stamford

,

CT