Wealth in Families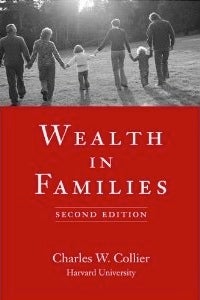 Wealth in Families, a book by Charles W. Collier, Harvard's former senior philanthropic advisor, can be a helpful resource with your own planning. This book addresses many of the questions of concern to families of wealth, including ways to teach values to your family through philanthropy.
"After twenty-five years of working with individuals and families of wealth, I have discovered that the hardest, yet most rewarding part of the planning process is asking essential questions about what people want to preserve – besides financial wealth – and how they can enhance each family member's growth."

-- Charles W. Collier MTS '73
For more information, please contact Carly Patane at carly_patane@harvard.edu or 617-495-4648.