Harvard College Alumni
Harvard College Fund Parent Engagement Programs
Welcome to the Harvard Community and the Harvard College Family
In close partnership with our network of dedicated parent ambassadors, the Harvard College Fund Parent Engagement Programs office convenes and fosters an engaged, supportive community of Harvard parents around the world.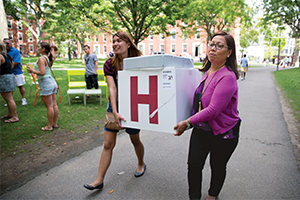 Through our events and volunteer committee, undergraduate parents have the opportunity to forge meaningful connections with Harvard's diverse community of families as well as the College.
Parents are also encouraged to make a direct impact on the student experience by making thoughtful contributions to the Harvard College Fund. Last year, more than 3,700 families joined together to support such areas as Harvard's leading financial aid program, the expansion of social and residential spaces across campus, and the artistic and athletic endeavors of our undergraduates.
Contact the Harvard College Fund Parent Engagement Programs Office
Cara Mia Bruncati, Director: 617-496-3819
Kristen J. Pilkington, Assistant Director: 617-496-0463
Meredith Van der Walde, Coordinator: 617-496-3974
Featured Parent Engagement Stories
Feb 13, 2017

For about a quarter of College students, Harvard begins in the woods, far from showers and devices. Thanks to a gift from Barry and Karen Gordon Mills '75, MBA '77, P'15, more undergraduates will be able to participate in the transformative pre-orientation program. Read More

Dec 1, 2016

In Celebration of Our Dedicated Volunteers and Generous Donors Read More