Harvard College Alumni
Parents Fund
Welcome to the Harvard Community and the Harvard College Family
Through our network of generous donors and volunteers, the Harvard College Parents Fund raises immediate-use support for areas that directly impact the undergraduate experience—from advising and residential life to the arts and athletics.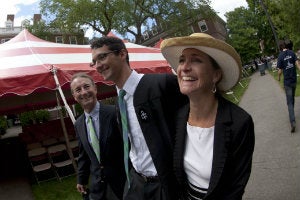 Your gift ensures that students continue to experience the world-class educational and extracurricular opportunities that have positioned Harvard among the world's top institutions of higher learning. Every gift from a Harvard parent strengthens the activities that take place both inside and outside the classroom during the transformative college years.
We hope you will join us today by making a gift in support of our current students. For information on leadership gift opportunities or to volunteer, please contact Cara Mia Bruncati, director of the Parents Fund, at 617-496-3819.
Featured Parents Fund Stories
Nov 23, 2015

Why David Worley '80, P'17, '15 and Bernadette Drankoski '80, P'17, '15 give back to Harvard: hands on-learning, exceptional faculty, and a transformative House life. Read More

Nov 23, 2015

Within days of freshman orientation, Gail and Ralph Reynolds P'18 found themselves a part of the Harvard community too. Read More

Nov 23, 2015

To help nourish the arts at Harvard, James Nuzzo JD '94, P'15 and Bryann Bromley P'15 have given an innovation fund in support of the new Theater, Dance & Media concentration. Read More