Harvard Serves
-Global Month of Service Co-Chair Liz Ryan AB '81
"Harvard alumni have great skills, talents, and personal connections that other groups may all too often lack. This is an opportunity to team up with local alumni and global and local causes to accomplish what may otherwise not be possible or imaginable."

-Dick Soo Hoo AB '72, Harvard Club of the Merrimack Valley

The Harvard Alumni Association has a historic tradition of public service. Today the alumni community continues that long-standing commitment.
Through programs like Early College Awareness and the Summer Community Service Fellowship, alumni are making a difference across the globe.
Summer Community Service Fellowship
Harvard Alumni Clubs and Shared Interest Groups (SIGs) have the opportunity to provide a fellowship to a Harvard undergraduate working with a nonprofit host organization in their local community or area. Participating Clubs and SIGs find the program to be an exciting and creative way both to support Harvard's students and contribute to their home communities.

The Early College Awareness program provides hope to those who don't think college is an option. Beyond motivation, the program provides students and their families with realistic approaches, sources of support, and tools for a successful preparation toward higher education.
Prize Books are presented annually in more than 1,900 high schools around the world to outstanding students in the next-to-graduating class who demonstrate excellence in scholarship and achievement in other nonacademic areas. The award is often given at the school's graduating exercises, with appropriate remarks by a local alumnus/a.
Make a difference. Harvard Serves.

Stories about alumni service: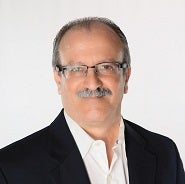 Alumni Service Spotlight: Larry Kahn AB '83
Kahn has devoted countless hours helping Harvard Clubs and Shared Interest Groups (SIGs) to implement the HAA's Early College Awareness (ECA) program, which brings Harvard alumni to middle and high schools in underserved communities to make the case to students that college is within their reach—and that it is worth reaching for.
---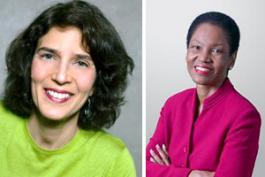 Liz Ryan AB '81 and Marilyn Holifield JD '72
Global Month of Service event co-chairs Liz Ryan AB '81 and Marilyn Holifield JD '72 aren't surprised at the program's success. "Talking to classmates through the years," says Ryan, "I've been impressed by how much they seem to care about others."
---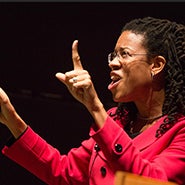 Alums Share Big Ideas: Think Big Event Pushes People to Reach Out
Volunteerism—not whether, but how best to give back—was at the forefront of the "Alumni Think Big—Big Public Service Ideas" conference session, as eight Harvard graduates and one visiting practitioner presented their "Big Ideas That Will Change the World" at a Wintersession forum in the Science Center.
---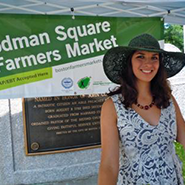 From City Hall to Bread Vendors: My Summer as Farmers' Market Manager in Dorchester
The Harvard Clubs Summer Community Service Fellowship program enables undergraduates to perform public service across the country. Read about Annika's experience!
---
Arthur Karell AB '01—From Harvard to Helmand: Keeping Connected
As with most Harvard students, bonding with classmates started right out of the gate for Arthur Karell AB '01.
---
Lindsay Hyde AB '04—Supporting Positive Social Change
Lindsay Hyde AB '04 was able to launch Strong Women, Strong Girls (SWSG) while she was a student with a Stride Rite Fellowship from Harvard College.
---
The Making of a Heroine: My Experience at a Domestic Violence Center
The Harvard Clubs Summer Community Service Fellowship (SCSF) program enables Harvard undergraduates to perform public service in communities across the country. Read about Amanda's experience.
---
Becoming a "Person"
"Drop all that textbook stuff now and become a person." These words were spoken by one of my mentors, Raul, and were the first things I heard upon entering the Mental Health Department of North Hudson Community Action Corporation. To a great extent, this statement succinctly describes my transformation this summer.
---
I Choose Harvard...Anita Joseph '12
Anita Joseph AB '12 spends her summer in the foothills of Mt. Kilimanjaro studying public health facilities in Tanzania.
---
I Choose Harvard...Katie Dahlinghaus '12
Katie Dahlinghaus AB '12 works with Troy Community Works to evaluate how the number of renters in a neighborhood affects community development.