Making Things Look Beautiful: Danielle Feinberg '96
September 1, 2016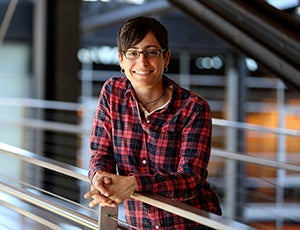 Danielle Feinberg '96
Computer Science
Eliot House
Danielle Feinberg '96 believes we can create any world we want inside the computer. As director of photography for lighting at Pixar Animation Studios, Feinberg helps to tell stories by using science, math, and code. She saw her first Pixar shorts as part of a computer graphics class at Harvard and now helps create the magic behind iconic scenes in Finding Nemo, WALL-E, Inside Out, and many more. Find out how lawn mowers, jellyfish, and Harvard prepared her to take risks—and the core value that motivates her to give back every year.
You've told a story about your admissions essay to Harvard. Would you mind sharing what you wrote?
When I was going into the eighth grade, I wanted to take a class called Power Mechanics, where you took a broken lawn mower apart and put it back together. I suspected I was going to be the only girl and was certain people would see it as weird I was taking the class. It was one of those moments when you have to choose whether you're going to do what everyone around you is doing or take a totally different path.
I took the class—and was indeed the only girl—but managed not to become a social pariah. On the last day, we rolled the lawn mowers out onto the football field. The teacher walked down the line, putting gas in the mowers. I watched as all these guys pulled their strings and nothing happened. When he finally got to me, I pulled as hard as I could, and my lawn mower roared to life. I let out a yelp and started running around the football field, mowing the lawn.
When it came time to apply to Harvard, I wrote an essay about this experience because it shows me for exactly what I am—I'm going to do the thing I love rather than the thing I'm supposed to do because I'm a girl.
You saw your first Pixar short as part of a computer graphics class. How did this shape your career ambitions?
I was taking Joe Marks' computer graphics class, and we were learning all about the programming behind generating graphics. One day, Professor Marks showed us these short computer animated films by this unknown animation company called Pixar. It was this transcendental moment for me. It was the moment I realized all the math, science, and code I had been learning could come together to create whole worlds, endearing characters, and to tell stories. I immediately thought, "That is what I want to do with my life."
What was your Harvard experience like?
Computer science was not the easiest concentration, and I was one of only a few women doing it. But I loved programming, so I was determined.
The great thing at Harvard is the people—they are so unbelievable. It was like being dropped in this wonderland of brilliant, interesting humans.
I had opportunities that I feel like I'll never have again—to learn from people at the top of their fields.
How did you start working for Pixar?
I moved to San Francisco when I graduated because there were only three places you could really do computer animation—New York, Los Angeles, and San Francisco. I loved San Francisco and knew Pixar was there. I had taken a job right after graduation that I realized was going to get boring really quickly. I called Professor Marks and asked him what he thought my next move should be. He said, "Well, Pixar is your number one choice so apply to Pixar! If it doesn't work out you still have your current job, so then you apply to your second choice."
So I applied at Pixar for a job programming the tools to make the movies, but was heartbroken when I didn't get it. Twenty-four hours later someone from Pixar called me back for another job. It turned out to be a technical, entry-level position on Pixar's second film A Bug's Life. A computer science degree qualified me and the fact that I had studied computer graphics was even better. So, I got the job, and within six months, I had been promoted to head up the department.
What has been one of your favorite scenes that you've worked on?
The jellyfish scene in Finding Nemo. There are times when suddenly something sort of magical happens in lighting, where you get the balance of all the elements right, and suddenly the world comes to life. In the jellyfish scene it suddenly happened, where the mix was just right with the ribbons of light bouncing off the bells of the jellyfish, the blue of the water, the pink fog coming down. I love to be able to bring these amazing worlds and characters to life. If you boil it down, they are just zeros and ones in the computer, but Pixar storytellers can elicit this emotion that's just amazing.
Do you still keep in touch with Joe Marks? With other people from Harvard?
I definitely do. He is a good friend now. I'm also still in touch with Margo Seltzer who was my advisor at the time. I've gone back to Harvard to do some recruiting for Pixar and have gone to hang out with Margo.
I understand that you are a consistent annual donor and volunteer as an admissions interviewer. What motivates you to stay involved?
I love that Harvard is a place for such a broad range of people. This is really important because Harvard is intimidating—everyone is really smart. You go from being one of the smartest people in your high school to "oh, my God, I don't know if I can hang with these people." To survive and thrive in that, you have got to find your crowd, your people. If you don't have a diversity of people there, that's harder to find.
I appreciate that diversity is a core value at Harvard, as it's a core value in my life. I think Harvard affords so many opportunities, most especially with financial aid. Harvard can give people opportunities that they are not going to have in any other way, and to still be a part of that is really important to me.
What's next for you?
I want to continue to do the best job that I can making things look beautiful. I also frequently speak with girls or educators about why it's so important to have girls in the STEM fields. If you watch girls when they learn to code, the first things they start doing are usually really interesting projects for social good. We've got to get that power into their hands.