Investing time for Harvard
Alee Lockman '10
January 27, 2017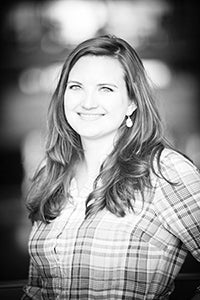 This summer, Alee Lockman '10 was on the frontline of a historic political season. She oversaw outreach and communication for several thousand members of the regional media at the 2016 Republican National Convention (RNC) in Cleveland, Ohio. And her love of conventions—and of her career in politics thus far—began at Harvard.
"I got an internship at the 2008 RNC in St. Paul, Minnesota, through Harvard's Institute of Politics," says Lockman, who went on to work in congressional offices and for senate campaigns. "I've been able to do these things because Harvard allowed me an opportunity eight years ago."
Her gratitude to Harvard is why she gives every year and volunteers for her class, despite her busy schedule. "I can't imagine my life if I hadn't gone to Harvard. And the only reason I could go was because of Harvard's very generous financial aid program," says Lockman, who grew up in a rural town in Montana. "It's important for me to give back to an institution that gave me so much and to help students like me."
For Lockman, a large part of this experience were the communities she was a part of at Harvard, whether in Adams House, which still feels like home to her, or in those she found at the Harvard Republican Club or as design chair for the Harvard Crimson.
"Harvard has made such a difference in my life, and I want to contribute in whatever way I can," she says. "One of the fun things about volunteering is being in touch with classmates and staying engaged with the Harvard network, both professionally and personally."
After the convention, Lockman returned to Cambridge to take "more of a spectator seat in the general election." She has started a master's degree program at the Harvard T.H. Chan School of Public Health, hoping to focus on ways to improve rural health centers and health care on Indian reservations, an area she's long been interested in. She knows she'll stay involved as a volunteer for the Harvard College Fund. "I've been insanely busy, but whenever I have some time, I want to invest it in Harvard."