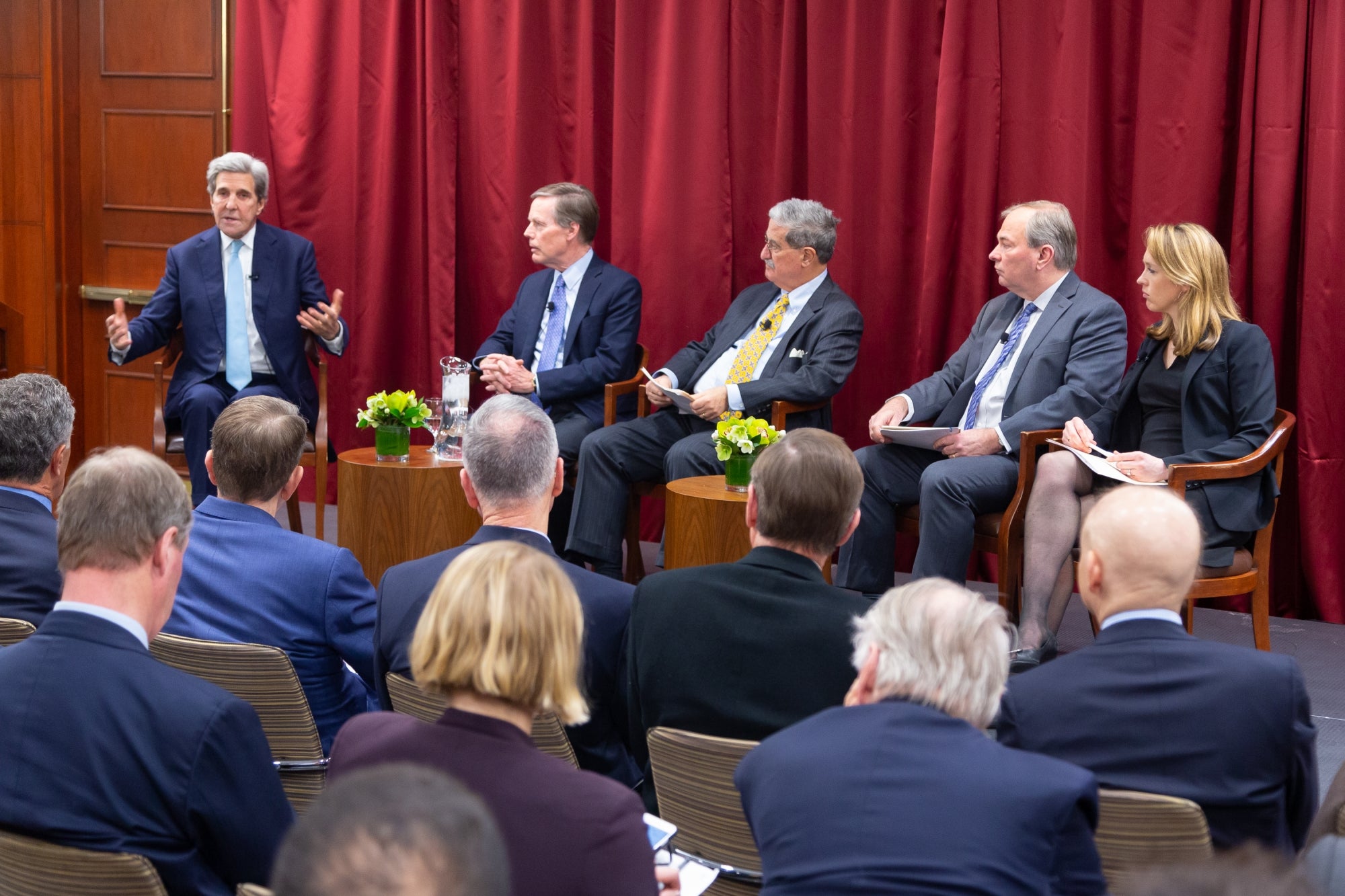 In February 2020, former U.S. Secretary of State John Kerry (left) visited Harvard and shared his approach to leading the State Department and the negotiation strategies and skill sets that led him to be successful in working with both adversaries and allies. With this visit, the American Secretaries of State Project (ASOSP) has now interviewed all living former U.S. Secretaries of State. Kerry was joined by ASOSP co-directors (from left) Professor Nicholas Burns (Roy and Barbara Goodman Family Professor of the Practice of Diplomacy and International Relations at Harvard Kennedy School), Robert Mnookin (Samuel Williston Professor of Law at Harvard Law School), and James Sebenius (Gordon Donaldson Professor of Business Administration at Harvard Business School). Torrey Taussig (right) serves as research director for the ASOSP.
Formally launched in 2014 and generously supported by Len Blavatnik and the Blavatnik Family Foundation, the American Secretaries of State Project is a joint initiative of the Future of Diplomacy Project at Harvard Kennedy School, the Program on Negotiation at Harvard Law School, and Harvard Business School. This project aims to interview all former U.S. secretaries of state to examine—with Harvard faculty, students, and experts—the most consequential negotiations they conducted while serving in the nation's highest foreign policy office.
In addition to the rich material, teaching tools, and academic resources being generated from the interviews with the former secretaries, this cross-University program inspired a first-of-its-kind interdisciplinary course, "Negotiation and Diplomacy." The course explores how these two approaches can effectively address seemingly intractable international conflicts and overcome barriers to agreement in civil wars and interstate conflicts, as well as in trade and finance.