Justice, empathy, and the pursuit of understanding across all faiths have been ever-present values in the life and work of Preston PhD '67 and Connie Williams. Together, the couple has educated and mentored generations of Harvard Divinity School (HDS) students and community members.
Impressionist painter Susan Shallcross Swartz is among those whose lives have been touched by the Williamses, a relationship ignited by the spirituality of her artwork. More than 15 years ago, conversations about the intersection of art and faith led Preston, Houghton Professor of Theology and Contemporary Change emeritus at HDS, to introduce Susan and her husband, Jim AB '64, to then dean William A. Graham PhD '73, who invited her to serve as an artist-in-residence and later to join the Dean's Council. Today, the Swartzes are two of the School's most devoted advocates, having given generously to support students, faculty, and the recently completed renewal of HDS's main campus building, now named Swartz Hall.
Through their philanthropy, the Swartzes have recently contributed to two lasting symbols of Preston and Connie's legacy at Harvard: the renaming of Andover Chapel at Swartz Hall as the Preston N. Williams Chapel and the creation of the Constance W. and Preston N. Williams Scholarship Fund. The scholarship fund—which bolsters HDS students actively involved in belonging, inclusion, and anti-racism efforts—has received support from over 130 donors to date. These gifts and the building restoration—made possible by the Swartzes, the James Family (Ralph James MBA '82, Cathy James Paglia, and the Robert and Ardis James Family Foundation), Chris AB '79 and Anne Flowers, and many others—will support future generations of religious scholars who, like the Williamses, have dedicated their work to justice and equality.
"I am inspired by Connie and Preston's example of how to live a life of service, faith, and respect for all—values I cherish deeply," says Susan Swartz. "It is an honor to celebrate their dedication to cultivating loving community at HDS and beyond."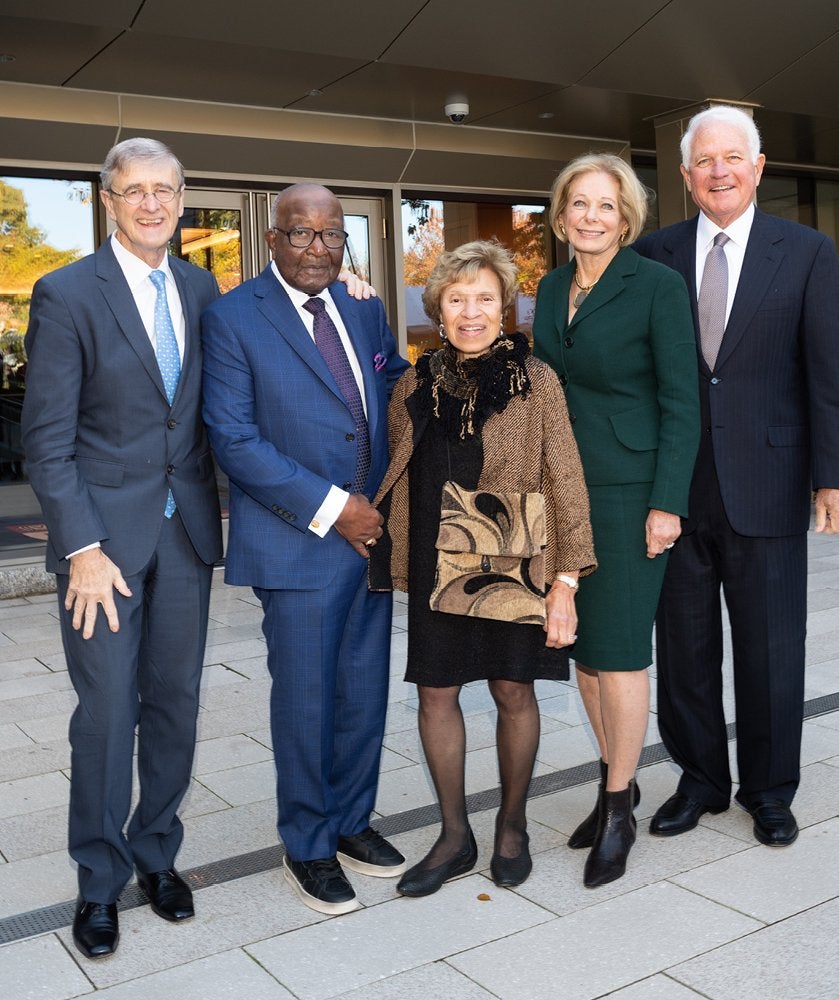 The renaming of the chapel is a fitting tribute to Preston, who helped build a more inclusive environment for students of all backgrounds at Harvard. Honored with a Harvard Medal in 2021 for his extraordinary service to the University, he was the first tenured African American member of the HDS faculty, served as the School's acting dean, and founded Harvard's W. E. B. Du Bois Research Institute at the Hutchins Center. Throughout his career, he led efforts to enhance diversity, inclusion, and belonging at Harvard, including integrating African and Indigenous religions into the curriculum.
In addition to serving as a mentor to countless HDS students, Connie dedicated her career to the policy and practice of social work. Associate professor emerita at the Heller School for Social Policy and Management at Brandeis University, she was the founding director of the undergraduate social work program at Boston University's Metropolitan College. Connie has also served as the chief policy analyst in the Massachusetts Governor's Office of Human Resources with Michael Dukakis, where she directed major policy initiatives, including reform of the Commonwealth's child support enforcement laws.
A center of worship for all faiths, the chapel has been at the heart of spiritual life at HDS for more than a century. With Swartz Hall's reopening in fall 2021, the Williams Chapel has taken on new meaning during the pandemic, as students safely resume rituals such as prayer, meditation, and community gatherings—reconnecting not only with the space but with one another.
"I am comforted to know that generations of HDS students will worship and celebrate meaningful rites of passage in the Preston N. Williams Chapel," Connie says. "This interfaith chapel signifies HDS's respect for—and commitment to—all faiths."
Both Connie and Preston have been steadfast advocates for equality through their numerous leadership roles in higher education, fostering opportunities for students of all races, genders, and backgrounds.
"I hope the chapel will be a sacred space where people can unite across boundaries and diversity. I hope the scholarship fund will aid many to fulfill their vocation of service to others," Preston reflected during the chapel naming celebration. "This moment is one of the most meaningful in my life because it links Connie and me to the mission of one of the world's greatest universities and its original purpose: the education of a learned clergy."
---
"I am eager to see the ways in which Swartz Hall supports and advances the work of individuals committed to strengthening and building the kinds of communities they hope to see in the world. Their work makes me optimistic about our future, about the possibility of a just world, a world at peace."
---