With the launch of The Salata Institute for Climate and Sustainability, established with a foundational gift from Melanie and Jean Salata, Harvard is mobilizing to meet this global challenge by strengthening research, teaching, and public engagement across all parts of the University. The institute will serve as a fulcrum for collaboration across Harvard's Schools, accelerating real-world solutions to the climate crisis.
The Salata Institute, led by Vice Provost for Climate and Sustainability James Stock, builds on Harvard's existing strengths by supporting efforts to hire additional faculty and to increase funding for research across the University. The Institute is also facilitating more climate-related education and engagement opportunities to provide learners with purposeful resources that are easily accessible, cross-disciplinary, and relevant to their interests.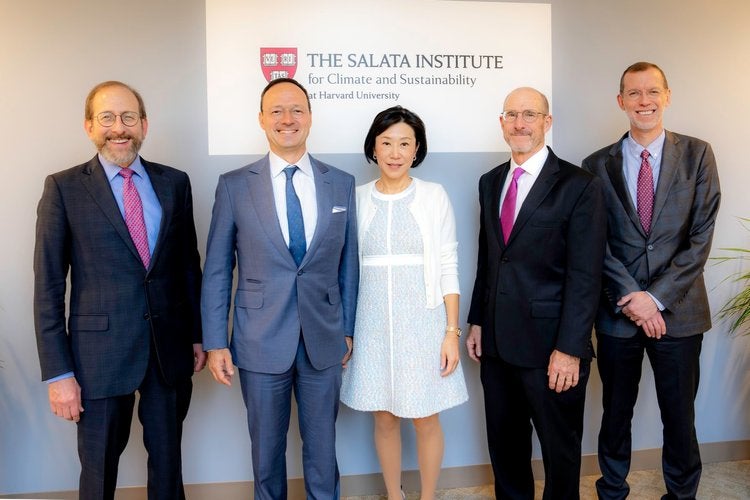 The Salata Institute will serve as both a resource and a partner to Harvard's Schools and to organizations around the world seeking to meet the climate challenge. By providing additional support to equip students, faculty, and researchers to make immediate, tangible contributions to confront the climate crisis from all angles, Harvard will help propel the transition to a net-zero economy, prepare for worsening climate impacts, increase resilience, and strive for equity and environmental justice—ultimately reducing the dangers of climate change to future generations.
"I'm optimistic that we can make a difference," says Jean Salata. "It's not going to be easy, but we're not going to do it alone. We can galvanize the University's extensive resources and be a beacon to the rest of the world, serving as a call to action for why this is important and how we, together, will solve this problem."
---
"I'm optimistic that we can make a difference. It's not going to be easy, but we're not going to do it alone. We can galvanize the University's extensive resources and be a beacon to the rest of the world, serving as a call to action for why this is important and how we, together, will solve this problem."
---