The seeds of Harvard's planned Enterprise Research Campus in Allston are starting to grow with the announcement of the David Rubenstein Treehouse. When completed, this state-of-the-art, nature-inspired conference center will provide new spaces for undergraduate, graduate, and executive education students across Harvard's Schools to learn, reflect, and connect with the entire University. It will also serve as a venue for collaboration with government, industry, and world leaders. 
Announced in December 2022, the conference center is made possible by a gift from Harvard Corporation member and philanthropist David Rubenstein. A longtime Harvard volunteer leader, Rubenstein chairs Harvard's Global Advisory Committee, the Harvard Kennedy School Dean's Executive Board, and Harvard Business School's Board of Dean's Advisors, and he led recent capital campaigns for both Schools as well as the University. Over the years, Rubenstein has given generously to Harvard and to support the arts, health care, education, and the restoration of several national monuments.
"I am honored to help Harvard with a conference center that will serve as a convening place for academic and business visitors, as well as Harvard faculty and students, at the exciting new Enterprise Research Campus Harvard is building in Allston," says Rubenstein. "Even with all that is possible virtually today, having a space to come together and collaborate unlocks the potential of the brightest minds. I appreciate Larry Bacow's commitment to the future of Harvard, the Enterprise Research Campus, and Allston."
The David Rubenstein Treehouse will include multiuse gathering spaces throughout as well as a public ground floor where members of both the local community and the Harvard community can engage and interact. The Harvard facility will provide an affordable convening option and a focal point for programs ranging from international summits to alumni events, conference receptions, and workforce recruiting activities.
"David and I have had many wonderful conversations about Allston's role in Harvard's future. With this generous gift to support a world-class conference center, he is helping to bring together entrepreneurship, innovation, and research for the benefit of everyone," says Harvard President Lawrence S. Bacow JD '76, MPP '76, PhD '78. "David is a true friend—to Harvard and to me—and I am deeply grateful."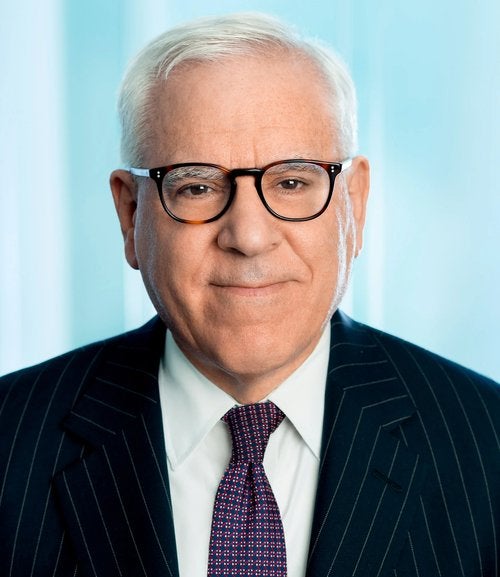 An Enterprising Endeavor
The David Rubenstein Treehouse is part of the "Phase A" development of the Enterprise Research Campus (ERC), a critical element of Harvard's plans in Allston led by developer Tishman Speyer. The ERC consists of 900,000 square feet of mixed-use development, including residential areas—25 percent of which will be affordable housing—offices and labs, a hotel, restaurants, and retail locations, as well as new publicly accessible open and green spaces. Contributing to a thriving neighborhood that is home to academia, engaging public and community venues, and the arts and sciences, the ERC is part of an emerging corridor of creativity driving economic growth and innovation along Western Avenue. 
Jeanne Gang MArch '93—lead architect of Phase A and founding principal of Studio Gang, a world-renowned architecture and urban design firm headquartered in Chicago with offices in New York, San Francisco, and Paris—says the center is designed as a beacon and welcoming "front door" to the ERC, reimagining the conference center as a low-carbon, community-centered hub for convening. An alumna of the Harvard Graduate School of Design (GSD), Gang is also a professor in practice at the GSD, where her areas of focus are sustainability, reuse, and resiliency. 
As its name suggests, the building's design was informed by the branching structure of a tree and the experience of climbing up into and inhabiting a treehouse. Wood, a renewable material, will serve as a core component of the building's design aesthetic and sustainability approach. Most notably, the building will use mass timber for its above-ground structure instead of conventional concrete or steel, the manufacture of which emits significant carbon. The wood columns and beams will be part of an open, transparent interior that showcases the building's sustainable design from an embodied carbon standpoint.  
Gang notes that the building adheres to Harvard's Healthier Building standards and the University's Sustainability Plan. This all-electric building will receive its power from Harvard's lower-carbon, climate-resistant District Energy Facility. The building's roof and bioswales will be used to harvest rainwater, and its photovoltaics will provide an alternative clean power source. The building will also be integrated into the ERC's Greenway plan.
"Here, we felt this convergence," says Gang, "a confluence of momentum around sustainability and convening that led to this incredible building, which will embody both of those aspects."