Since the novel coronavirus was first identified in 2019, doctors and scientists across the globe have been working tirelessly to understand the pathogen and its spread in hopes of developing life-saving diagnostic tools, vaccines, and treatments as quickly as possible. At the forefront of this mission, Harvard Medical School (HMS) and the Massachusetts Consortium on Pathogen Readiness (MassCPR) have served as the intellectual hub for this collaborative research, bringing together medical experts across multiple institutions and several countries to drive progress toward ending the pandemic.
Mobilizing the Scientific Community
As early as January 2020, doctors and infectious disease experts from Harvard had begun connecting with colleagues in China, where the outbreak in Wuhan had become intractable. Hui Ka Yan, chairman of China Evergrande Group—a generous supporter of Harvard University, including the Evergrande Center for Immunologic Diseases at HMS and Brigham and Women's Hospital (BWH)—reached out to Harvard President Lawrence S. Bacow JD '76, MPP '76, PhD '78 expressing hope that Harvard scientists would help lead the world's response to this new virus.
Acting quickly, Bacow appointed Provost Alan M. Garber AB '77, PhD '82 and HMS Dean George Q. Daley AB '82, MD '91 to marshal the University's intellectual resources. In the weeks following, Harvard experts across a spectrum of disciplines began communicating with a team at the Guangzhou Institute of Respiratory Health (GIRH) in China, learning essential facts about the novel disease from Chinese colleagues on the front lines of the epidemic. The two teams—one led by Daley at HMS and one led by Zhong Nanshan, China's premier epidemiologist and director of GIRH—held their first videoconference on February 3.
"The COVID-19 pandemic is a watershed moment in human history and has been nothing short of a rallying cry to those of us who have dedicated our lives and careers to science and medicine," says Daley, who is also Caroline Shields Walker Professor of Medicine at HMS. "We cannot deal with a global threat by going it alone. We must work together, across labs, institutions, and geographic borders."
On March 2, HMS held a historic meeting of more than 80 clinicians and scientists from Harvard, MIT, Boston University, Tufts University, the University of Massachusetts, and local biomedical research institutes, biotech companies, and academic medical centers—joined remotely by their counterparts in China. There Daley shared the details of China Evergrande Group's planned commitment to separately fund Harvard and GIRH to advance research on the scale and scope needed to meet this extraordinary challenge.
"Evergrande is honored to have the opportunity to contribute to the fight against this global public health threat," said Hui in announcing the initiative. "We thank all the scientists who responded so swiftly and enthusiastically from the Harvard community and are deeply moved by Harvard and Dr. Zhong's team's dedication and commitment to this humanitarian cause. We have the utmost confidence in this global collaborative team to reach impactful discoveries against the outbreak soon."
From this moment, MassCPR was born. Its efforts since have aimed to confront the virus on six fronts: epidemiology, diagnostics, pathogenesis, clinical management and outcomes research, therapeutics, and vaccines.
"Combating a global pandemic such as COVID-19 will require the combined efforts of researchers and clinicians from across the Greater Boston biomedical ecosystem and beyond," says David Golan AB '75, HMS dean for research operations and global programs and part of the MassCPR executive team. "We have formed this consortium to effectively unify our community not only to respond to this pandemic but also to prepare for the emerging pathogens of the future."
A Call to Action
In May, following a request for proposals that elicited over 400 applications, more than $16.5 million in funding was awarded to MassCPR researchers and institutions to support 62 projects—all with a strong likelihood to impact patients within a year.
Ann Moormann, professor of medicine at the University of Massachusetts Medical School, received a grant to conduct antibody testing on a cohort of health care workers and their household members, including children. In addition to funding, Moormann has taken advantage of the open collaboration enabled by the MassCPR network, such as videoconference working sessions with other researchers. "The true value of MassCPR is bringing us together to discuss the priorities and challenges we are all facing," she says.
These research awards were made possible thanks to the first tranche of funding from China Evergrande Group as well as the generosity of numerous donors at all levels—including Harvard alumni across Schools.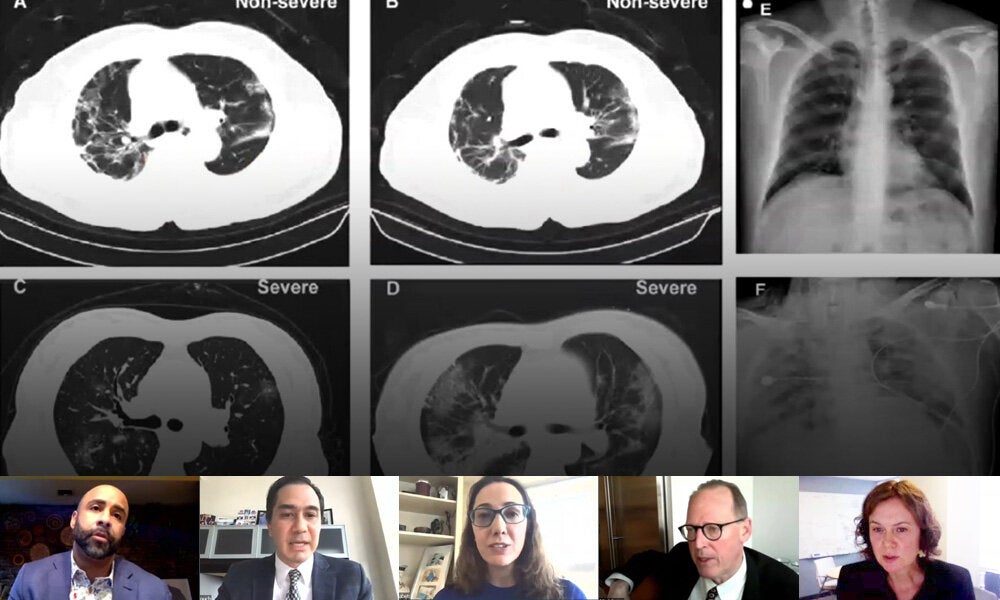 ---
"It is inspiring to see scientists from so many Boston-based institutions come together to take action in the face of this pandemic. The impact of their work will be measured not only in discoveries and new knowledge, but also in lives saved and other improved health outcomes."
---
Through the Bertarelli Foundation, Ernesto Bertarelli MBA '93 supported MassCPR with a gift to HMS's COVID-19 Response and Research Fund, along with an additional gift to the School's Student Emergency Aid Fund to assist medical students whose lives had been upended by the pandemic.
Lisa Schwartz, Mark Schwartz AB '76, MBA '78, MPP '79, and Enid Schwartz made a commitment to Massachusetts General Hospital (MGH) in support of MassCPR, including funding toward the establishment of a biorepository of COVID-19 clinical samples. The couple's dedication to improved health outcomes is demonstrated with another gift this year to the Harvard Graduate School of Education's EdRedesign Lab to provide a more holistic, equitable model to educating children in U.S. public schools, including health care and food insecurity interventions.
The Massachusetts Life Sciences Center—a quasi-public economic development and investment agency—provided funds to support nine research projects through the consortium.
The Nancy Lurie Marks Family Foundation provided a further boost with a grant for MassCPR's research and clinical priorities, particularly those with promise for novel diagnostics, therapeutics, or vaccines.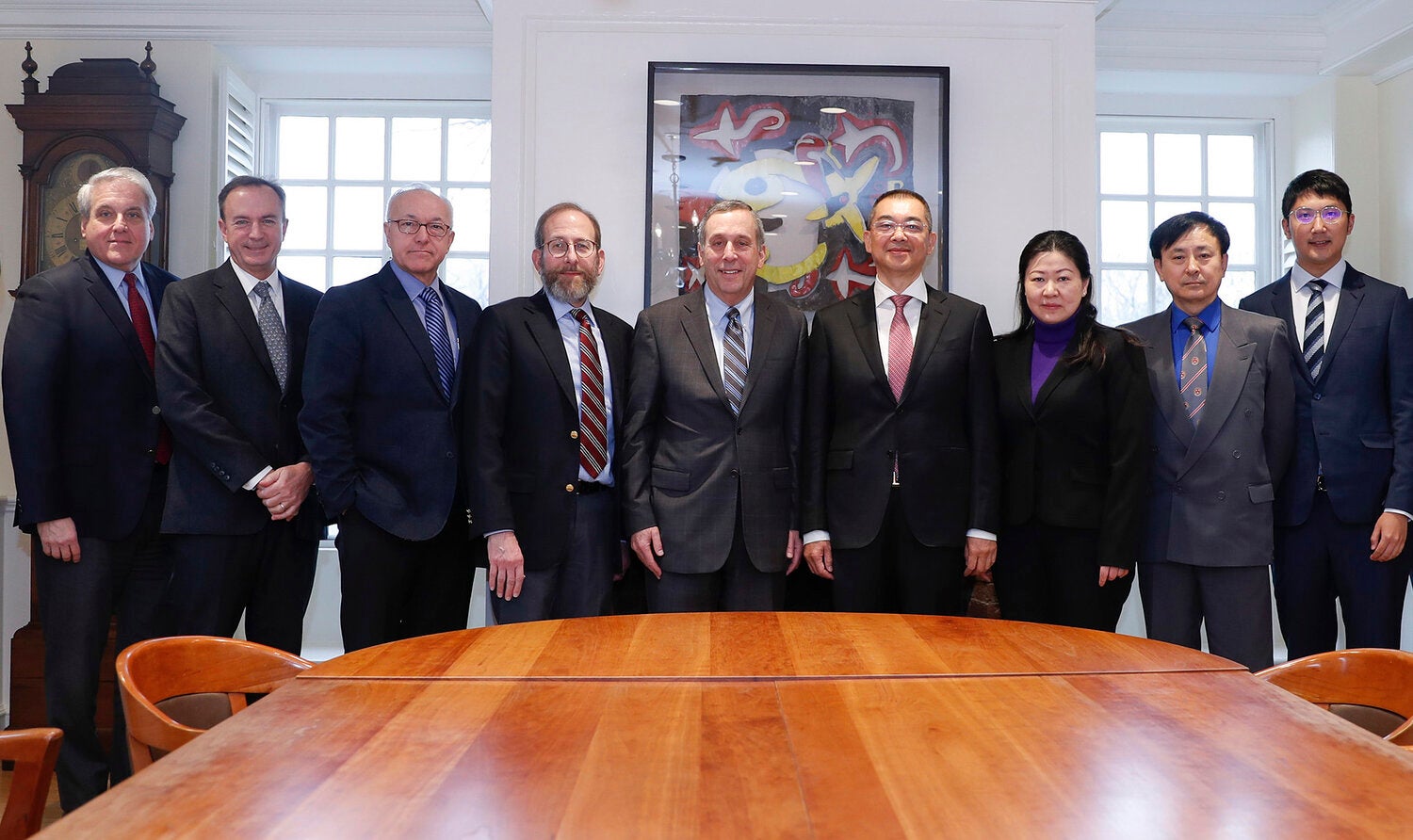 Widening its Reach
Since MassCPR's inception, HMS has been bringing in more experts across medical fields every day. Now a multi-institutional collaboration, MassCPR encompasses hundreds of researchers, physician-scientists, clinicians, and public health experts representing academic, hospital, biopharma, and public health institutions based in Massachusetts. They are joined by collaborators at GIRH and Tsinghua University in China, and throughout the crisis have consulted with colleagues in Italy, Germany, and India.
The consortium holds regular public briefings to weigh in on the state of the pandemic, as well as several seminars and symposia for scientists to discuss emerging innovations in virus detection methods, potential vaccines, prospects for antibodies in therapies, and returning to work. In addition, three HMS-affiliated hospitals—Beth Israel Deaconess Medical Center, BWH, and MGH—host weekly virtual "Harvard Medical Grand Rounds" to assess what's currently known about COVID-19 and share information with the medical community as well as policymakers, reporters, and the public.
"Drawing from the incredible expertise of our biomedical ecosystem in Massachusetts, we have grown to more than 500 members, dedicated to transcending our institutional loyalties to bring collaborative scientific solutions to this pandemic," says MassCPR faculty co-leader Arlene Sharpe AB '75, PhD '81, MD '82, George Fabyan Professor of Comparative Pathology, chair of the Department of Immunology in the Blavatnik Institute at HMS, and co-director of the Evergrande Center for Immunologic Diseases at HMS and BWH. "The rapid progress catalyzed by our collective efforts is really inspiring."
"I think most of us pursued careers in science hoping that we would someday have the opportunity to work on something that truly had meaning and that would allow us to work together in collaboration rather than competition," adds MassCPR faculty co-leader Bruce Walker, Phillip T. and Susan M. Ragon Professor of Medicine and director of the Ragon Institute of MGH, MIT, and Harvard. "I feel we have found that here in the MassCPR."